Green Parisiennes can rejoice, the bicycle confirms its success. BHV Marais has just dedicated a very fashion month to the two-wheeler—sales are exploding, bike paths are taking over roads and labels are racking their brains to offer the most innovative accessories.
Security, elegance, water-proof, every excuse is good to pimp your bikes from one end to the other. Amongst the best finds: a super trendy electric model, an airbag necklace, a bubble that will entirely protect you from the rain, a back pack that works as a blinker or a great looking wicker basket. How about choosing all of them?
A racing bike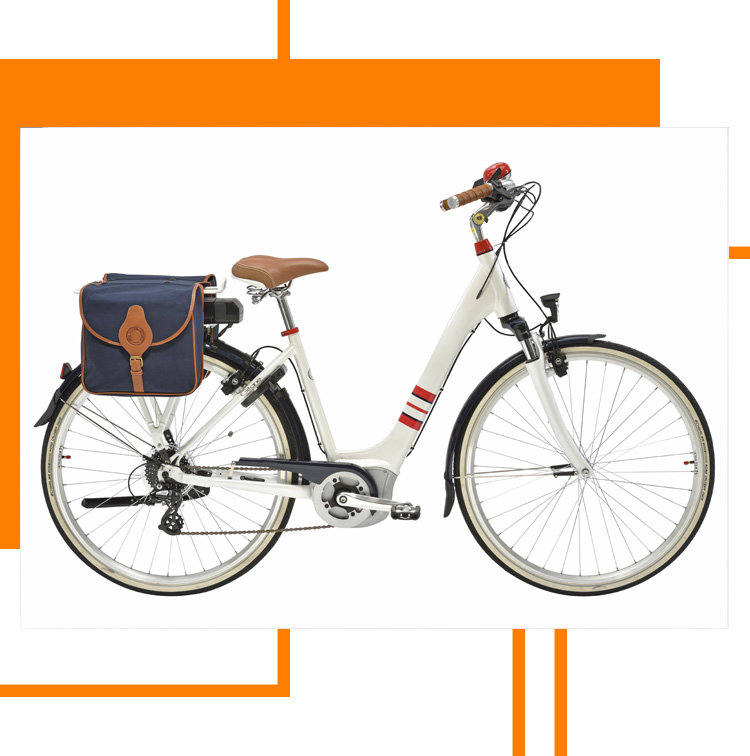 The new snobbism of bike buffs? The VAE, which stands for Vélo à Assistance Électrique (bike with electrical assistance), equipped with an electric motor and a battery.
And the one creating the buzz at the moment is the super elegant model imagined by Inès de la Fressange for the BHV Marais, pegged to the "On your bicycle" month. With its tad vintage allure, it's ideal maneuverability and its back/front suspensions, it is a sure ally for green and stylish Parisiennes.
Klever B, Kymco, €2 499. Available at Kymco Bastille, 84 boulevard Beaumarchais 75011.
A pretty closed satchel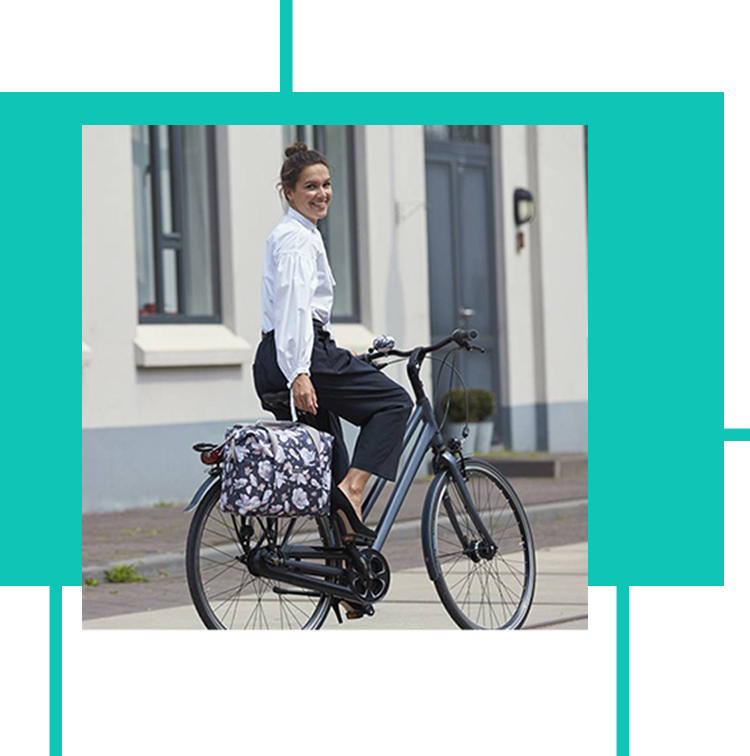 Making your bike as practical as a scooter with real storage to keep your stuff handy, this is the promise of this waterproof satchel of 18 litres to hang up in a flash in the back of your saddle.
Tops: the possibility of also attaching back lighting for better visibility. In addition, it is compatible with electric bikes —for converted fans— and its floral print make it one of the (rare) really practical objects that is not ugly and simplifies our lives.
Magnolia pastel 18L simple rainproof bike satchel, Basil, €49.99. Available on www.lecyclo.com.
A very trendy backpack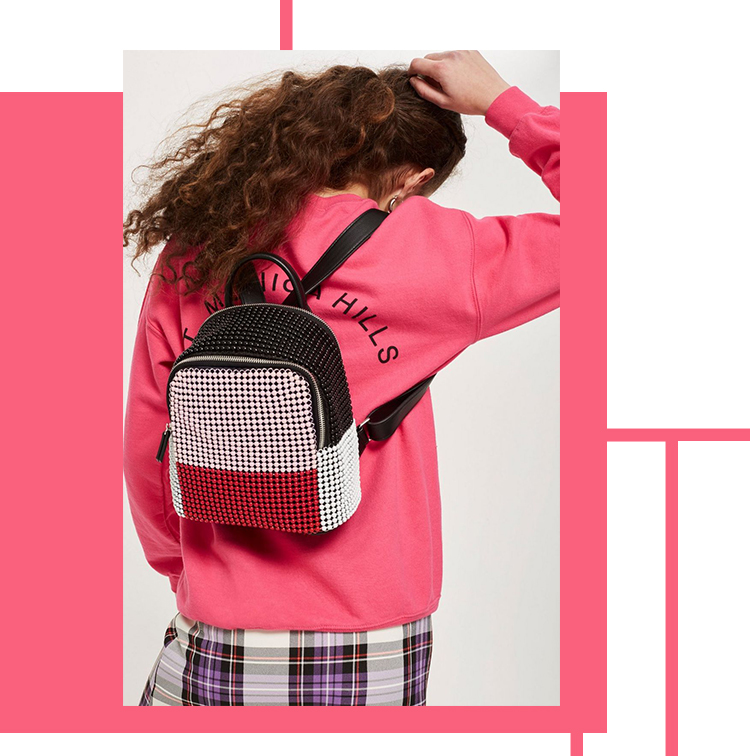 There is nothing more annoying than to have the strap of your handbag in the way for the final sprint — making you really late. Ideally, when you are biking, is obviously to adopt the back pack. And the good news, with its colour block pearly effect, this one is both stylish and practical. Validated.
Backpack ornamented with Billie pearls, Topshop, €36.
An airbag to save your life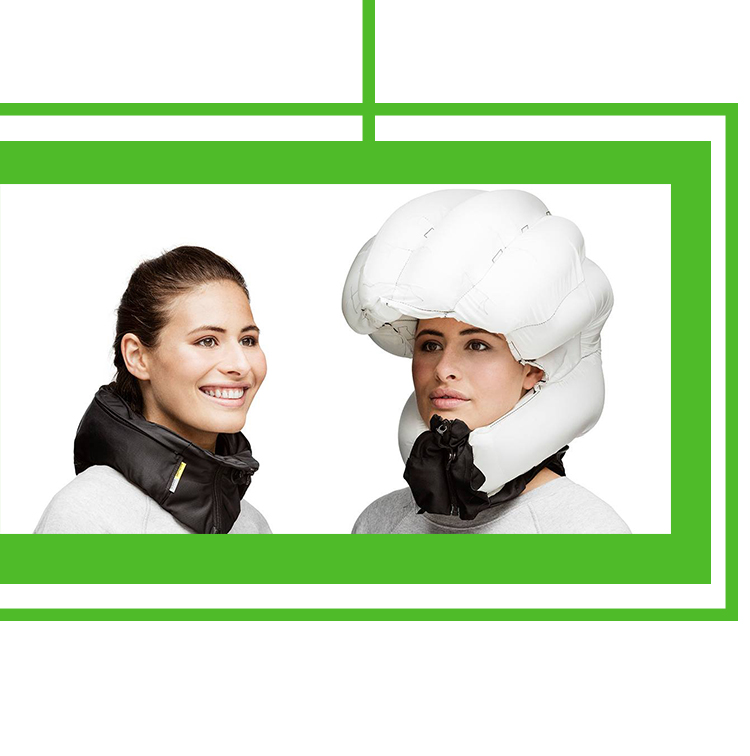 It's not exactly great looking, we know it. Especially when it's open, it looks more like a not very sexy Humpty Dumpty. Except that this airbag could save your life.
A real innovation developed by the Swedish brand Hövding, it blows up in 10 hundreth of seconds in case of shock, and morphs into a cushion to wrap around the head and the neck of the cyclist. To be noted: it absorbs about 3 times more shocks than a traditional bike helmet. A really good investment.
Airbag Hövding 2.0, €299.
A bucolic basket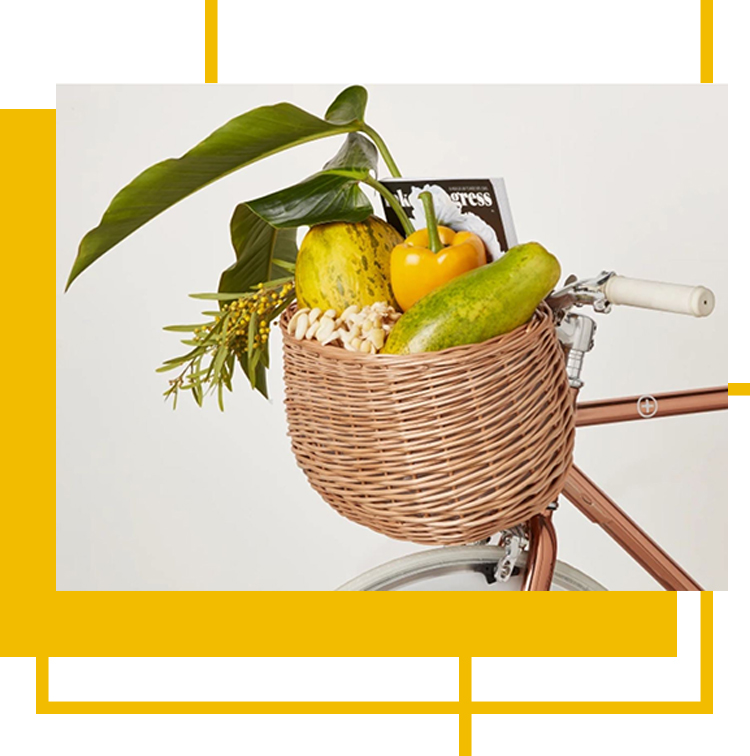 Pimp your bike with a great looking wicker basket that will hold all your fruit and vegetables when you come back from the market, as well as your handbag or even your little doggie. It's the indispensable accessory for those who prefer to visualize their belongings in front of them rather than check in the back at each light.
Bicycle basket, MADE x Bobbin, €49.
A retractable helmet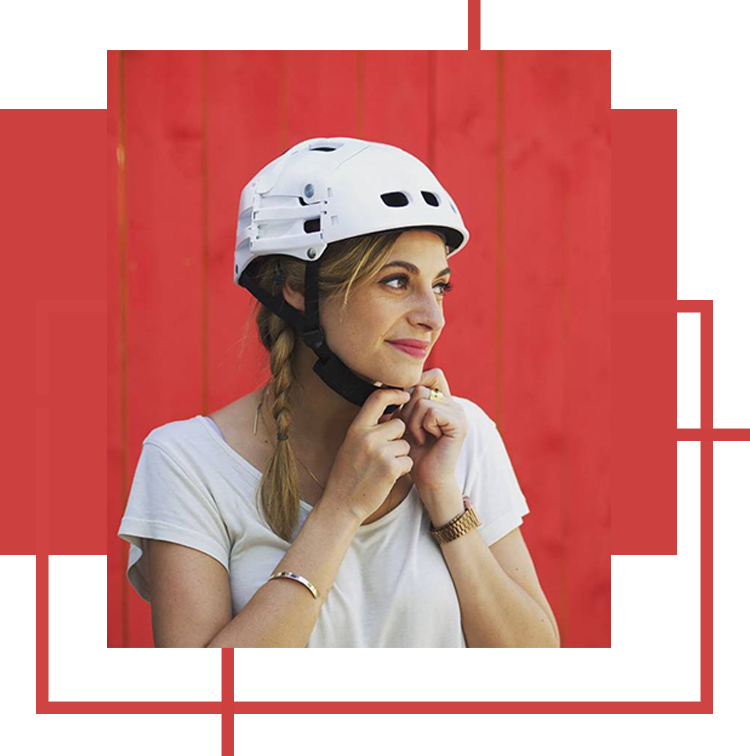 Wearing a helmet when you are a bicycle rider is not obligatory but highly recommended. But no need to inflict yourself the head of a pro with an elongated shape that avoids the wind (please). The one by Overade, in addition to being as well cut as possible, has the advantage of folding up in three. So it slips much more easily in a tote. And since the Foire de Paris just closed, know that the innovation won a prize at the famous Lépine contest. So there!
Plixi Fi bicycle helmet, Overade, €99.
A bike horn you can really hear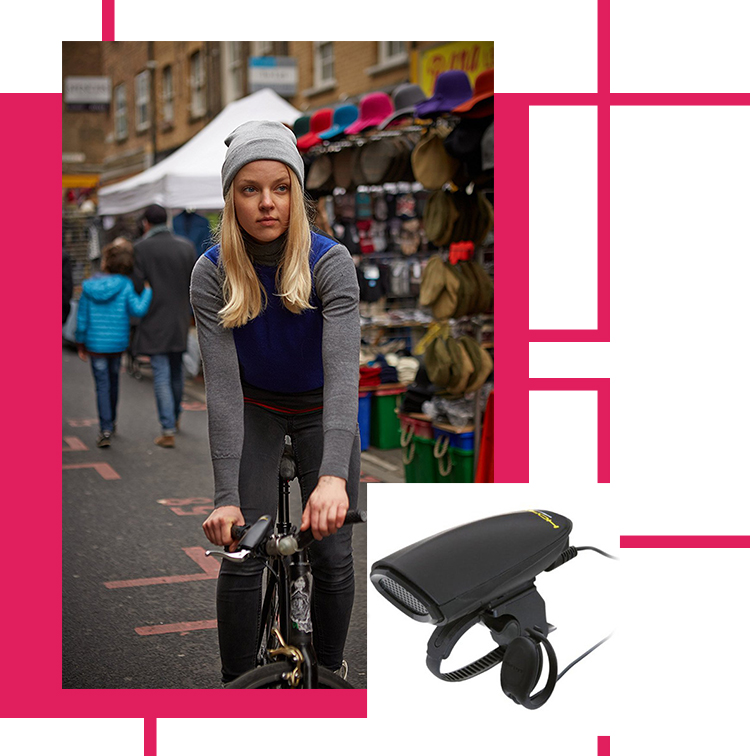 The small honk-honk that impresses noone, it's cute, but not really efficient when you want to signify your existence to a big care of a bus. The bike horn commercialized by Hornit is more powerful than a car horn since its volume reaches 140 decibels. Ideal to unwind Parisiennes in a hurry.
Hornit Avertisseur Sonore 140 DB, €29.74 on Amazon.
A saddle that morphs into a safety lock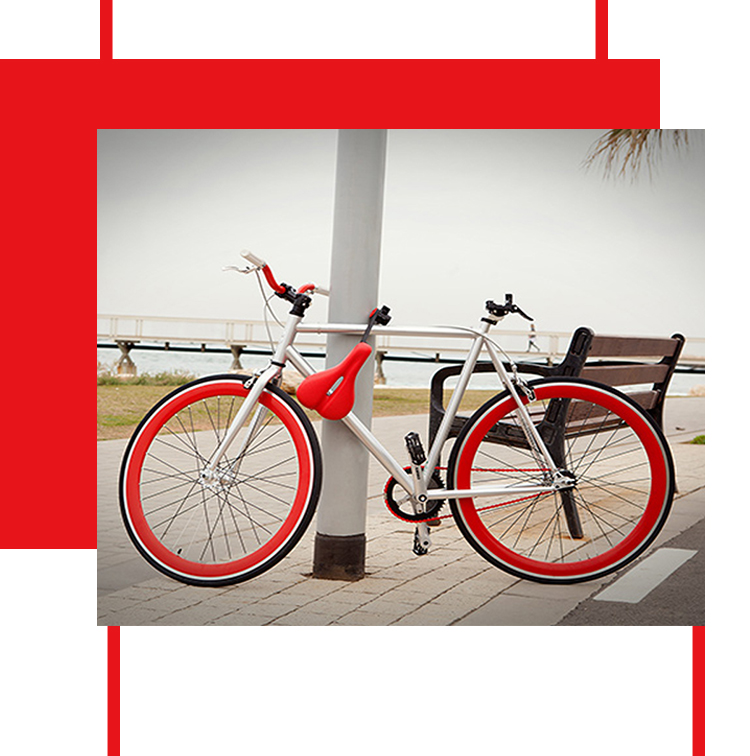 A great idea. This removable saddle can be detached from the bike, unfolded and in one fell swoop, it becomes a safety lock. The best way never to have your saddled stolen. Very clever!
Bike saddle / foldable safety lock, Seatylock, €99.99.
An anti-rain bubble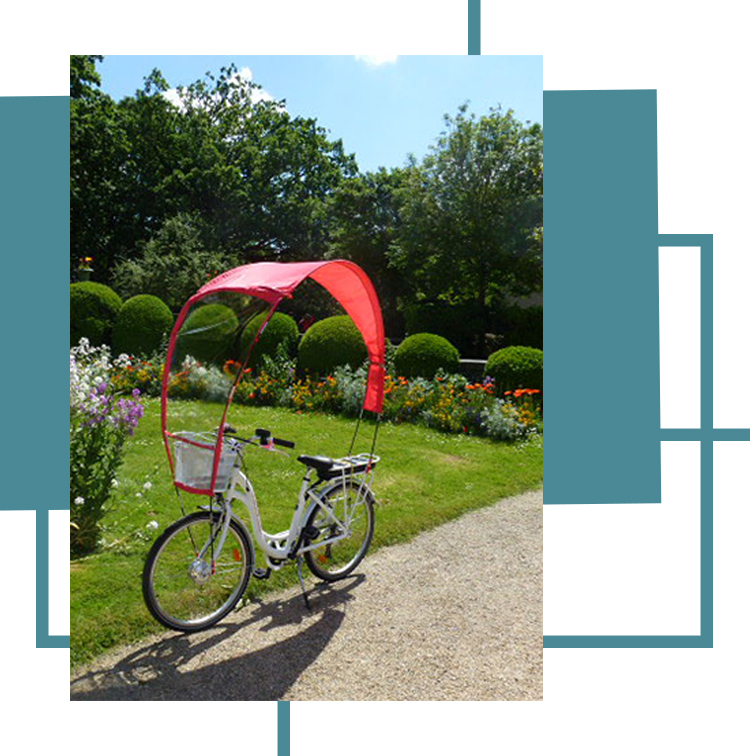 Why bother with the hassles of a car, when even on a bike you can be sheltered from the rain? And this is exactly the case with this rainproof bubble with a very Mary Poppins about to fly away look. Very light, you can easily attach it thanks to its materials similar to a camping tent. Deffo to be tried if you want to save your blow dry.
Kaps protection bubble, €99. Available on www.boutique-neoshop.fr
A blinking backpack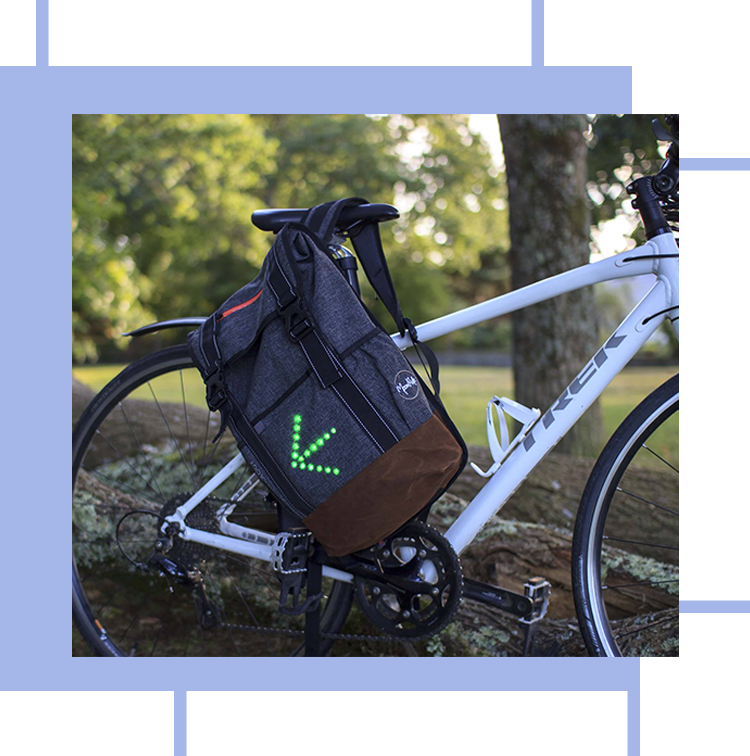 For all those who want to ensure a maximum of security, the bag with LED by Moonride is the ultimate Grail to own. A small panel linked to a wireless remote control is attached to the handlebar, with four buttons to indicate direction, even at night: front, left right, or when stopped. In addition, the system is equipped with an integrated braking captor to warn behind you in case of a sudden stop.
LED Connect backpack with signalisation and blinkers, Moonride, €120. To be found in the boutique Incidence, 36 boulevard Saint-Germain, 75005.
Also discover the 10 pairs of sunglasses for summer and the Maison Labiche lands in the Marais.