Whether you are chilling by a pool or touring the sights in Florence, it's important to protect your skin from harmful UVA, UVB rays and pollution while looking great.
Here is a small selection of the best products that we have tested for you and that we consider to be the best.
In florence, athenes or berlin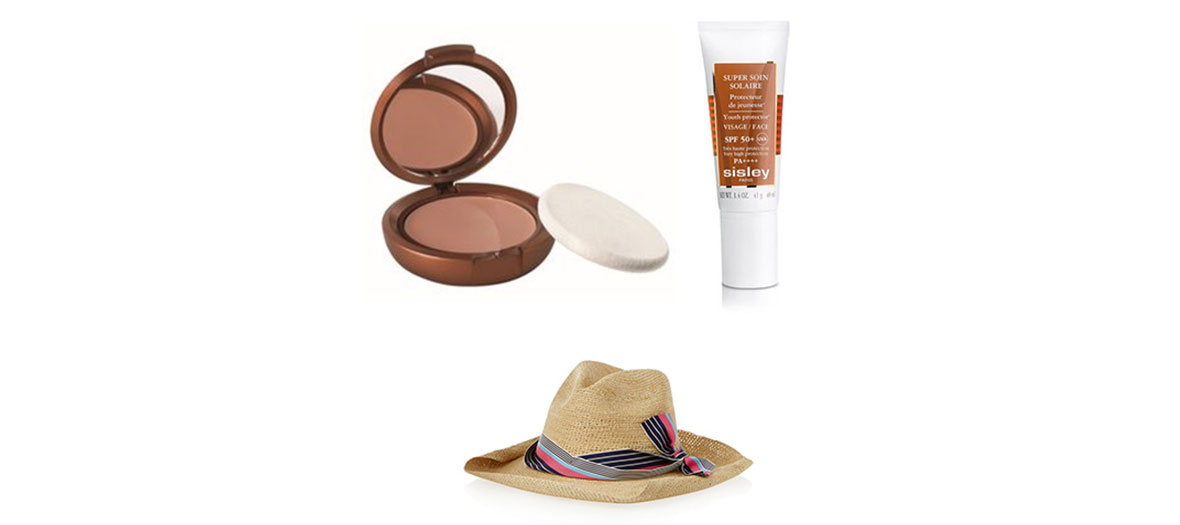 For guided visits under the blazing sun, it's out of the question to have a red face and shiny skin!
For the face, but also the neck and cleavage, start the day by applying the Super Face Treatment SPF 50+ by Sisley before you start your sightseeing adventures.
This silky and invisible cream really moisturizes skin.
We adore, a fine and non-greasy texture. And for a quick touch up, slip in your tote bag the SPF 50+ compact by Galénic for a make-up effect and maximum protection.
The plus, a glowing complexion and zero default skin.
Super Soin solaire visage SPF 50+ by Sisley, 114€
Compact teinte éclat SPF 50+ Galénic 23,30€
Sensi, sunhat in toquilla straw 100€
hiking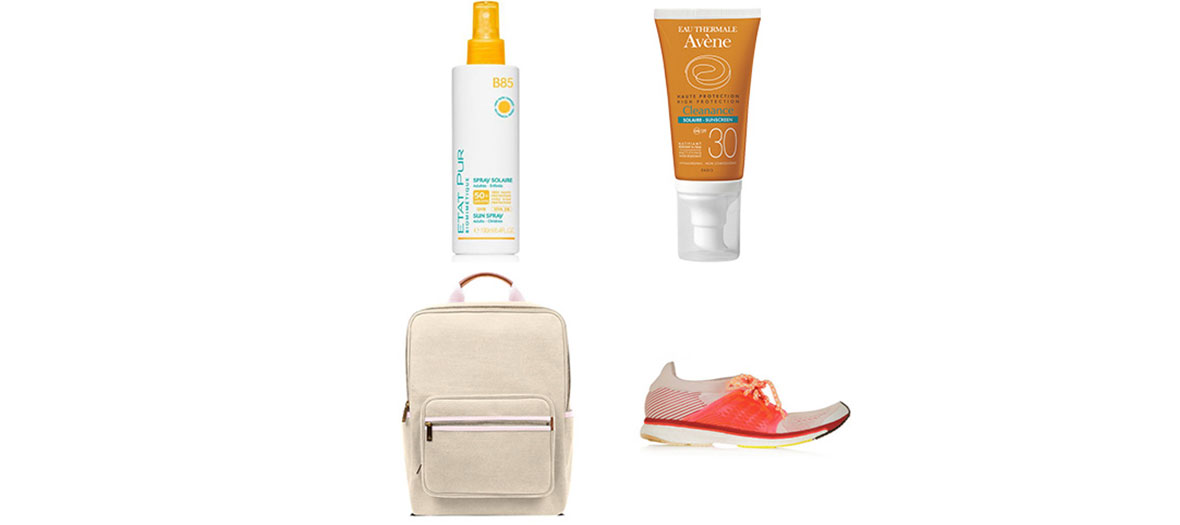 To sit in the sun or for long hikes on steep mountain paths, make sure you are equipped with super SPF 50 products. We adore the brand new Cleanance Solaire 50 cream by Avène laboratories for skins that tend to produce small acne pimples in the sun.
The plus, its fluid and light texture with a matifying effect thanks to its seboregulator action.
And also the Face and Body SPF 50+ solar spray by Etat Pur, for light and sensitive skins that tend to redden rather than tan.
We like, its formula containing no organic chemical filters.
Cleanance Solaire 50+ Eau Themale Avène 17€ - Matifying and water resistant
Face and Body SPF 50+ solar spray by Etat Pur 19€
Boost Adidas trainers by Stella McCartney, 220€
L/uniform backpack, 375€
at the beach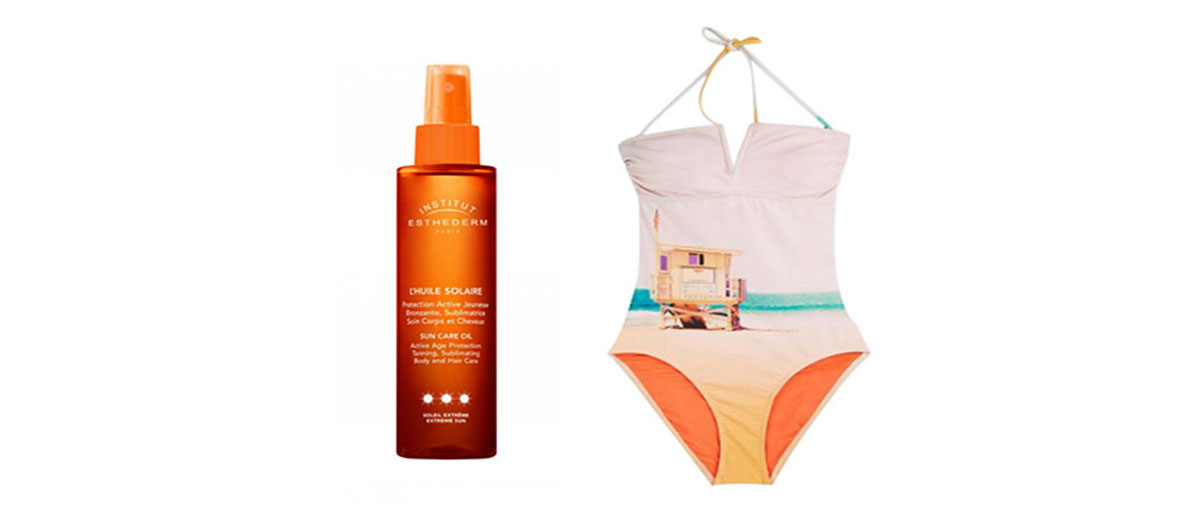 To really boost your tan, for a sunbath at the beach, try the body and hair sun oil by the Esthederm Institute. We adore spreading this dry oil from head to foot. Without silicone, it nourishes, moisturizes, protects skin and hair thanks to its concentrate of fatty acids and a new Adaptasun tanning patent.
The plus, its invisible texture for a smooth and silky finish that is water-resistant.
Body and hair sun oil by Institut Esthederm – Strong or normal sun, and extreme exposure, 49€
Albertine, bathing suit, open in front, ties behind the neck, 190€
in paris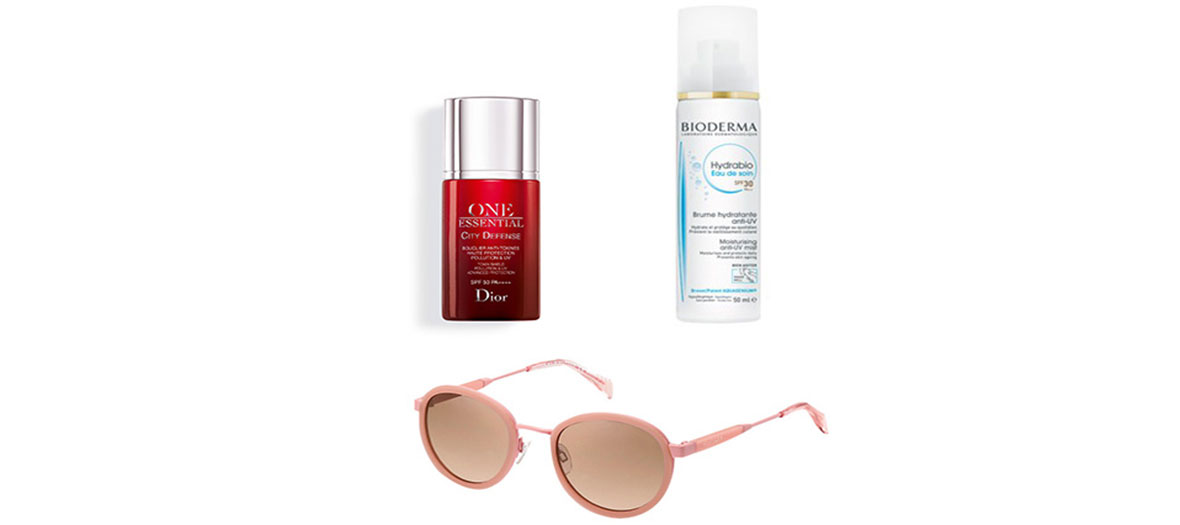 Every morning, as soon as the sun hits and the rate of tiny air particles increases, we go for the new Dior treatment, the One Essential City Défense. We adore the idea of protecting our skin both from UVA and UVB rays with an SPF 50 Pa++++ but also from pollution. A real anti-toxin shield that with time will bring back a healthy glow to the most stressed out skins.
Dior One Essential City Defense, 30ml, 53€
Ideal at lunch time, sitting out in the sun, it's revolutionary and brand new. Created by the laboratories, this amazing mist of transparent waters integrates an SPF 30! You will never go out again without this treatment mist that moisturizes and protects skin while staying invisible.
You spray it over your morning makeup or use it as a touch up before going out to lunch on a trendy terrace.
The added plus, it fixes makeup while being imperceptible, no more shiny skin!
Hydrabio eau de soin SPF 30 Bioderma - Brume hydratante anti-UV 9,90€
Available in pharmacies
Tommy Hilfiger, mat pink sunglasses, 165€
weekend away from the city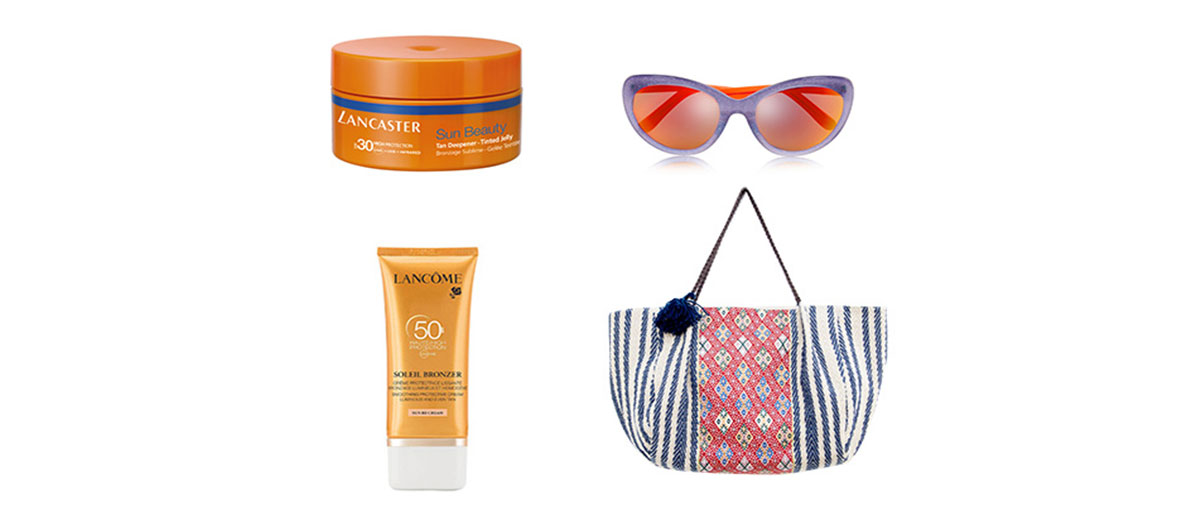 At the beginning of Summer, when your skin is still a little pale and you go out into the sun for the first time by the pool, we suggest using the Lancaster bestseller, their Sun beauty Tan Deepener, a tinted gel that prettily makes up the body, giving it a nice caramel color while protecting it with an SPF 30.
The plus, a soft texture that is easy to apply and a satin finish.
And for the face, nothing better than a tinted BB cream, that of Lancôme, Soleil Bronzer, with optimal protection against UVA –UVB rays, correcting pigments that erase imperfections and smooth out the skin.
The plus, the result: a luminous tan
Sun Beauty Tan Deepener - tinted Lancaster 38€
Soleil Bronzer BB sun cream by Lancôme SPF 50, 32,85€
Markus Lupfer sunglasses, 210€
Jamini, tote bag with embroidered ethnic motifs, 79€