If the movie La Piscine with Romy Schneider, Alain Delon and Jane Birkin is part of your cult films, this contemporary version will really surprise you.
Quick reminder: a couple goes off on holidays seeking intimacy in a super villa with a pool—until a cumbersome ex boyfriend shows up with his daughter, barely out of puberty and upsets the program.
Ultra slick aesthetics, rampant eroticism, latent tensions, the codes of the 1969 film have all been respected, but the intrigue takes place in modern-day society. Marianne (Tilda Swinton), an ageing rock star is over-protected by her man who has just come out of rehab (Matthias Schoenaerts). Harry (Ralph Fiennes), an over the top music producer, who never got over his affair with her and, in addition, imposes the presence of his sexy off-spring (Dakota Johnson) whose existence he just learned about. The migrants have landed on the island. The situation is going to go haywire.
We adore: the stunning scenography by Italian Luca Guadagnino (Amore) and the five-star casting in keeping with an updated cult film back on the screens.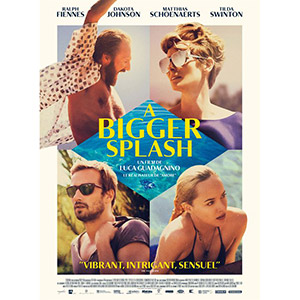 A Bigger Splash, coming out on the 6th of April 2016.