This chic brasserie ticks all the boxes: a decor signed by Studio Necchi Architecture , a menu designed by Alexia Duchêne and a gourmet and refined bistronomic cuisine . Direction rue du Mont Thabor , where a certain Alfred de Musset lived …
The retro touch
Alfred the Magnificent! Beautiful day and night, lulled by a perfect soundtrack and inspiring cocktails, Alfred is the new address of a quartet of inspired boys: the brothers Basil and Martin Beaupère , already at the head of Camondo , joined by Théodore (ex- Monsieur Bleu ) and Casimir Mahoudeau.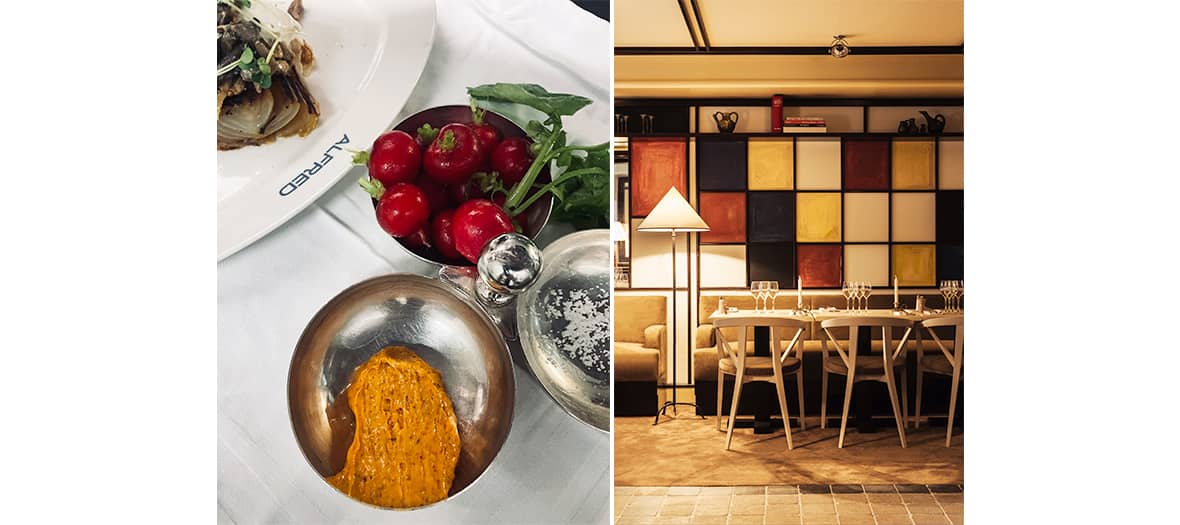 The look of this decor designed by Studio Necchi Architecture combines inspirations, mixing the Mondrian signature with the codes of the devilishly cozy old Parisian brasseries. Immersed in soft shades of beige, the place lines up comfortable velvet banquettes, raises the color on wooden panels hung on the walls, spins a Belgian stone on the floor next to the bar and an ocher carpet next to the lounges.
A Parisian, worldly, epicurean menu
Alexia Duchêne , a young creative chef spotted in Top Chef and formerly head of Datcha and Alain Ducasse's Allard brasserie , continues to increase her love rating and once again proves all her talent. Here she re-enchants the great classics of bourgeois bistro cuisine and ensures pleasure at the end of the fork from the start with eggs mayo with lovage and trout eggs (€5 each) or her lively tart tatin with onion, oyster mushrooms, raw cream (€14). Mmm…
Even if it means assuming the register of scoundrel dishes, we go for the sexy croque madame with reblochon, a little revelation (€26), or a fillet of beef with a pepper and whiskey sauce (€31). On the sea side, we also try the pretty eagle-bat, cockles, salicornia and white seaweed butter (€29), while the veggies treat themselves to a little detour to Italy with melting buckwheat gnocchi and candied lemons (€26 ).
In terms of sweets, if the chocolate mousse sprinkled with pistachios and slivers of biscuits does the job (€11), it's the delicate Dunes Blanches with chocolate sauce that you absolutely must not miss (€12)!
Open Tuesday to Saturday from 12 p.m. to 3 p.m. and from 7:30 p.m. to midnight.
Also discover Carmona where Alexi Mabille signs the decor of the Andalusian table in view and Gargouille, a sunny bistro in the heart of Pigalle