Don't be fooled by its Parisian bistro look ! Gargouille blurs the tracks and takes you on a journey towards the Mediterranean , from Tel Aviv to Greece via Tunisia and Lebanon . Drink well, eat well: this good-boiled café sows joy in the Pigalle area . You come ?
The Gargoyle touch
Period tiling , zinc counter , large mirrors and Art Deco details far removed from Mediterranean codes, Gargouille sets up the surprise in a traditional setting with all-Parisian coquetry. And at the controls, the complicity of a trio of friends: Arthur Billard in the bottles, Jules Behar (ex - Etsi ) and the Franco-Lebanese chef Marc Elie Hayek ( Contrast ) maneuvering with four hands a cuisine of instinct and heart mixing The influences. And who does not joke about the quality of the products, sourced for the most part from local producers.
And it's the treat!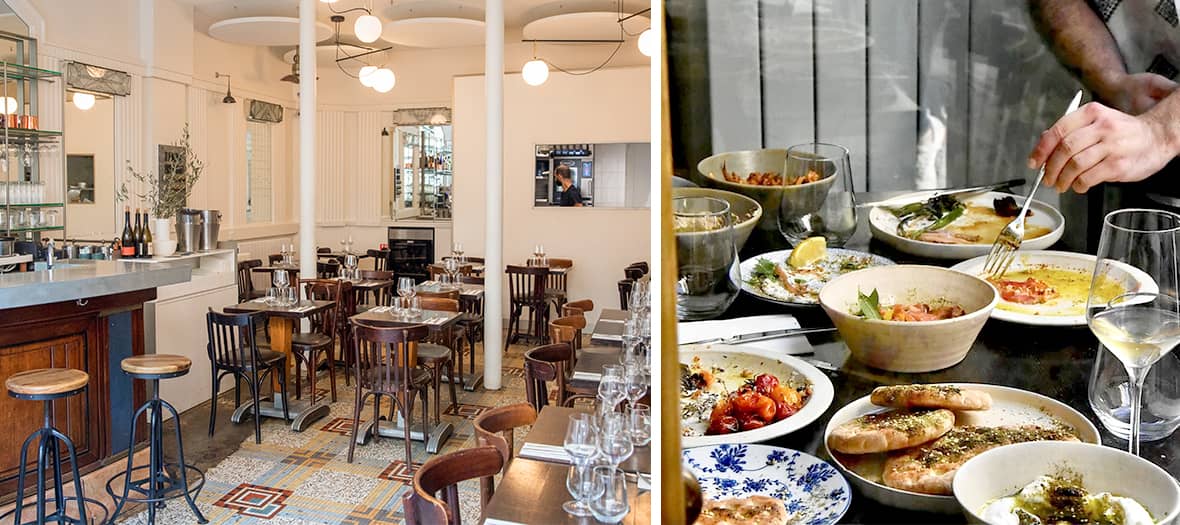 At lunch, Gargouille offers an accessible formula (plate €19; plate + dessert €25) consisting of a dish with Mediterranean flavors based on cereals, vegetables and protein of your choice (fish, meat or veggie). In the evening, it gets lively from 7 p.m. around a sharing menu that scrolls through the small dishes. Ahead of the feast with a competitive baba ganoush served with warm zaatar pita bread (€9), tuna bricks like in Tunis to dip in a dill yogurt (€9), a pretty stuffed zucchini and its cream of feta with walnuts, roasted tomatoes (€13), round keftas accompanied by Lebanese tabbouleh, candied onion and tahini (€13), a crunchy puff pastry with feta, beets and figs (€12) and a crazy pork belly , chard and date (€15).
For a sweet touch, go for the dark chocolate cream, zaatar , cardamom siphon and praline crumble (€9). And to wash it all down, trust Arthur, who has selected around fifty references from France, Spain, Italy, but also Lebanon and Tunisia, capable of pleasing all palates.
Open Monday to Friday from 12 p.m. to 2 p.m. and from 7 p.m. to 2 a.m. Closed on weekends.
Also discover the new iodized table of the food power couple David and Stéphanie Le Quellec and Cavalieri, when Bruno Verjus takes off in the Mediterranean