The tropicool wave has struck again. We already imagine jumping up and down at the idea of squatting this superb paved garden and its lush vegetation with huge palm trees that come tickle the Parisian sky. Now all you need is to find the hideaway of this exotic oasis that serves stunning cocktails  and elegant dishes in an infinitely romantic decor. And there, you will flip your lid…
Located a skip and a hop from parc Monceau, the former garage of the Musée Camondo, inoccupied since a very long time, has become the new stylish dining room. In terms of decor, the Favorite agency unveils a cool and trendy venue with 70s sofas, a luminous bar and a vintage carpet in the old annex of this architectural gem, paired with an absolutely fantastic open sky courtyard. Ideal to sip a signature cocktail (14€).
On the menu? An exquisite house pâté en croûte (15€), melt in the mouth burrata from the Puglia region (12€), carbonara style squid(16€), tataki of beef with potatoes and roasted sesame (21€). All concocted by the young chef Alexis le Tardic, disciple of Yves Camdeborde. For the sweet partition, it's Christophe Michalak who is in charge : lemon meringue yuzu tart(11€), millefeuille XXL with vanilla from Madacasgar (12€),raspberry lychee green lemon pavlova (13 €).
We like : a very good reason to (re)discover the exceptional collection of the museum, dedicated to décorative French artst of the 18th century.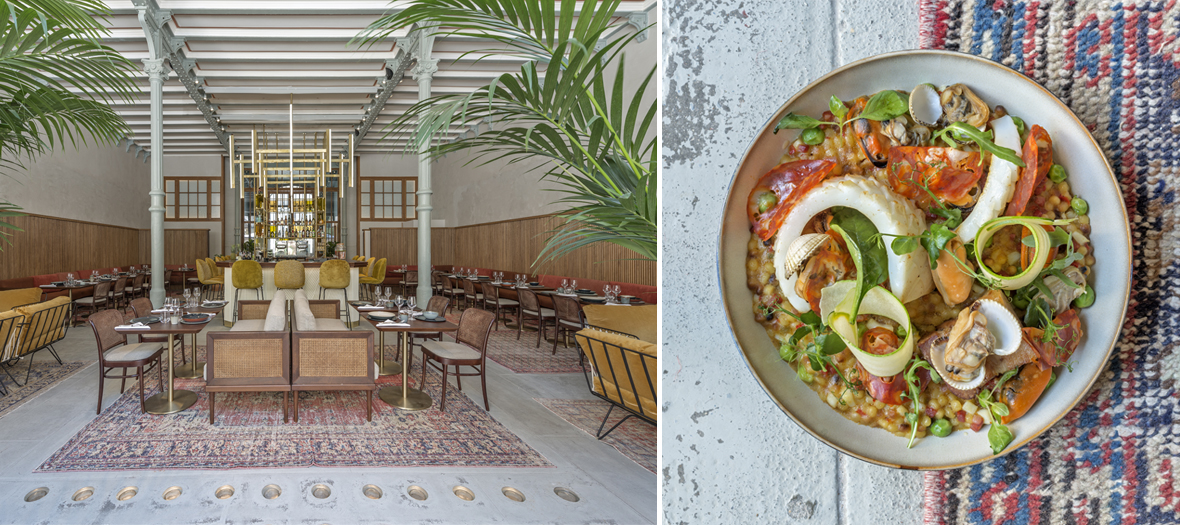 © Florian Corcos
Also discover Klay Saint Sauveur, the perfect tropicool atmosphere.