Who wants to save time in the bathroom? The answer seems obvious, so why are our beauty rituals so complicated? This paradox pushed Maryll Beaux, a former finance whiz, to create a brand of beauty treatments that would focus on the essential. Its name? Amalthéa. Good news, the young organic and made in France organic brand has just opened a lab-boutique in the Marais.
The 4 indispensables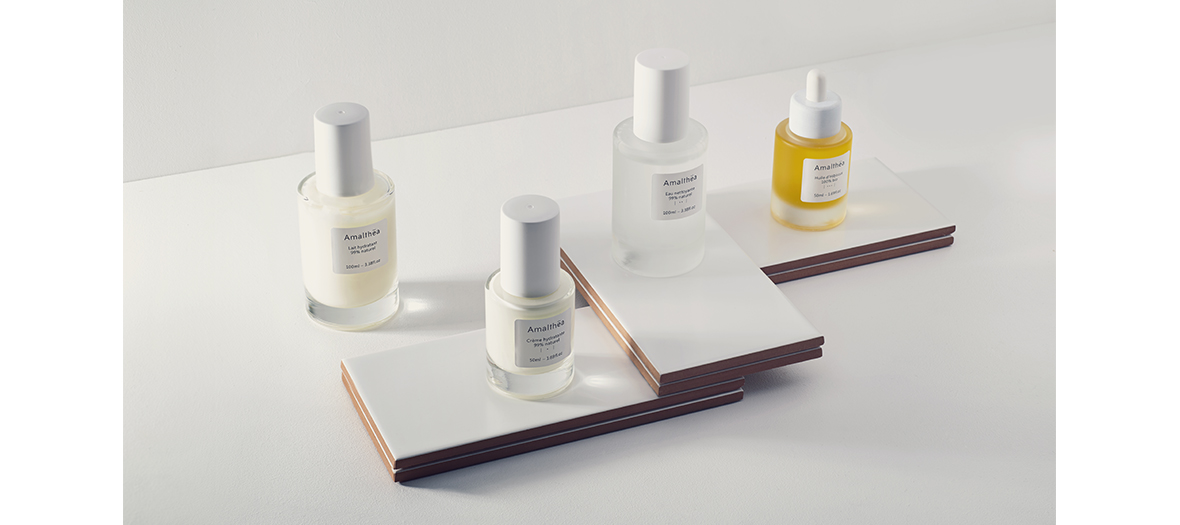 Three products for the face, one for the body. Simple, basic. The range is willingly succinct and comprises a moisturizing cream to nourish skin in the morning, make-up remover to cleanse the face at night, an oil to leave on all night long and a body milk. Total, glowing skin and zero defects in four minutes flat.
An express diagnosis
The formulas, composed at 99% of ingredients with natural origins, adapt to all skin types. However, it's important to know what kind of epidermis you have. In order to find out, Maryll asks very concrete questions: "does your skin pull when you wake up?", "do you notice redness when it's cold?". At the end of this express interrogatory, you are directed to one or another formula: prune oil for dry skin, hibiscus oil for normal skin, rosewood oil for oily skins.
An ethical and responsible approach
The oils, exclusively vegetal, were carefully sourced by French labs, specialized in organic cosmetology. Another good point, the bottles are refillable in shop, at the lab space. An occasion to take a close look at the needs of your skin, that evolve in keeping with the seasons and your lifestyle.
Amalthéa is also accessible on line, practical for those who do not live in Paris.


Also check out the customized beauty label Laboté