A wind of coolness (finally) is blowing on Saint-Germain-des-Prés. Centre Commercial, aka the most ethical concept-store of Canal Saint-Martin, has just opened its first boutique on the Left Bank.
In one word here is the new wildly Brooklynian QG  of Parisians in the know, incubated by the two founders of Veja sneakers, Sébastien Kopp and Ghislain Morillion.
Check out the setting: a very airy boutique with a slick design featuring a long méridienne sofa in mustard velvet to try on shoes, the iconic logo in white neons, racks and shelves where one finds a mix of clothing, accessories, perfumes, trendy mags and books, without forgetting the streamlined blocks with pullover and jewellery. The bonus, a very available staff that gives you terrific advice on cuts and materials according to your morphology.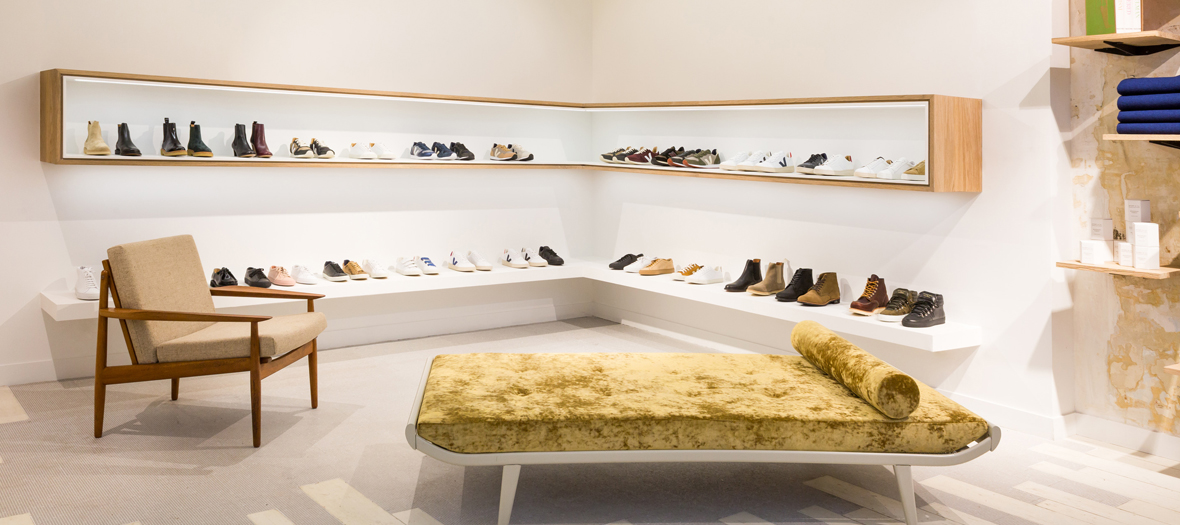 For women, there is a mix of highly desirable well-known labels as well as new fashion names: Proêmes de Paris, Roseanna, Valentine Gauthier, Avril Gau, Saint James, Michel Vivien, the Stutterheim raincoats, YMC sailor tops or Le Sellier it bags.
For men: the iconic sweats and tee-shirts by Ami, Harmony (the hot Sentier label), SNS Herning (the Danish Saint James), must-have Bleu de Paname pullover and jackets, denims by Naked and Famous, and of course an XXL selection of Veja sneakers.
We like: their kaki tote bag with logo, offered like a resolutely cool shopping bag, to keep preciously after having gone wild in the shop.
Open Tuesday to Saturday 10.30am to 7.30pm, on Syndays 2pm to 7pm, on Mondays 1pm to 7.30pm.