This year, the new season welcomes pretty design collaborations at very reasonable prices and that will appeal to a wide array of tastes. One switches from the Scandinavian style to the Oriental spirit as well as vintage and velvet. Or the possibility of treating yourself to the accessibles pieces of star houses of the moment. Irresistible.
La Redoute Intérieurs x Maison Père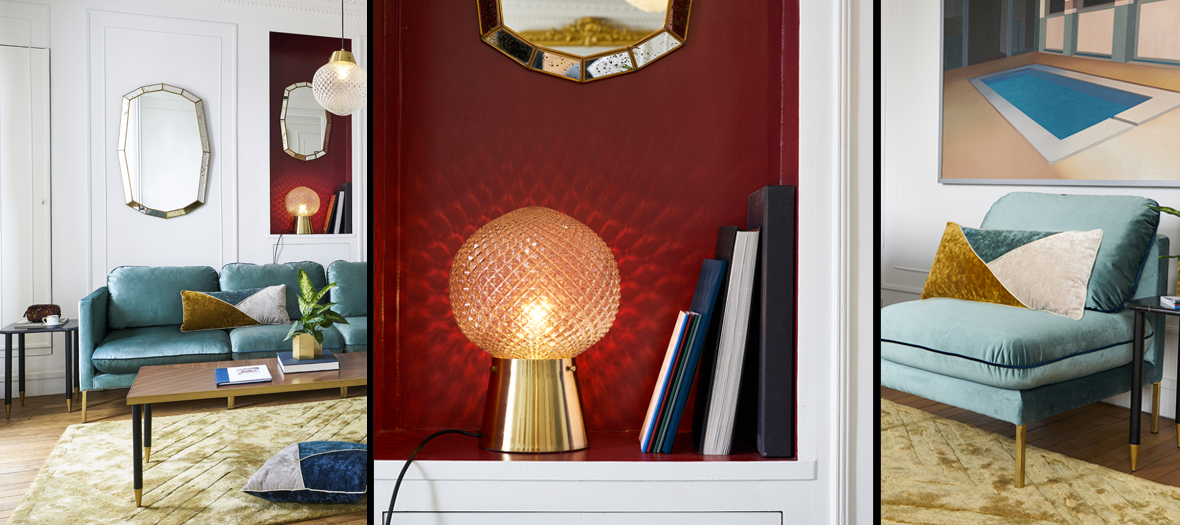 This season, one finds Camille Omérin, the darling creator of Maison Père for La Redoute Intérieurs. A typically Parisian collection inspired by pieces picked up at the Flea Market.
A big fan of tag sales and second-hand marvels, she has played with velvet, marble and brass, all in overtones spanning from ochre to blue. It's the ultimate art of refinement: we perfectly imagine ourselves in her glamour, bourgeois and Haussmanian flat.
Our favourite pieces : it's all a question of detail ! Table feet, different hair sizes for the carpet ( €199.99) or the aged facets of a mirror (€99.99). Without forgetting her celadon green armchair ( €569) ideal anywhere in the living room. For the even more glamour final touch, grab some of her patchwork cushions.
Sold on the site of La Redoute.
IKEA x HAY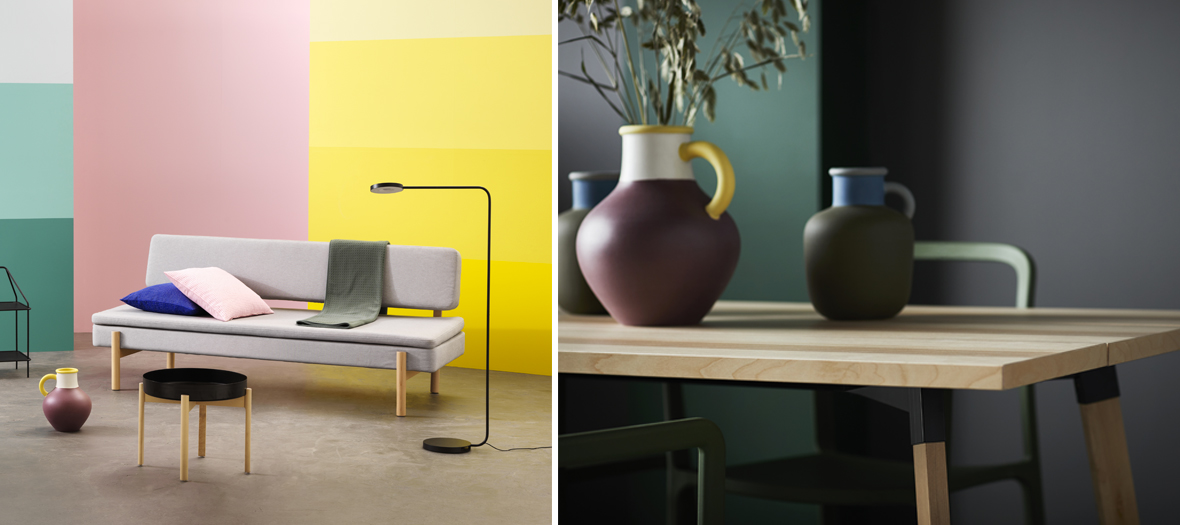 You like Scandinavian design ? Then you are going to really enjoy the collaboration between IKEA and HAY. In October the YPPERLIG collection is coming out, in other words, excellence. The idea? Showing that two houses share a common love for Scandinavian traditions. The result is total success and very affordable prices. IKEA continues in the same vein : always more democratic. The style is minimalist, streamlined and with warm colours—and let's not forget, super comfy.
Our favourite pieces: the quilted sofa (€299) that urges you to nestle inside. Or the hand-painted vase by a Grès artisan at only (€24.99), ultra modern in yellow, white, burgundy. A must àto have at home this season. Even simple pillowcases (€4.99) are super trendy. Pink, blue, green with white polka dots, one buys the entire collection to spread them out on the sofa.
For a total look, dare to paint a wall panel in pine green, burgundy or even royal blue and combine all the objects of the collection.
More infos on www.ikea.com.
Pierre Frey x India Mahdavi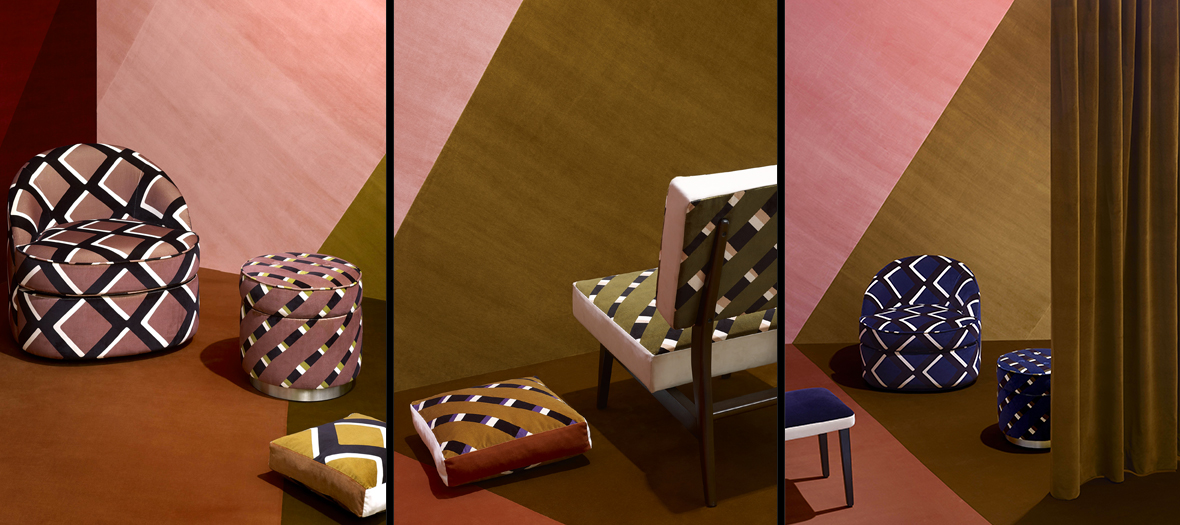 After upholstering sofas all year long,velvet now covers our walls with Pierre Frey. It's India Mahdavi, "The Queen of color", who created, for the house, a special collection—plain, geometric and mostly polychrome. Se says it herself, it's a material that knows how to capture light, playing with 80 different nuances. Full of peps, this collection will know how to give real cachet to interiors.
Our favourite pieces : no need to upholster the entire living room, but just two or three armchairs as well as handsome curtains. The good tip : going to an upholsterer and ask him to cover just the seat of the armchair with the fabric signed Pierre Frey. For the back : go for a plain colour, much cheaper by the meter.
starting at € 82 per meter on: www.pierrefrey.com
Pierre Frey, 1,2 rue de Furstenberg, 75006 Paris
Habitat Design Lab x Rock The Kasbah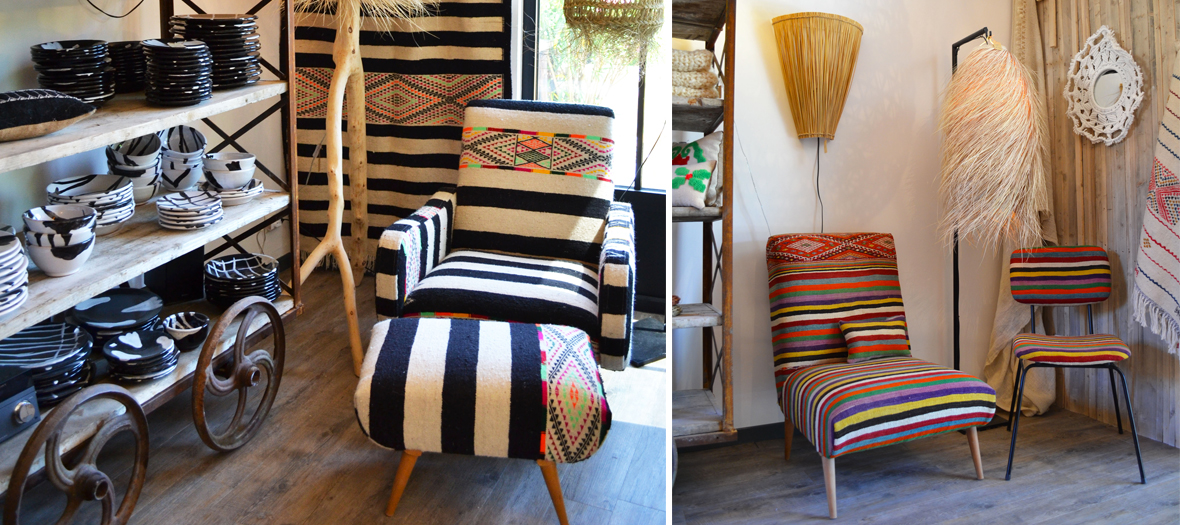 Since Habitat launched their Design Lab, each month we are impatiently waiting for the new collab. The idea is presenting the work of tomorrow's designers by giving them their own space, at the rue du Pont Neuf boutique. This time, it's Rock The Kasbah, straight from Tunisia, who illuminates our interiors. Philippe Xerri, founder, has wagered on peppy colours, the pop spirit and craftsmanship. Rather amazing. The perfect design to escape from the Fall doldrum.
Our favourite pieces: The Tulipe lamp stand (€ 50) who lampshade in palm fiber and feet in olive wood are a reminder from far away, of a Hawaiian dancer. Very geometric and flashy, the armchair and its pouf (starting at €899) are perfectly in keeping with the ethnic trend of the moment.
From the 4th of October to the 12th of November at the Habitat Pont-Neuf boutique.
MERCI x Serax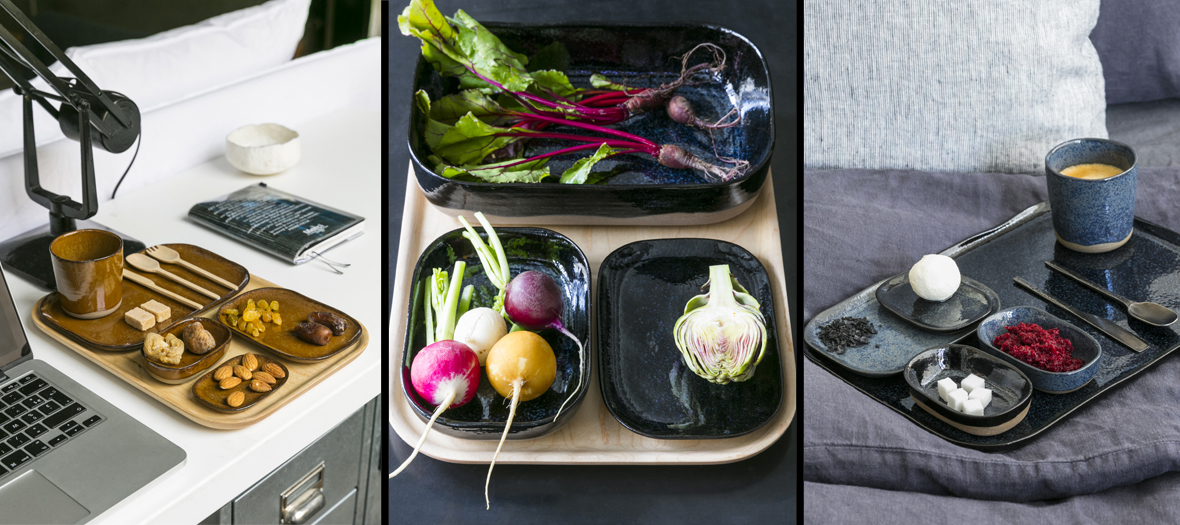 In keeping with the Slowfood trend, MERCI is editing for the first time, along with Serax a wide array of containers. Finished the traditional « dish ». Make room for the tapas and crunchy veggies spirit. Eating less, but better, with small mouthfuls in small dishes to share with friends or family. Inspired by the famous « American modern dinnerware », signed in the 40s by American designer Russel Wright and the traditional bento box, that Japanese take everywhere with them, the set is very amusing.
Our favourite pieces. A 12-piece puzzle that allows us to create our own combinations. IN sandstone and maple wood, you can also play with colours : orange, putty, ink black and ochre. In two words: functional and simple. Between 3€ and €33 per unti
Sold on the site of MERCI.