The month of white is the opportunity to look at the pretty bedding that takes hold of Insta feeds and trendy interiors and to treat yourself to the beautiful set of your dreams.

Sale or not, white or not, the sheets are getting a makeover for the New Year with a planet-friendly commitment , natural and organic materials , all soft, refined or vibrant colors and delicately graphic patterns. We love.

An overview of the coolest sheets for an even more comfy night.

In blanket mode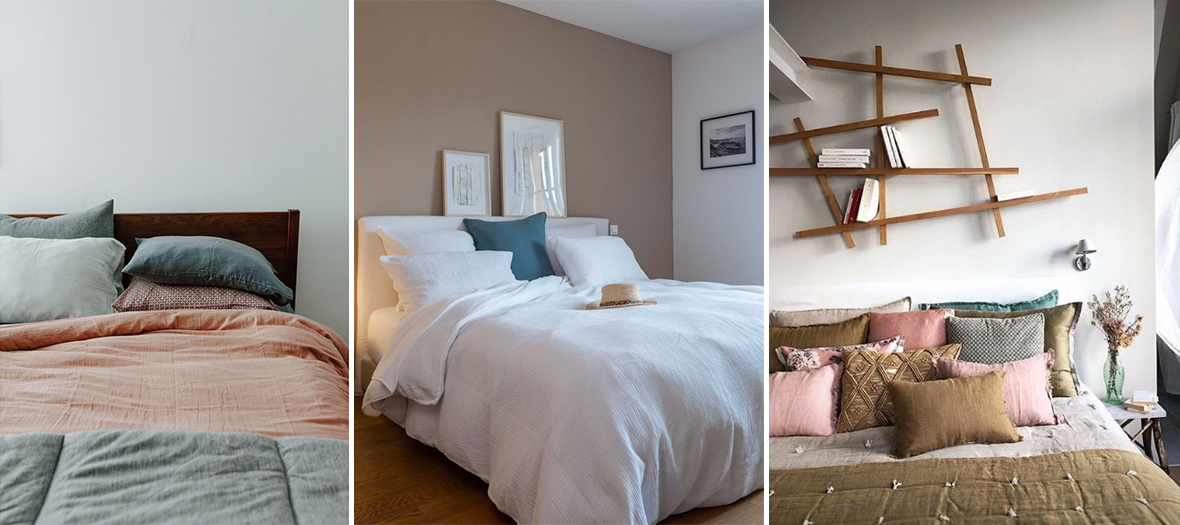 Lab boutique has it all figured out by weaving its bed linen in 100% organic cotton gauze (too soft), cocooning chic style and in big format. This gives XXL duvets (from € 87.20 per cover) nicely crumpled, in pastel colors, entirely Made in France. The ideal set to accompany beautiful floral wallpapers.

Available on lab-boutique.com and at 90 rue de Lévis, Paris 17th

Another favorite: the Maison d'Été sheets where minimalism and zenitude triumph. Here, it's all white and all (soft) soft. Include: duvet covers (from € 205) labeled Oeko-Tex , woven in double cotton gauze for a very successful waffle appearance, with zero maintenance required. The ultimate chic associated with an old parquet and a refined decor.
Available on maisondete.fr
And if we are more of a team with retro patterns and colors, we go shopping for bed linen from the French brand En fil Indienne , where Indian know-how blends brilliantly with the French touch . The signature material? Velvet. Witness the bedspread (€ 225,75) quilted cotton velvet. So beautiful. For a bohemian and natural decor , we opt for the pretty ocher color.

Available on enfildindienne-eshop.fr
In green mode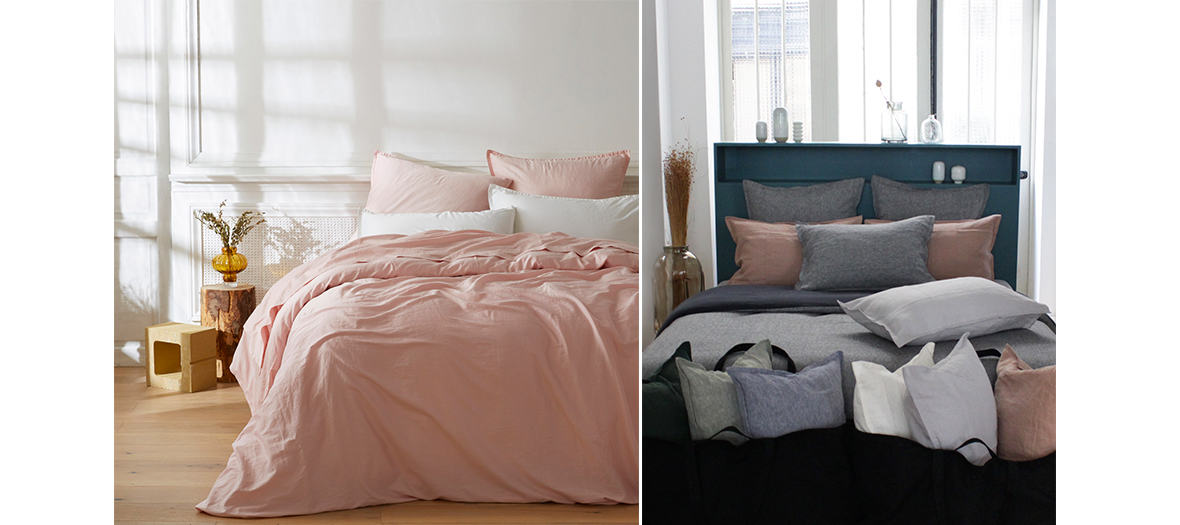 With an authentic and artisanal bias and a hyper poetic graphic charter, Doran Sou offers a range of labeled organic linen and cotton, in very small series with numbered copies: where when his bed linen becomes a work of art. So chic. We melt for the duvet cover (from 75 €) in washed cotton satin , 112 threads / cm², lotus color, closed with natural mother-of-pearl buttons and wrapped in fabric scraps folded furoshiki style to join the beautiful green. Passion.

Available on doransou.com
Big news: the superb decoration boutique in the 10th arrondissement , La Trésorerie , has joined forces with the famous EMBRIN house and signs a " BI " collab . Queesaquo? Bi, like two-tone , because the collection focuses on washed linen sheets, pillowcases and duvet covers (239 € per cover), front / back, which play out months and seasons to perfection. A pale blue for the summer versus a faded gray for the winter, a dream not? And the real strong point is the French production with flawless traceability of the material, linen.

Available on latresorerie.fr and at 11 rue du Château d'Eau, Paris 10th

In very chic fashion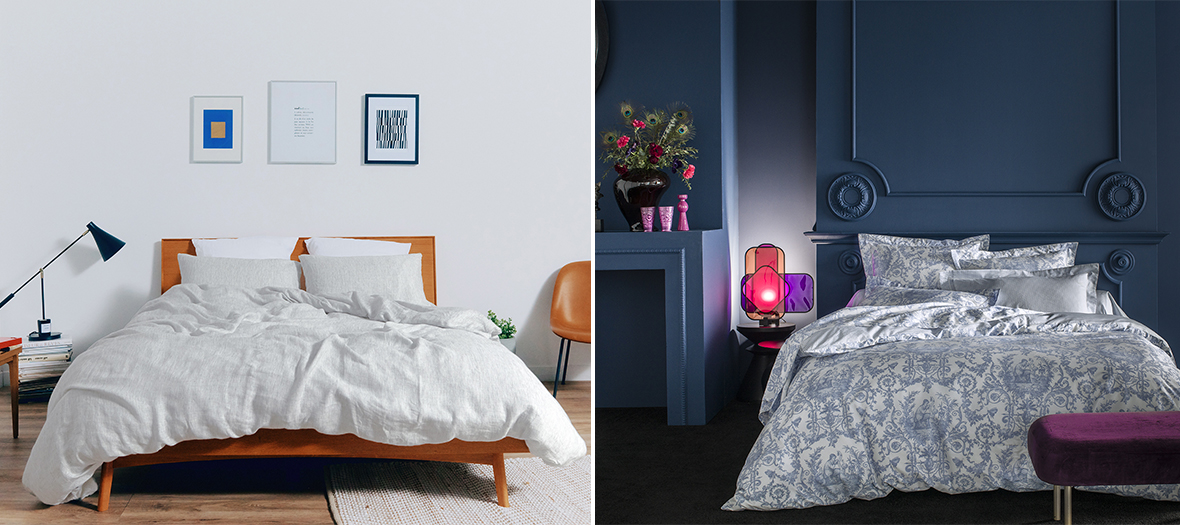 We no longer present the very couture bed linen from Bonsoirs, which combines luxury quality with affordable prices. Very cool. We will finally be able to curl up in very soft sheets, in washed linen , Made in Normandy. Worthy of a palace! Passion for the light gray flat sheet (from € 125) and its fine stripes that give the perfect illusion of a textured fabric.

Available on bonsoirs.com

At Anne de Solène , we mix ultra noble materials (washed linen, cotton…) with a competitive finish with handmade designs. In other words, the height of chic. With the trademark of archival sketches in bourgeois motifs, such as the SAGESSE fabric (from € 95) in cotton percale, the bed linen house dresses up the most luxurious interiors.

Available on anne-de-solene.com and at 108 rue du Bac, Paris 7th

In vitamin mode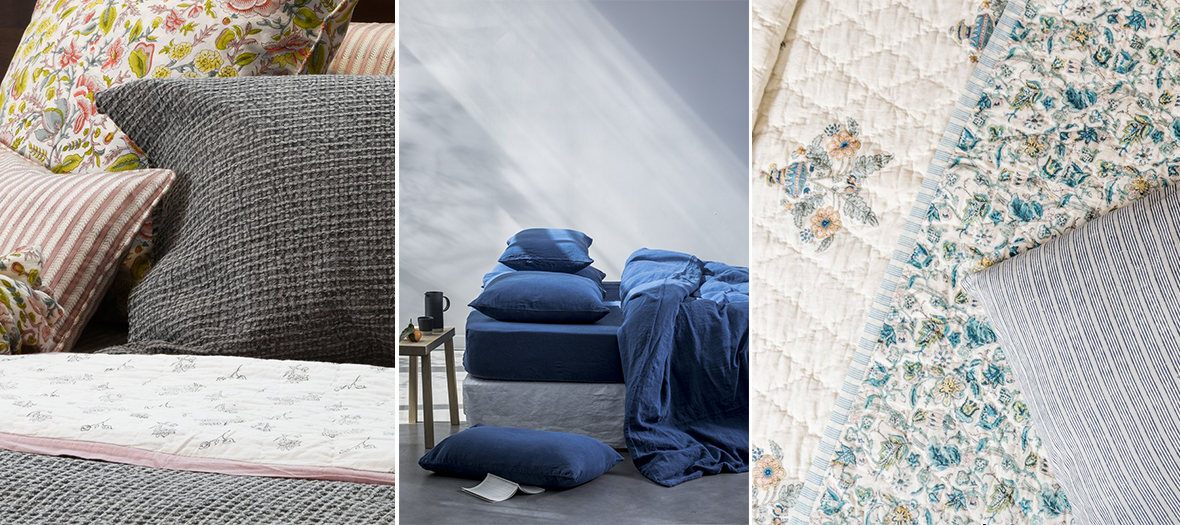 At Inka , it's all color. Contrary to minimalism and purity, the Indian brand does not skimp on flashy, too much and the mix and match that they master to perfection, it must be admitted. This results in collections with flowery and abundant patterns, on p. from 30 € the set.

Available oninka-india.com

Thinking of the bedroom as a place of calm, Alison Ross and Ian Benton have created La Chambre , the new benchmark in high bedding . Between sublime materials (satin, percale, linen), a planet-friendly manufacturing process and a choice of colors that are both soft and vibrant, the couple invites you to travel, on their way to sleep well! We fell in love with the intense blue set (€ 249) in French washed linen, to enhance a slightly too classic interior.

Available on lachambreparis.com
In graphics mode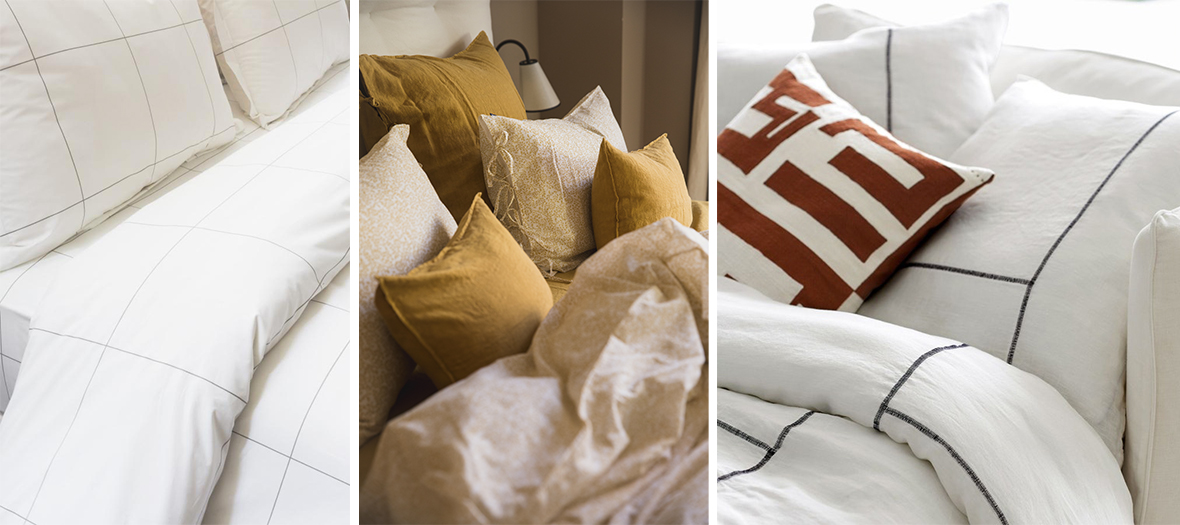 It's no longer a secret that graphic check patterns are reappropriating textile trends this year. And the bigger it is, the better. Oops ... We can only see them: on the rugs, the curtains, the cushions and, above all, the sheets. Good news: the Greige brand excels in this area with its cotton percale duvet cover (€ 85) . Joy.

Available on greige.fr
The Caravane house is inspired by Moroccan decor, very fashionable, and plays with wrinkles and light by imagining absolutely sublime colored harmonies that we do not hesitate to superimpose. Madness. In addition to the patterned collections, the plain sheets framed by a beautiful colored border , very refined, bring a very elegant touch. The clean graphics , we love it.

Available on caravane.fr and in stores

The very chic range of La Redoute, aka AM.PM , is no exception to this geometric trend. At the head of the poster, a white linen duvet cover , Oeko-Tex label , with a bonus, a beautiful black embroidery that draws the pattern, all dressed in lines.

Available on laredoute.fr


Also discover new lingerie trends and vintage and stylish e-shops to switch to slow fashion .