Grandiose, incredible, hypnotic, delirious… the works of Takashi Murakami showcased at the Louis Vuitton Foundation will certainly not leave you indifferent. For its new exhibition, the arty institution dedicated an entire presentation to the work of the facetious Japanese artist. Sculptures, paintings, XXL frescoes, a real dive in his pop and Kawai universe, filled with Manga characters and fanciful creatures. Get ready to take selfies.
And that's not all. This new venue entitled In Tune with the World is part of a more global reflection pertaining to the place of Man in the universe. The second part of the exhibition presents the creations of thirty French and international artists, taken directly from the collection of the Foundation and never unveiled until now
Whether it's the streamlined sculptures of Alberto Giacometti, the hanging horse of Maurizio Cattelan, the blue creations of Yves Klein or the aquarium of Pierre Huygues, each work interrogates the audience on fundamental questions linked to the human being and his environment. A tip? Don't hesitate to question the mediators in order to understand the messages, sometimes subliminal, set forth by most of the contemporary par artists.
We adore:  the installation projecting a hologram, larger than life, by Dominique Gonzalez-Foerster and the immersive experience in 3D on a haunting music harmonized by Cyprien Gaillard.
To be noted: every first Friday of the week, the Foundation features a late night program with concerts, stands of street-food and other great animations  for just €10.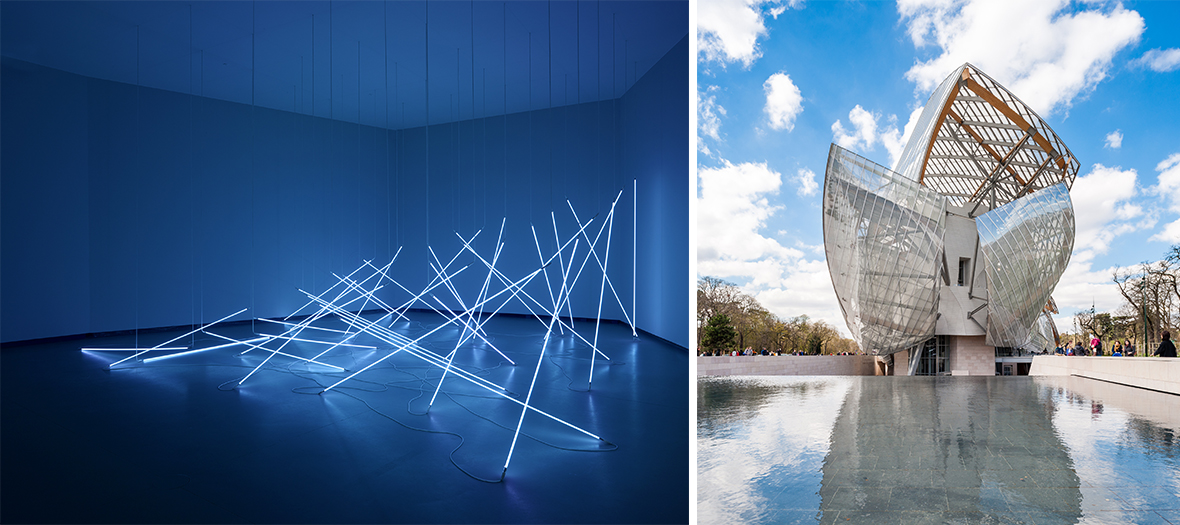 In Tune with the World, The Collection – New Selection, until the 27th of August 2018. €14.
Also discover the Murakami exhibition.