For each new Fall season, Parisiennes all ask themselves the same question. What are the must-have fashion pieces to add to our wardrobe this season? In order to get a better insight, the Do It Team has called upon two top experts: Claire Rémy, in charge of the style bureau Carlin, and Priscille de Benoist, head of the personal shopper department at the Printemps. So open up your little notebook and listen to their advice.
© Mellow Yellow
What are the new spotlight colours?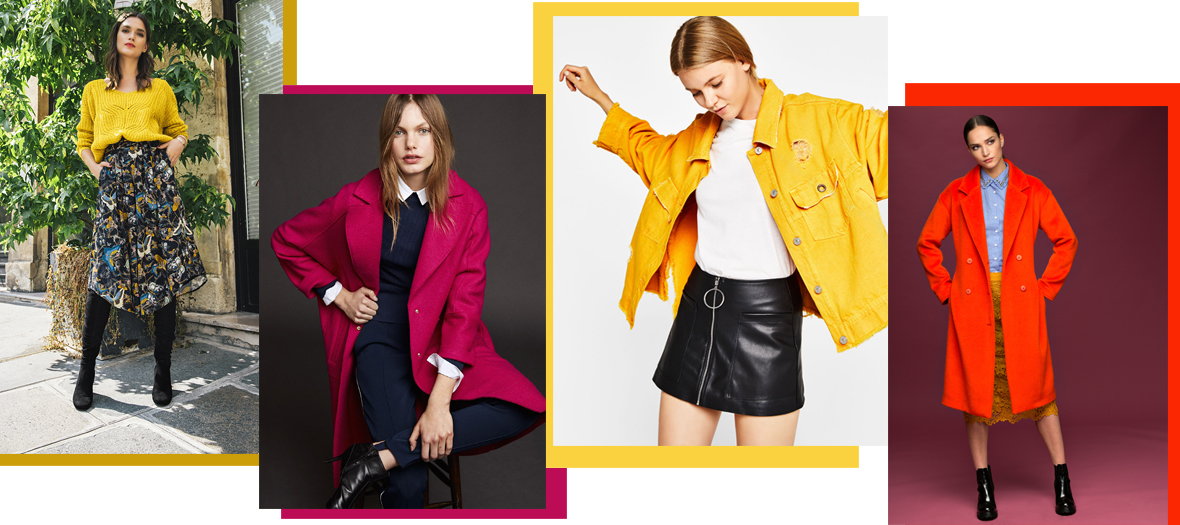 Update:
This season colours will be bright and flashy, "between flame red and electric fuchsia pink", explains Claire Rémy. They are to be associated with navy blue (the new black of Dior) and pastels, or then dark green and saffron yellow. And why not? Priscille de Benoist recalls that "wearing a nice bright colour puts you in a good mood while offsetting your complexion—in addition to being very feminine". So there.
The prescription:
wearing a flashy colour as a total look for the most daring, or in overtones (green/blue petrol/cobalt, red/pink…).
as animation with checks, colour block, a decorative flower, or accessories (notably red, white or silver boots, with a high-waist mom jean and a bomber).
through a strong outside piece (jacket, trench, pop fur), bright colours are great enhancers on woollens.
on noble and light materials such as chiffons, easier to wear than heavy materials, and super trendy on ruffled dresses.
never wear more than 3 colours (except black, white and denim blue).
The shopping: Maje, COS, Eric Bompard.
Photo : Promod, Tara Jarmon, Bershka, Essentiel Antwerp.
Fashion accessories to pimp your basics?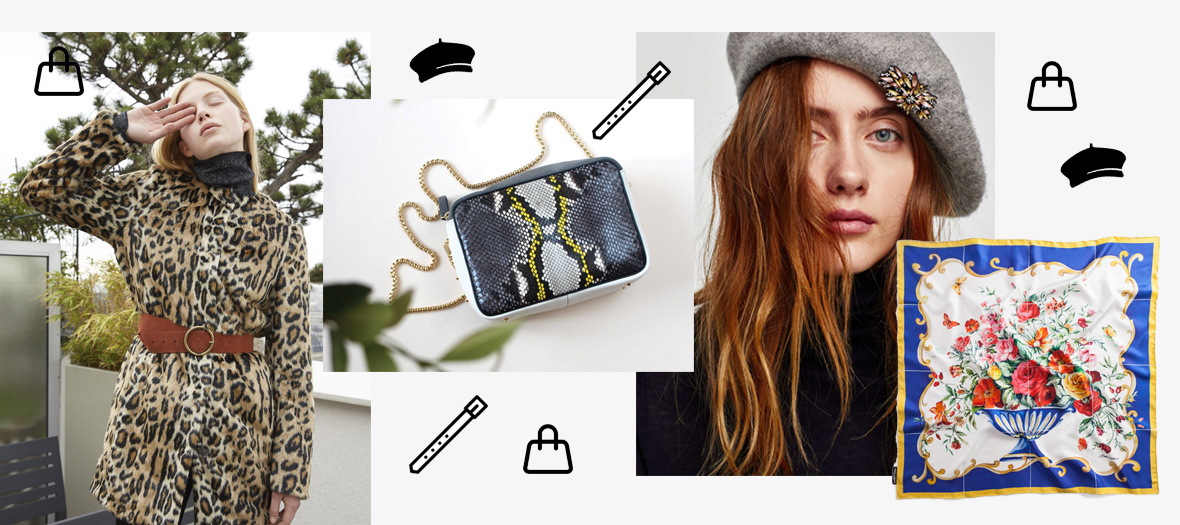 Update:
It's the fashion statement of the season: having fun with accessories. Dare to wear mules, flip flops and sandals with a pair of socks, as well as booties in supple and loose leather (inspired by the famous "Slouch" of Saint Laurent). Another star accessory of Parisiennes and highly recommended by Priscille de Benoist : the felt hat, "that gives lots of personality to a look".
The prescription:
wearing a square or denim heel.
personalizing your handbag like at Fendi, thanks to modular bag handles (jacquard, stripes, flowers…), hot stamping, bag jewellery...
associating the béret (star accessory of Dior this year in a leather version) with the large silk scarf of the neo-bourgeoise, for a wildly Parisian allure.
offering an added feminine value to your oversize coat and man's shirt with a pretty leather belt, the indispensable accessory of the fashionista. A long term investment to be picked up at Joseph, Vince (exclusively at Printemps), Alaïa, Saint Laurent or Marni.
The shopping: Cosmo Paris, Au Printemps Paris, Forever 21.
Photo: La Petite Française, Célia et Louise, Zara, Dolce & Gabbana.
What are the new star materials?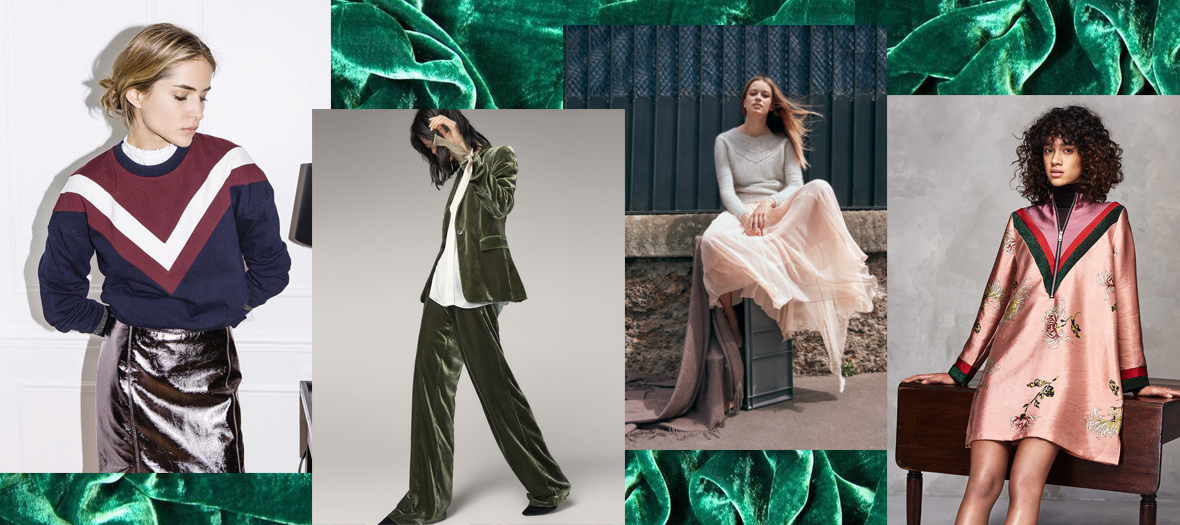 Update:
The trend is mostly suppleness and fluidity with dresses and vaporous skirts in chiffon. Hurray for comfort! Claire Rémy notes that noble materials "derive from sporty shapes or sleepwear, with satin or fluid bases, seen on jogging pants". Leather is supple for a more sportswear allure, while denim is in the spotlight with a kimono version, on boots or even jewellery.
The prescription:
coordinate and de-coordinate at will sizes, colours and materials. For a harmonious result, playing the homogenous mix and match card while sticking to the same overtones (different prints but in the same shades) or the same style (an arty flower as animation on a big in a patchwork of colours).
dare to wear vinyl, yes, but on a cute skirt or a blouson, in a lacquered or glazed version, more matt. Careful about the cheap side of the material and ephemeral trends, according to Priscille de Benoist, who suggests it's better to invest in a nice leather piece.
think of velvet, that enhances colours. On a top, a pair of pants, a bag or short boots, it's the star fabric of the season.
The shopping: New Look, Jonak, Isabel Marant, Mango, Morgan, Maje.
Photo: MKT Studio, Massimo Dutti, Eric Bompard, Scotch & Soda.
How to wear XXL?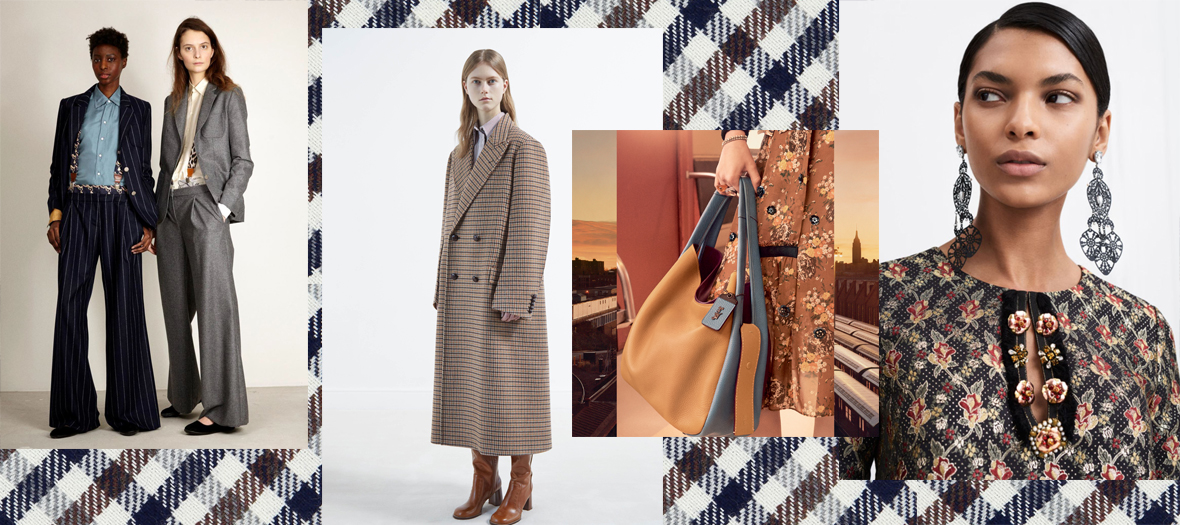 Update:
Fall-Winter 2017-2018 will be the season of new wearing styles and the exaggeration of proportions, a trend inspired by street wear. New volumes, oversize jackets, long bomber that becomes a coat, pants worn large and low… The novelty: the way of wearing an accessory with the maxi pouch, the XXL fanny pouch across your front, double-bags, and nano-evening pouches hanging from large ones. An "ultra easy to wear " trend, says Priscille de Benoist. So what are we waiting for?
The prescription:
start softly with an oversize piece, go for a big coat. To be belted at whim to accentuate the "bubble" side while showing off your waist.
prefer wearing an XXL piece on top, to be associated below with a body hugging pair of pants such as a leather leggings or slim jeans.
dare the huge pullover, so large you wear it as a dress with opaque hosiery and boots or sneakers.
make the XXL tote your big ally of the season. Even if you are not tall.
trust the new bomber in a long or fantasy version with jacquard or embroideries.
to prolong summer outfits a little longer, overlap your summer dresses under warmer ones, to be teamed up with a light long for the intermediate season.
take advantage of the street trend and go for a jogging style pair of pants with a strip down the side of the leg, in a noble material (silk, cashmere, wool).
as for jewellery, target the XXL mono hoop earring as seen at Céline and Isabel Marant, to be coupled with a small discrete disc on the other side.
The shopping: Acne, Bimba y Lola, Stella McCartney, Victoria Victoria Beckham, Essentiel Antwerp.
Photo: La Prestic Ouiston, Joseph, Coach, & Other Stories.
Many thanks to Claire Rémy & Priscille de Benoist.