When two furiously trendy names on the net show up in the Marais for a short-lived ephemeral boutique, the result is THE highly awaited « In Real Life » rendez-vous. You have been warned!
On the one side, Flolove, the young fashion label of Florence Rouchon (ex collaborator of Karl Lagerfeld), that is creating the buzz on social networks, but cannot be found in boutiques because only sold on line. For sure you have seen its denim daisy blouse pass by on Instagram (135€) or its neo-romantic tops cut out in the back (125€).
On the other, Brocante Lab, the platform for vintage furniture, featuring real decoration nuggets through its 2.0 tag sale. Emmanuelle armchair (280€), formica chairs (25€), retro lights, wicker mirrors…
The two über trendy pure-players will be under the same roof from Wednesday the 13th to Monday the 18th of April around a super trendy selection. Reality still has its upsides!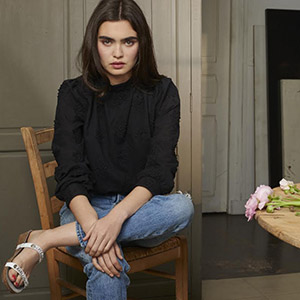 Open Wednesday the 13th to Monday the 18th of April 2016, from 10:30am to 8pm.
Also check out Pantheone, the new brand for trendy Parisiennes.