Freeze Junk-food again this year with Ice creams like in Asia, an absolutely devilish sorbet, sugarless ices or super couture creamy popsicles, here are the buzzing frosty treats that are a total must this summer.
The most "diet"
Nubio, the kings of freshly squeezed juices that twigs are wild about had the brilliant idea of freezing their potions to transform them into detox ices such as fennel, beet, pineapple, lemon, ginger or an irresistible almond, date, vanilla, Hiimalaya salt sorbet. Result? A "raw" sorbet —sugarless with no lactose— divinely good, but also draining, slimming and with a thousand virtues. An exploit for Parisiennes on a diet.
Ice Green" by Nubio available on Uber Eats, Maison Plisson - lamaisonplisson.com-  and Atelier Nubio 4 rue Paul Bert 75011 Paris. All the info on www.nubio.fr/
The most deluxe "snickers"
Careful, deluxe junkfooderie in sight ! Dalloyau has  concocted the most snob of desserts : "Finger Cacahuète Vanille" with a crunchy sablé peanut cookie, vanilla ice cream from Madagascar, vanilla caramel, vanilla and peanut chips wrapped with milk chocolate. You said foodporn?
6,90€ in all the Dalloyau boutiques. All the info and boutiques on dalloyau.fr.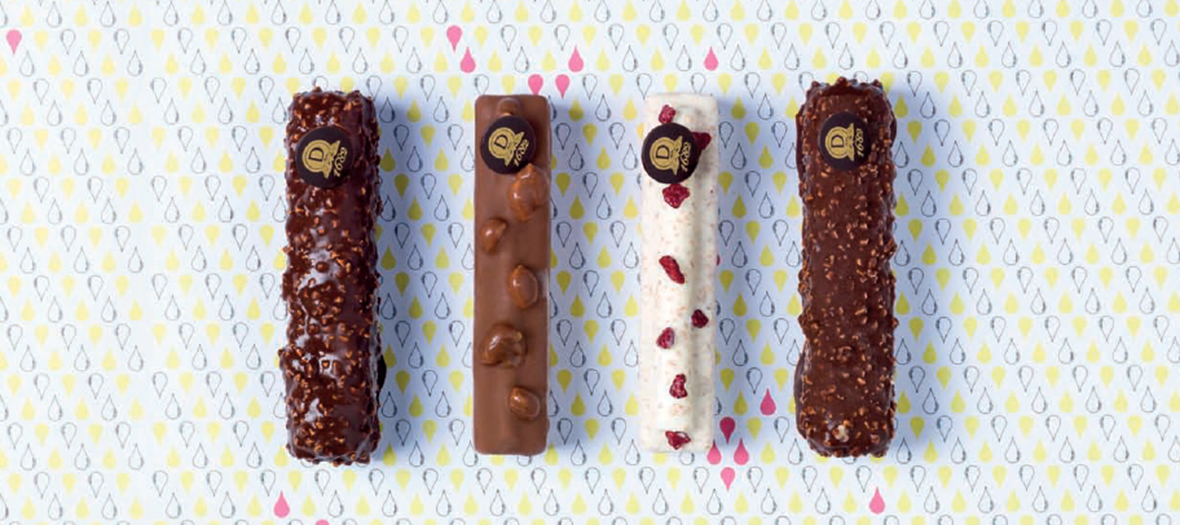 The most Marie-Antoinette
When Ladurée launches an ephemeral boutique for Summer, dedicated to ice cream, it's necessarily frosty! Claire Hetzler, their "top pastry chef", imagined Darling Ice, a collection of furiously girly and amazingly delicious frosty pastries.
We like: the Pavlova spirit of Darling Ice Rose Framboise: meringue with a raspberry sorbet and rose ice cream, covered with chantilly strawberry-champagne
For all the chocolate macaroon buffs: a soft biscuit chocolate macaroon garnished with chocolate and caramel ice cream. Yummy !
Exclusively at the Ladurée pop-up store, to stay or to go. 6€ in individual portions.
Ladurée Pop-Up Store 21 rue Bonaparte - 75006 Paris
The most "rock'n'roll"
Do you know rolled ice? This new frosty concept that has taken Asia by storm has finally landed in Paris. The spectacle is taking place live in front of you. The preparation (milk, fresh cream, sugar+ a flavour) spreads out like a crêpe on a cold plaque. Once scraped, it forms rolls.
Chop your own rolls at the ephemeral IceRoll specialist boutique. Cool, pastry chef Monsieur Benjamin also partakes.
Ice Roll - 7 Rue de Turenne, 75004 Paris - 06 37 78 19 87 - iceroll.fr.
Monsieur Benjamin - 63 Rue Saint-Martin, 75004 Paris -  01 43 70 27 12 - monsieur-benjamin.com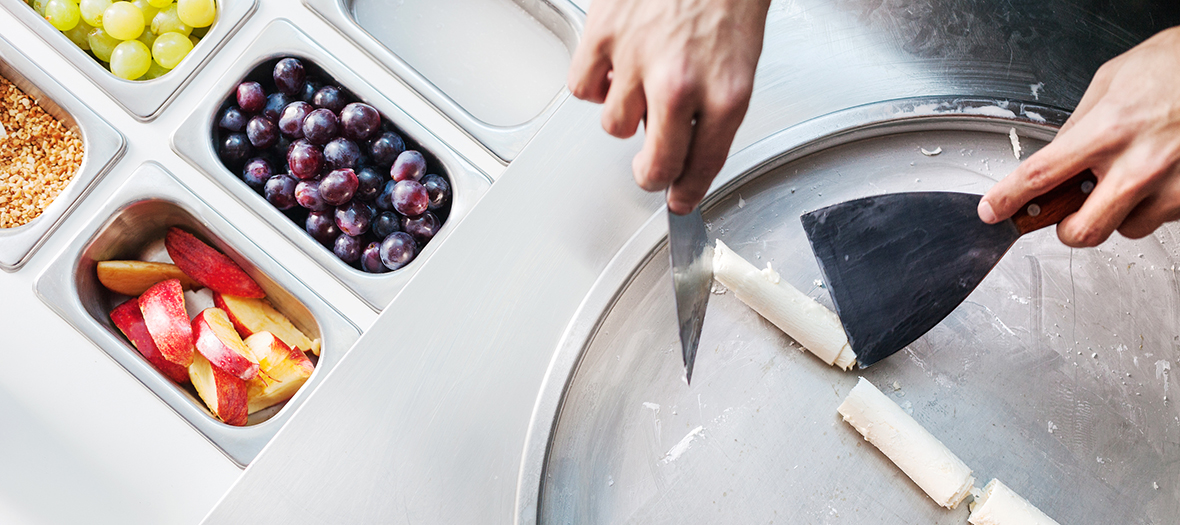 The most "forbidden to those under 18"
Careful, only persons over 18 are allowed to lick these sorbets. The reason? They are twisted with alcohol. Real frosty cocktails, to be enjoyed with moderation.
Two options, Lapp sticks (Melon Spritz, Bellini, Mojito Strawberry) and Crespi pots (tequila lemon banana, vodka kiwi, 6€). Cheers.
Crespi, sold at l'Epicerie Générale, and at the Mama Shelter of La Mano.
Lapp chez Le Zo - 13 rue montalivet, 75008 PARIS - 01 42 65 18 18 - poptailsbylapp.fr
The most candy
The oldest chocolaterie in Paris, aka A la mère de Famille, is launching wild Esquimaux ice sticks with flavours such as lemon, vineyard peach, raspberry or passion-pear in which one finds small pieces of house fruit jellies.
We like: haute couture ice waters made with fruit selected by a Meilleur Ouvrier de France produce specialist.
3,50 the ice stick in all the A la mère de Famille boutiques.
All the boutiques and info on www.lameredefamille.com
The most kawaï
Impossible to resist the frosty mochis of Ayami, small ice sticks filled with ice cream or sorbet. Green tea, lychee, passion fruit, vanilla—a Meilleur Ouvrier de France has worked on the recipes to give another angle to this super popular sweet delight in Japan.
Sold at the Ayami corner, 6th floor or Galeries Lafayette - 75009 Paris. 3,20 € each.
The most "with a twist"
Our darling baker, Gontran Cherrier, had the chic idea of  including seeds and cereals in his amazing ice cream pots. Vanillas buckwheat honey poppy lemon zest; black sesame. Amazing..
Individual pot 4,20€.
Gontran Cherrier - 22 rue Caulaincourt 75018 Paris. All the info gontrancherrierboulanger.com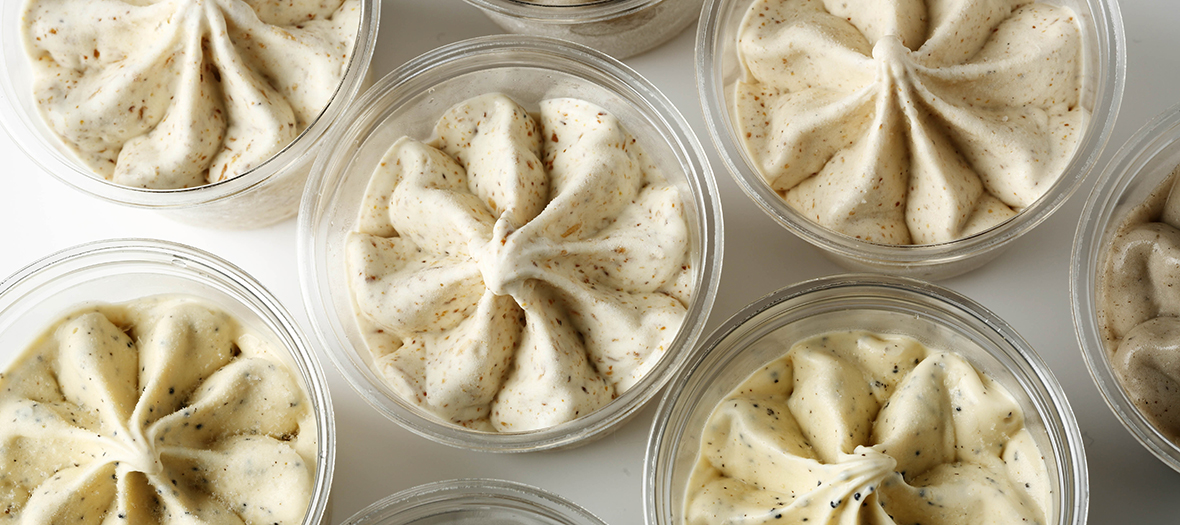 The most #foodporn
When the most US cookies team up with ice cream, the result is a finger-licking 100% Yankee hybrid creation to be eaten with your hands: the ice cream sandwich.
This Summer, Jean Hwang Carrant, the cookie queen in Paris, is launching 5 highly addictive flavours (black sesame, matcha, vanilla/chocolate, beer and mojito, 5€ a piece).
As for Ben & Jerry's, they have pimped their cult Cookie Dough with two chocolate chip cookies (5,89€ for a box of 3).
Jean Hwang Carrant - 84 Rue d'Aboukir, 75002 Paris - 01 42 33 67 38- jeanhwangcarrant.com
The most "magical"
Abracadabra, your ice cream pops up as though by magic from a heavy cloud of smoke. The tip? Liquid nitrogen instantly freezes matter.
Result, furiously unctuous ice creams that had never been seen until now: cheesecake with honey, tarte tatin, salt butter caramel and pop-corn...
6,50€ for a pot at Nitrogénie - 158, rue Saint Martin 75003 - nitrogenie.fr
The most "two in one"
You like cream puffs? You like ice cream? You will adore frosty chougers by l'Eclair de Génie. Christophe Adam, recognized cream puff master, has imagined huge puffs garnished with ice cream (passion raspberry; caramel flower or salt, lemon yozo) sorbet with assorted glazing's and toppings. Miam (6€).
The alternative? The amazing Miss Gla'Gla by Pierre Hermé. An upscale ice cream, nestled between two amazing macaroon biscuits (6,90€).
L'Eclair de génie - 14 rue Pavée, 75004 Paris - leclairdegenie.com.
Miss Gla'Gla in all the Pierre Hermé boutiques.
All the les info and boutiques on pierreherme.com
The most DIY
With Pierre Marcolini, the ice stick is customized. The couturier of chocolate showcases 6 flavors (vanilla, chocolate, matcha, mango…), coated with cocoa (black chocolate+ white chocolate+raspberry, milk chocolate+almond). You choose. 4€ for each ice cream.
The alternative? Magnum and its customization workshop. Ice cream, icing, topping, to each their combo. 5€ for each ice cream.
Pierre Marcolini
Pop-up Magnum, 3, rue des Rosiers 75004 Paris, until the 11th of  September 2016.