That's a great looking cable knit jacket, where does it come from? Australia. And that stylish hat? From L.A., and your stud ring? A Spanish designer ! Either your friend is a real globe-trotter (#jealous), or she just came back from a major shop op in this boutique of the High-Marais.
Gang of Earlybirds is a pure concentrate of international super cool labels, most of them totally unknown. Fanny picks them up at the source just for us. And to figure them out, each piece is labeled like a plane ticket with the name of the brand and its origins.
Immediate boarding for the USA with this leather knapsack by VereVerto (495€), stopover in Sweden with the warm and comfy pullover by Whyred (195€), second stop in Denmark cradle of the labels sporty chic label Base Range (brassière 50€), then London with a long printed silk dress by Rixo (380€). A unique worldwide wardrobe with tomboy, bohème and vintage inspirations.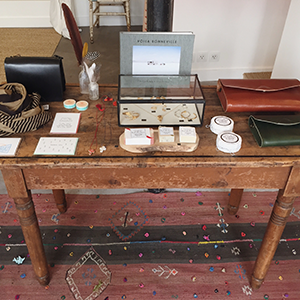 Tops also, unique good looking objects such as Knieja Wood platters, made in Hawaii bread soaps (6€) and photos of heavenly beaches taken by Julien Roubinet. Travel galore.
Open Monday to Friday from 11:30 am to 7:30pm, Saturday from 10:30 7:30pm.