A quick reminder! The Balmain collection by H&M, is (finally) coming out on Thursday!
After Wang,  Marant or Rykiel, the Swedish giant has signed for our greatest pleasure with the prestigious house of Balmain.
On the program: an amazing collection that perfectly mixes a "barock" style with an urban touch. In short, the Balmain signature.
So here you will find dresses in devoré velvet inspired by the real F/W 2015 Balmain collection (129€), belts in incredible leather (79,99€) and shirts in embroidered silk (99€), a superb blazer in silk velvet embroidered with pearls and rhinestones (399€) and a pouch in silver leather inlaid with cabochon stones (99€).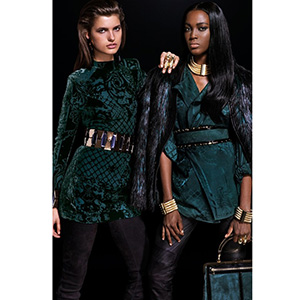 To be sure and nab some of these incredible pieces, show up at the crack of dawn in front of one of the 5 partner shops (St Germain, Lafayette, Haussmann, Champs Elysées, Rivoli) that are opening up their doors exceptionally at 8am sharp.
Phew! This year, H&M has thought of all the fashion-working-girls and will be showcasing the entire collection on the e-shop starting at 10am, hoping that the site will not be saturated too quickly.