From the podiums to the street, this season the sailor top is everywhere and we adore it. Worn as a pullover, a dress, with colours, ruffles or bows, laces or studded… This must-have fashion piece has many options. You can wear it with everything and accessorize it as you wish! Do it in Paris has put together 7 spotlight looks that are sure winners ! Ships ahoy !
Working girl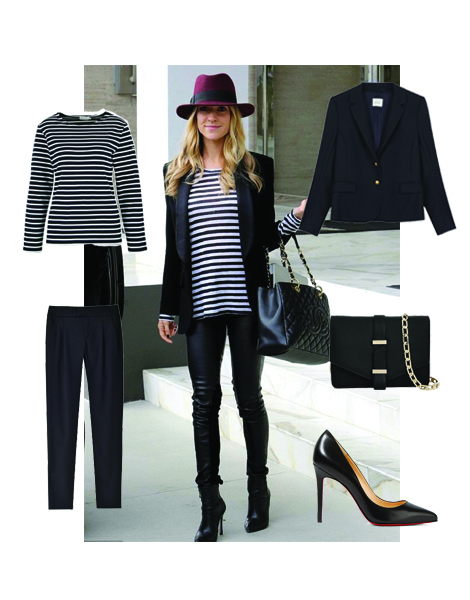 To go to the office, the sailor top is worn with a good-looking well-cut blazer, a pair of pants with pleats and high heels that will give you a nice silhouette. The ultimate chic touch ? The small leather pouch.
Black blazer with gold buttons 'Vanille', Pablo, 265€ - Bicolor sailor top, Pablo, 95€ - Wool pants clip, The Kooples, 175€ - Black leather pouch, Zara, 29,95€ - Pump shoes, Christian Louboutin, 495€.
Classic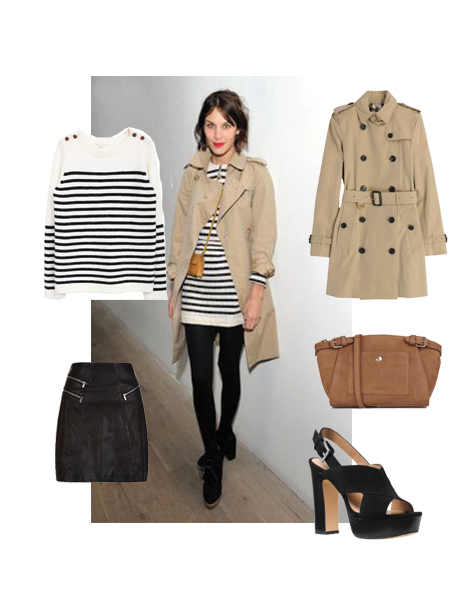 The sailor top goes with everything, including the timeless trench-coat. Like Alexa Chung, we wear it with a cute leather skirt and sandals... Here is the ultimate elegant combo.
Trench-coat, Burberry, "The Kensington Héritage" mid-long, 1695€ - Sailor sweater, See U Soon, 65€ - Leather skirt, Mango, 29,90€ - Leather wedge sandals, Michael Kors, 185€ - Mini bag in cow leather 'Eclipse', Vanessa Bruno, 290€.
Arty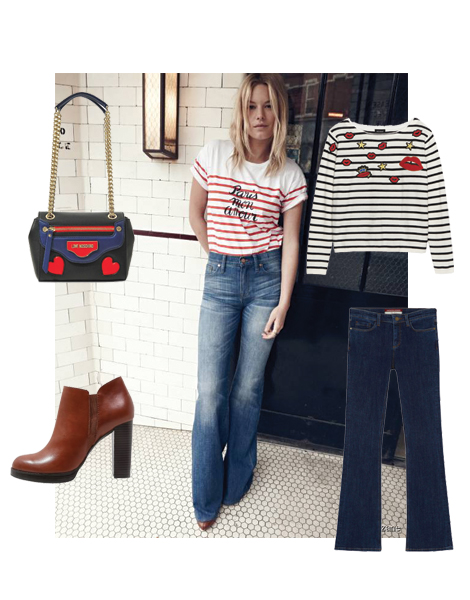 Go for a colourful bag that will be the ideal partner for this sailor top with patches, to be worn with flare jeans and high heels. Ideal to attend an uber cool opening.
Sailor top with patches 'Kiss', Kookaï, 69€ - Flare jean 'Folie-douce', Comptoir des Cotonniers, 145€ - Brown leather boots, Jonak, Little bag 'Heart Bike', Love Moschino, 214€.
Fashionista chic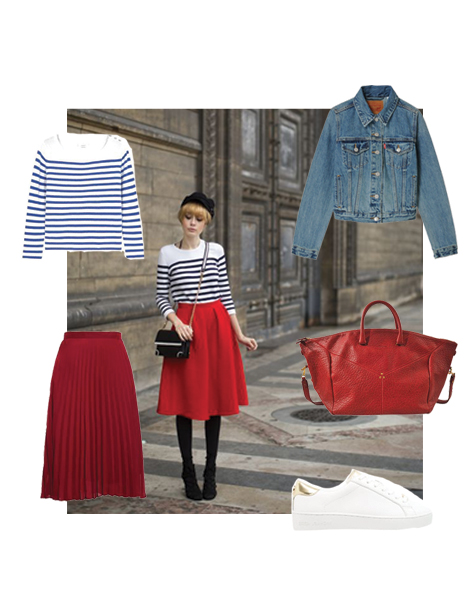 To really impress your latest flame during a weekend, go for a denim jacket worn over your sailor top, and a red pleated skirt. A big tote to carry all your stuff and a pair of trainers for optimal comfort.
Denim jacket, Levi's, 109€ - Sailor sweater, BA&SH, 290€ - Red long skirt, Vero Moda, 39,95€ - Bag in lambskin 'Gerald', Jérôme Dreyfuss, 630€, Baskets in leather, Michael Kors, 140€.
Casual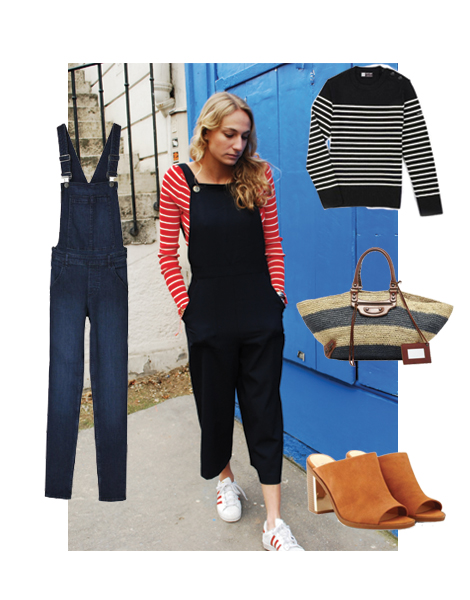 What could be more simple than the duo overalls + sailor top to chill on a Sunday afternoon ? Classic, but always trendy.
Denim overalls, Cheap Monday, 85€ - Sailor sweater, Hircus, 159€ - Mules camel à ornement en métal, New Look, 39,99€ - Basket bag in wicker, Balenciaga, 1100€.
Cosy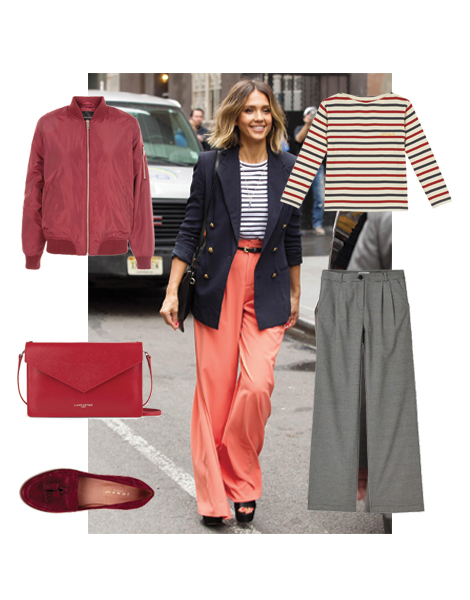 A small outdoors escapade is the ideal occasion to slip on this original red sailor top. To be worn with a bomber blouson in the same overtones for the modern touch and with flat moccasins for a totally preppy look.
Red bombers, New Look, 29,99€ - Pantalon évasé 'Galles', Galeries Lafayette, 59,99€ - Sailor top three colors 'Amour', Maison Labiche, 70€ - Red leather loafers 'Deanne', Jonak, 95€ - Mini bag in red leather 'Air 8', Lancaster, 59€.
Military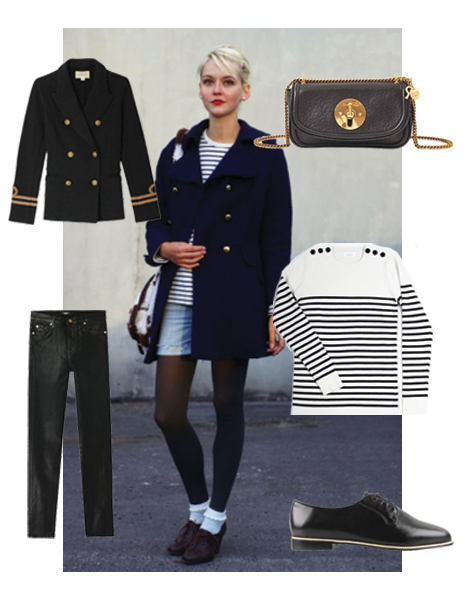 The pairing up of a sailor top and an officer's jacket works rather well. However, be sure to soften the military spirit of this outfit with flat derbies and a designer bag, in order not to seem overly strict.
Officier blazer in coton, Denim & Supply Ralph Lauren, 199€ - Sailor sweater with buttons, Maisons Standards, 89€ - Skinny black jean, 7 for All Mankind, 260€ -Black leather derbies, Bobbies, 150€ - Mini black pouch 'Lois', See by Chloé, 375€.