A magical venue mixing together upmarket clothing, new desirable labels, beauty products and a trendy vintage selection? Welcome to the new concept-store that is shaking up the Golden Triangle. With a very 80's visual identity, Le Dix has just set up a fashion selection and its nail polishes right near the Avenue Montaigne.
The idea? Importing in Paris the very American and Dubaï-compatible concept in a venue where it's possible to spend hours with the gals, trying on clothes and being pampered, in order to be all set to go attend a chic post lockdown event or meet up with a hot date. A quick tour.
The art of dressing up in 2020
Here, impossible to encounter bad taste. The founders, Zeïneb Chaouch and Adham Murray, respectively a Tunisian gal, who started out in London and an Iraki from Boston, are both driven by the love of beautiful clothing, well anchored in its era.
Thus, here one finds foreign labels exclusively for France, ultra-desirable and vitamin-filled brands such as House of Sunny, For Love & Lemons or Sister Jane (which we discussed here) creating the buzz on Instagram. And for clever gals, there is an entire boutique selection on the e-shop of the concept-store as well as outlets for great deals...
In addition, the pop-up is offering until September a selection of vintage pieces in collab' with From my Mother, featuring the resolutely up-to-date pieces of Leonard Paris, Mugler, Saint Laurent, Pucci, Dior ou Fendi.
The corner for coquettes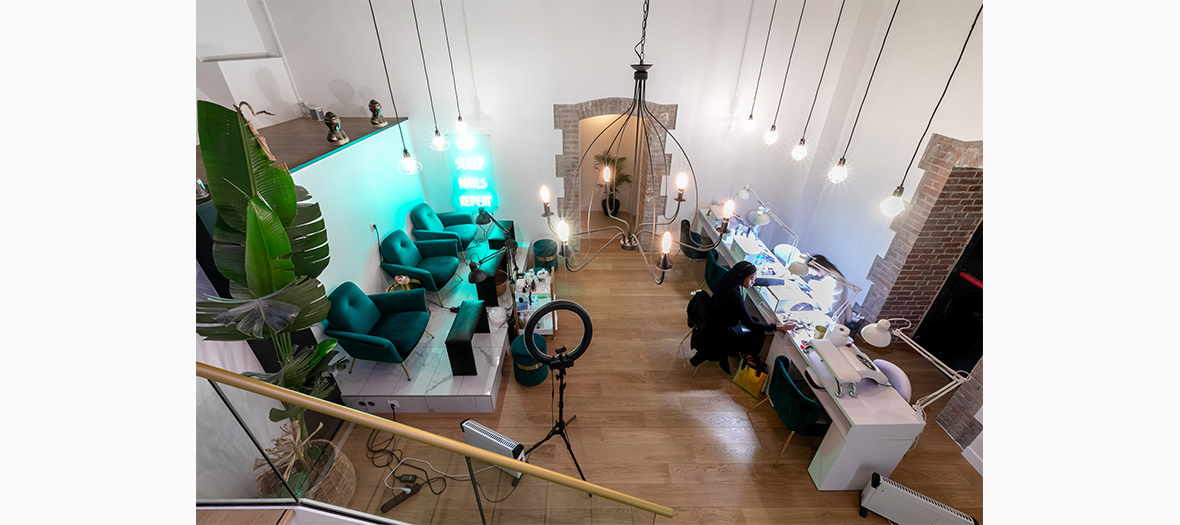 Now that your outfit is chosen, the next step is a beauty rendezvous, well installed in a delicate green velvet armchair: semi permanent manicure (€55), semi-permanente pedicure (€65), "lamination"— a technique from Dubaï to enhance eyebrows (€75), standard eyebrow trim with wax, thread or tweezers (€20 ), lash extension (starting at €90) or nail art ( add €5 to the manicure). This should definitely meet the whimsies of a rather international clientele of the moment, and encourage Parisiennes to emulate coquettes from Emirates—always perfectly groomed.
Open every day from 10am to 10pm.
Also discover The Frankie Shop, The most new yorker of brands in Paris and Astré that opens its first accessoires store for women and dogs