Big deal in the fashion sphere. Who would have thought? The darling designer of the Parisian podiums aka Jacquemus has just opened a Mediterranean cantina in collaboration with Kaspia at the heart of the brand new Galeries Lafayette on the Champs-Élysées. All the inside-track Parisians are making a beeline to get a table there.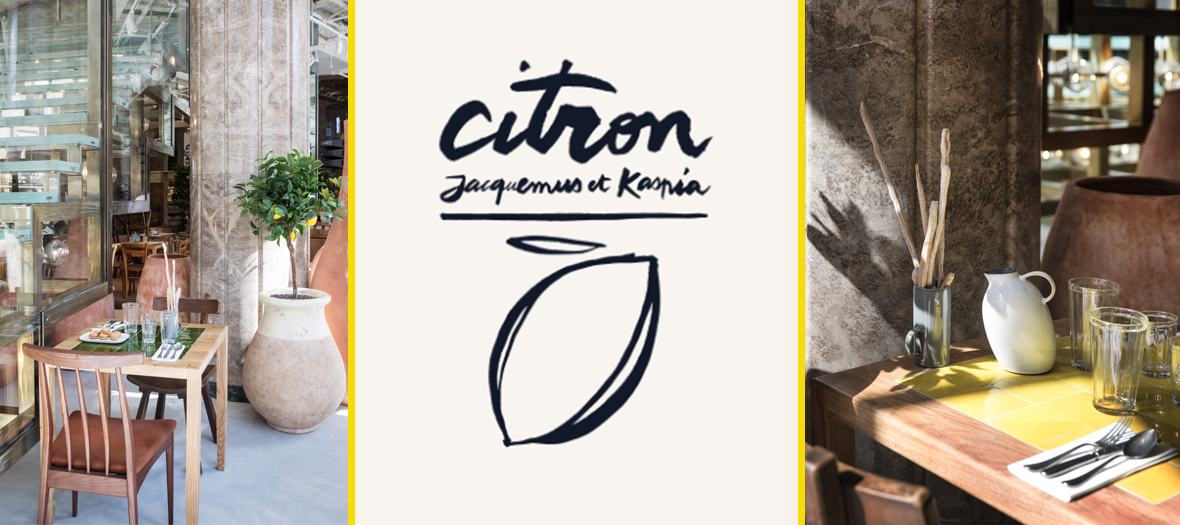 On the pavements, the beach
If anyone had predicted that one day a café on the Champs-Élysées would transport Parisiennes straight to Provence, honestly noone would have believed it. But here it is. An artistic direction signed by Southerner Jacquemus, well decided to stop being homesick, —naturally close to perfection...
Lemon trees, ceramic vats, straw carpets, tables in yellow tiles, the solar café of Simon, is filled with light, transports guests to a Mediterranean garden or a small village place just like in the south. Tutto bene.
A menu with a strong holiday feeling
A house lemonade, an pan bagnat and a tarte tropézienne: there is a strong scent of Pagnol's madeleines!  Even the orange juice is served like on the beaches of the Riviera…
A la carte, the best producers and pastry chefs are on deck: Cédric Grolet, Mammafiore, Stohrer, les vergers Saint-Eustache. On the plates: raw veggies to dip in a garlic aïoli, a tarama or a tapenade, a really delicious salad, a plate of burrata and poutargue or a pissaladière.
For dessert, the star is Cédric Grolet's unique lemon! The alternatives: mendiants and calissons, a pistachio custard or ice cream. It's like being on holiday, we are telling you.
A stylish café stylé for every moment of the day
No reservation possible. So, let's be very clear, if you intend to go there for lunch in the upcoming days, the chances of nabbing a table without queueing up for one good hour are pretty slim. However, other moments are sure to be enjoyable. Such as the opening in the morning, rush up to the first level for a café crème, brioche with glazed citrus fruit, a boiled egg and a wonderful freshly squeezed juice before starting your shop-op.
There are other moments. Such as Monday night. Since the department store is open until midnight, so might as well take make it a happy hour-shopping, sipping a cocktail, while nibble on a focaccia and olives before strolling through the racks of Jacquemus, Comme des Garçons, Rouje or Isabel Marant and find your next dress dream dress.
Open every day from 10:30 am until midnight.
Also discover Malro, the Mediterranean table of Denny Imbroisi that is enchanting the Marais.