Take a face yoga class the most beautiful view of Paris or have a peerless detox massage. Continue with a hammam with friends before settling on the terrace of the healthy coffee shop which offers detox juice, latte, granola and toast.
This is the wonderful promise of Maison Alaena , which has just opened its doors in place of the old Ladda Spa, at 32 rue de Paradis in a plant paradise. Shall we take you to 7th heaven?
A unique rooftop in Paris
Inspired by the Australian lifestyle where she lived, Alaia has imagined a stylish meeting like there was none in Paris where you come to take care of yourself in a resolutely glamorous mood and good vibes by reconciling naturopathy , yoga , nutricosmetics , therapeutic massages inspired by Tui Na (135 €) or Ayurveda (190 €), all fully in the vibes of in & out to feel beautiful and healthy.
The first Parisian spa by Alaena Cosmétiques
Perched on a rooftop where astonishing calm reigns in the frenzy of the 10th district, this Parisian address brings a new stone to the family business.
Created by Dr Sylvie Peres in the 2000s, Alaena Cosmetics is displayed as a precursor label in organic cosmetics, produced in the South-West, born out of the dermatologist's desire to prescribe natural preparations by removing all ingredients. contested chemicals ( parabens , silicones, endocrine disruptors , nanoparticles, etc.). It is a success.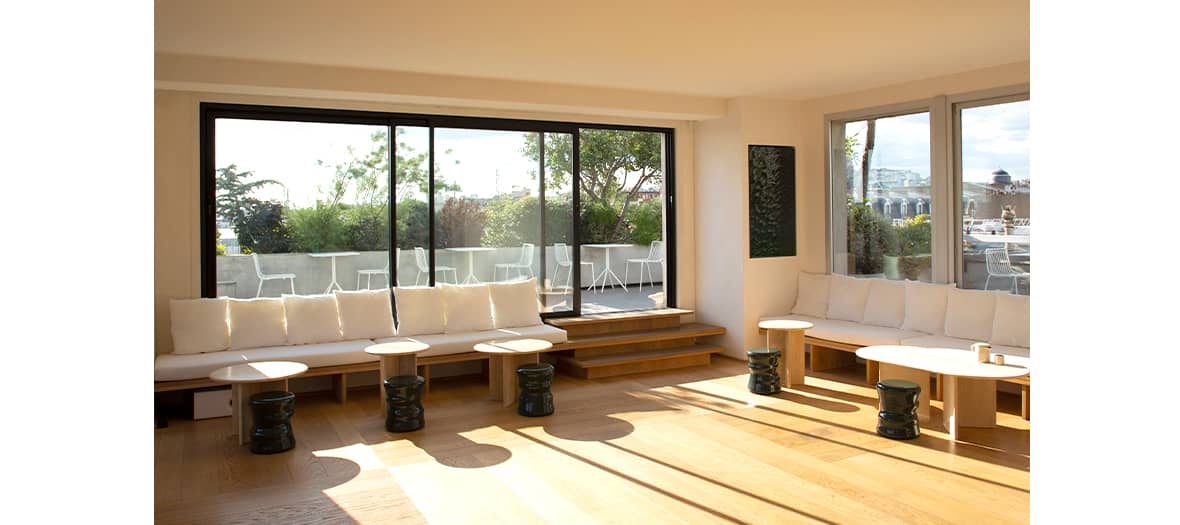 After the spa in Biarritz , his daughter Alaia extends the experience in a holistic place that goes further by integrating micro-nutrition. The opportunity also to test exceptional products around perfect facial treatments: peeling (85 €), eye contour treatment with jade stone (95 €) or kobido (135 €).
Yoga and organic coffee shop in a holistic penthouse
We find the repertoire of healthy and cool lifestyle, starting with the vinyasa or yin yoga classes (30 €), given morning and evening. The must ? The yoga + hammam + brunch formula at 85 €.
On the menu: gourmandise and the healthy side combined. Fresh cold pressed juice detoxifier (apple cucumber nettles sprouted seeds, € 8) or beautiful skin (beetroot, pomegranate and carrot), golden and matcha latte (€ 3), granola bowl with seasonal fruits (€ 7), blueberry and ginger chia verrine (€ 7) and other pastries without lactose and gluten.
The extra thing? No need to book a treatment to have access to the hammam or the coffee shop. You can drop by unexpectedly for a little drink or lunch in the sun.
Open every day except Monday.
Also discover Maison Gynécée , the spa-club for overbooked mothers and Belleyme , the first Parisian sauna café.