Getting our hands on a Maison Labiche tee-shirt was like looking for a needle in a haystack. Ultra-rare, since this young label has managed to create the buzz around its cotton basics tailored with embroidered words on the heart that all sell like hot cakes.
Good news, the super trendy Frenchy label has just inaugurated its first boutique in the Marais. A stylish neo workshop filled with thread and spools, comprising the men, women and kids collections.
For her, Amour, Blondie, Crazy in love, Femme Fatale. For him The Dude, Rive Gauche or Tony Montana. Hand-written messages on tee-shirts, shirts, sweat shirts and sailor tops. Poetic and effortless, Rihanna and Kylie Minogue already have theirs—so hurry up to get yours!
We adore: the tailored service. Choice of the word and the color of the thread for a unique piece just for you or a specially tailored present (count 5 days)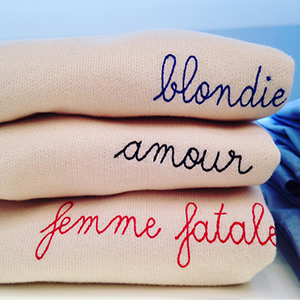 © Adrien Levinger
Open Monday to Saturday from 11am to 7:30pm, Sunday from 11am to 6pm. Tee-shirt starting at 55€, sweat-shirt starting at 95€.
Also discover the new concept-store that breaks up the routine.