Instagram is inundated with photos of cool celebs pulling out their favorite soft joggers to take the dog out, play sports or get off the plane. How do they continue to sell dreams even flanked by this symbol of no-style?
You will have noticed first of all that the hairstyle that goes with it is always impeccable and that an it-bag and state-of-the-art sneakers always add luxury to the ensemble. Without needing Kendall Jenner's unlimited budget, discover our five pieces to take out to sublimate a streetwear look and stay stylish even in a tracksuit.
With a plaid skirt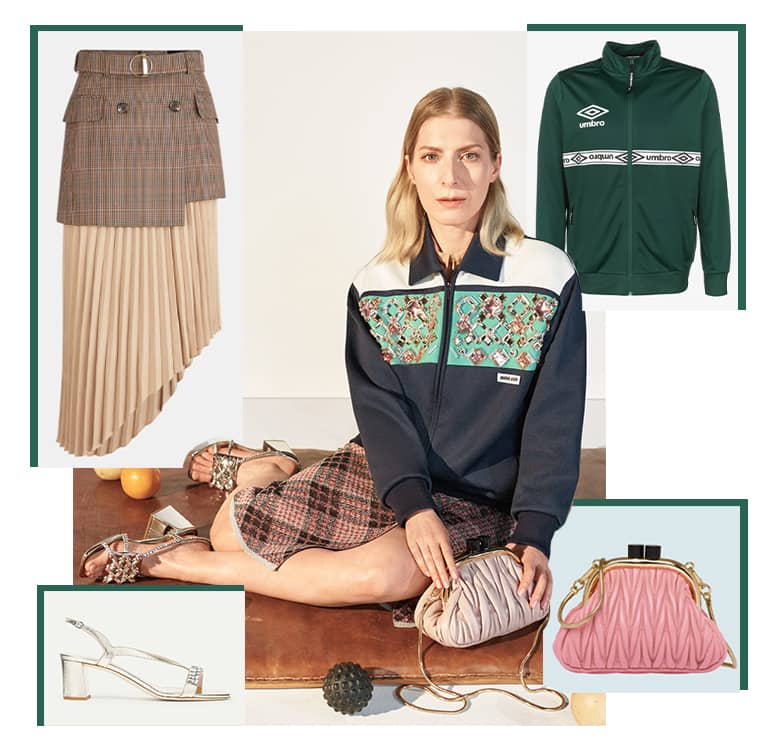 Miu Miu takes on the track jacket in a very fashionable color block version with a jewel print. Small budgets will turn to one of its equivalents among (real) sports specialists to upgrade this attribute of the quail-ra. As we know nothing about street cred ', we divert the matter to his advantage with a pleated and / or checkered lady's skirt.
The accessories: 100% bling sandals and a small padded pink cushion bag for a princess look.
Track jacket, Umbro, € 64.95 at zalando.fr
2 in 1 pleated skirt, Andersson Bell, 365 € on sale at 109.46 € on gallerieslafayette.com
Metallic leather and rhinestone sandals, Ghazal Paris , € 385 on sale at € 230
Mini pink quilted bag, Miu Miu , € 1,100
© Miu Miu
With a daddy's blazer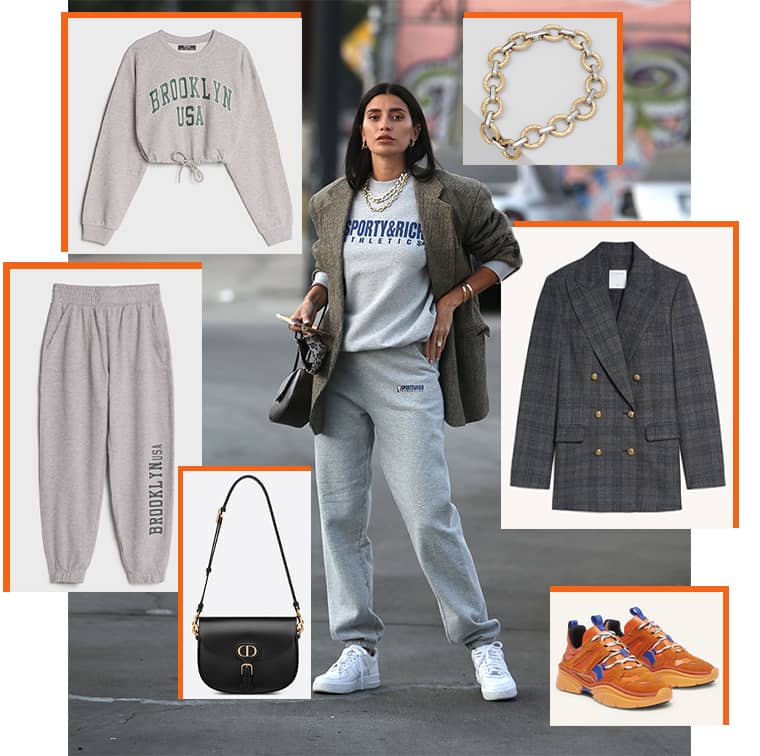 Wife of American football star Larry English , it-girl Nicole Williams knows a lot about sportswear. We copy his swag by associating his sweatshirt and jogger set with an oversized checked jacket that we take two sizes above if necessary, for a " stitched in daddy's wardrobe " effect.
The accessories: an XXL chain necklace, a couture bag and colorful sneakers to enhance the ensemble.
Printed sweatshirt and jogger set, Bershka , € 28.98
Checked suit jacket, Sandro , € 345 on sale at € 207
Wilson necklace in golden brass and silver, Chloé , € 740 on sale at € 444
Sac Bobby medium, Dior, 2 900 €
Kindsay sneakers, Isabel Marant , € 450 on sale at € 225
© MEGA / Getty Contributor
With pastel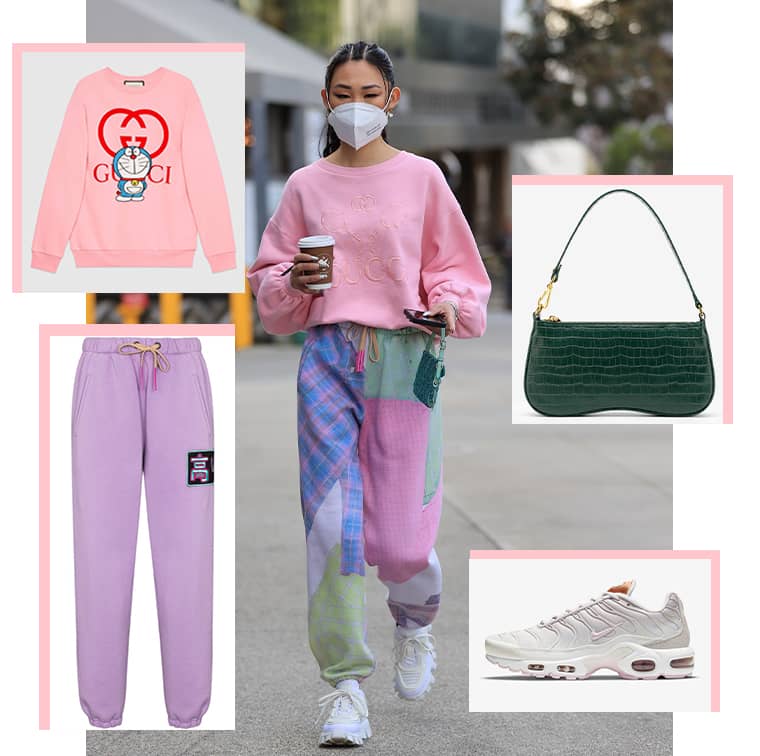 Back to the Pantone 2000s! Like Jaime Xie , star of Bling Empire on Netflix , we elevate the jogging to the rank of symbol of regression by choosing it in a pastel shade, the same for the sweater that goes with: baby pink, lavender purple, sky blue, light yellow, almond green ... The two main pieces fully play the card of softness but this time in wide cuts, far from the Juicy Couture silhouettes of Paris Hilton .
The accessories: a small shoulder bag in a bold color and the essential TN from Nike for nostalgia.
Cotton sweatshirt, Doraemon x Gucci , € 980
Jogging pants with embroidery, Natasha Zinko, € 397 on farfetch.com
Dark green croc-effect Eva Baguette bag, JW Pei , € 75 on sale at € 33
Air Max Plus, Nike , € 169.99
© Rachpoot / MEGA / Getty Contributor
With a sleeveless vest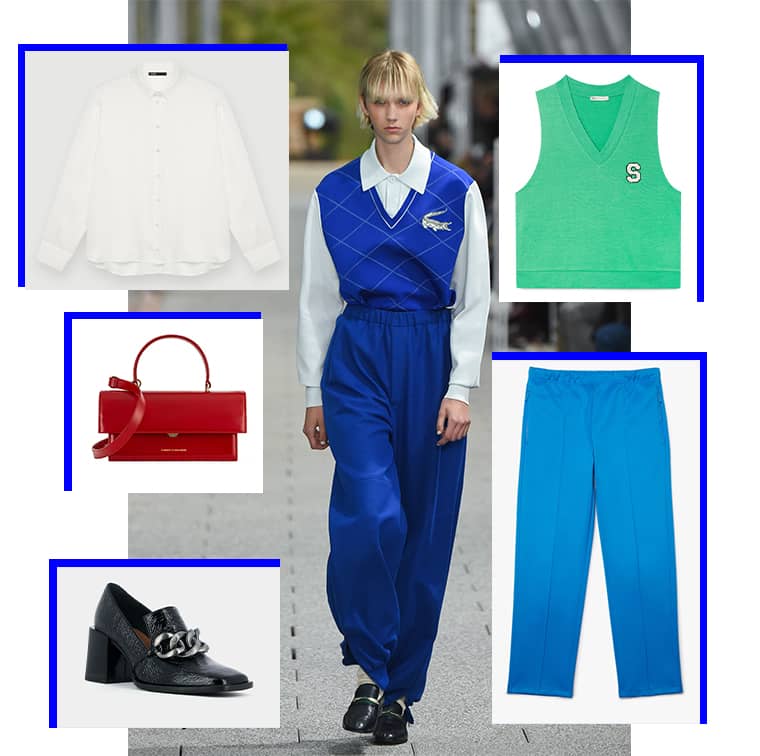 Praised by all the big names in fashion, Louise Trotter's latest Lacoste fashion shows have made sportswear a model of style. It's very simple: we want everything. Evidenced by its play of colors and materials as in this look which reinforced our obsession for the sleeveless cardigan, to slip over a shirt and to rock with a joggers of a sublime blue.
The accessories: patent heeled moccasins and a graphic handbag in a color opposite to the ensemble to enhance it.
Cardigan with yoke, Stradivarius , € 15.99
Silk satin shirt, Maje , € 195
Fashion Show Edition unisex sweatpants, Lacoste , € 250 on sale at € 150
Black frippé patent leather heeled moccasins, Jonak , € 145 on sale at € 101.50
Thea, Tammy & Benjamin handbag, € 370 sodlé at € 296
© Stephane Cardinale - Corbis / Getty Contributor
With a long trench coat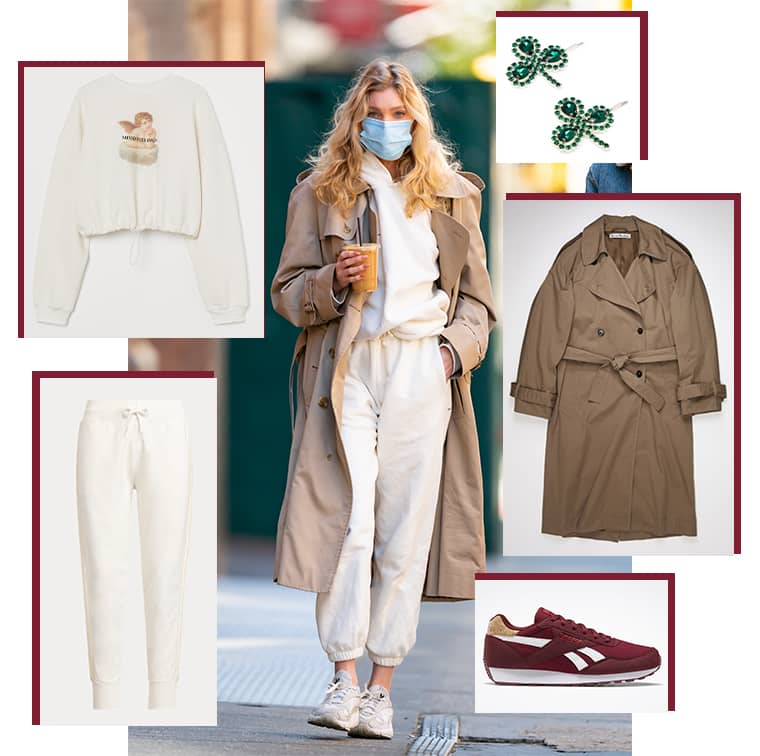 Swedish model Elsa Hosk uses her height to structure her fleece ensemble with a long trench coat . By playing with shades of cream and beige, we ensure a guarantee of elegance to this totem of stylistic carelessness, aristocratized by an emblem of Parisian chic.
The accessories: burgundy sneakers and green rhinestone barrettes that shine for a touch of color.
Sweat court, H&M, 19,99 €
Beaded fleece jogging pants, Polo Ralph Lauren , € 175
Cotton trench coat , Acne Studios , € 670
Rewind Run bordeaux, Reebok, 50 €
Clover crystal-embellished hair clips , Art School, € 109 on matchesfashion.com
© Gotham / Contributor
Also discover the ten golden rules of homewear and the comeback of the balaclava .