Tick, tock… Are you starting to receive announcements as if it were raining? Normal, the sacrosanct wedding season arrives with its share of meringues, staged pieces and drama.
While waiting to be the lucky one, it is a question of passing for the model guest: chic, stylish, racy, and above all never vulgar. In short, we do honor.
Be careful, however, to avoid off topic or all in bad taste, it is a question of thinking about its look according to the destination of the ceremony . In order to find the inspiration, we sneak a cheat sheet with 5 turnkey outfits that throw it away. It's k-do.
Sharp in the fashion capital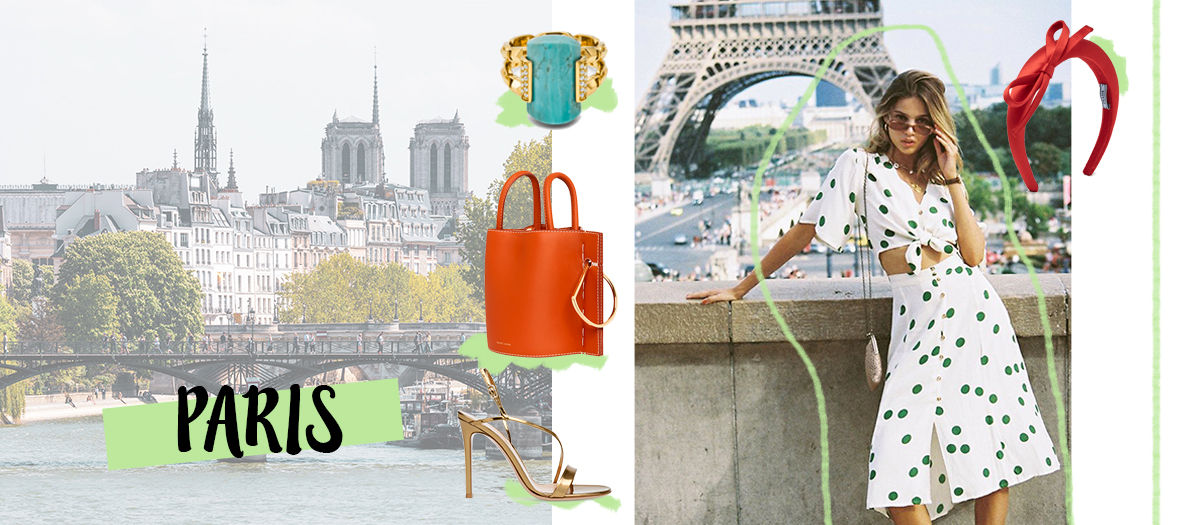 Peas, because it is printed at the time. Orange and green, because the two meet perfectly. Stilettos hilltop of, to lengthen the leg to infinity. And of course the Prada red headband , because you are a Parisian aware of the latest obsessions of the fashionsphere. Too easy.
Polka dot skirt, Faithfull the brand , € 158. Available in this color from the week of April 22.
Polka dot top, Faithfull the brand , € 96. Available in this color from the week of April 22.
Bobbi Ginger bag, Lente Dance , 430 €
Manhattan heels, Gianvito Rossi , € 595
Silk satin headband with bow, Prada , € 190
Cocktail ring in silver plated, Michael Kors , € 369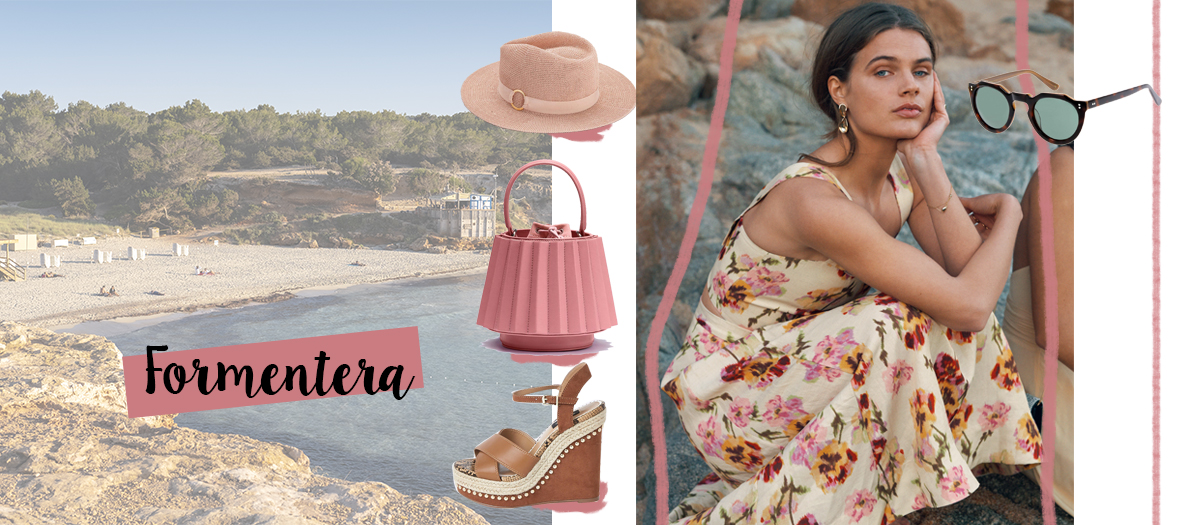 If you are lucky enough to be invited to a wedding in Formentera , a question arises: what would the gypset wear , this neo jet-set that looks for a bohemian identity under the coconut trees? We are inspired without overdoing it, with a matching floral ensemble, seventies-inspired wedges , and beautiful accessories to match.
Floral skirt (€ 79) and floral corset top (€ 49), all from & Other Stories
Plain hat, Kiabi , € 9
Lantern bag, Mlouye , 408 €
Wedge heels, River Island , € 75
Picas sunglasses, Lesca , € 249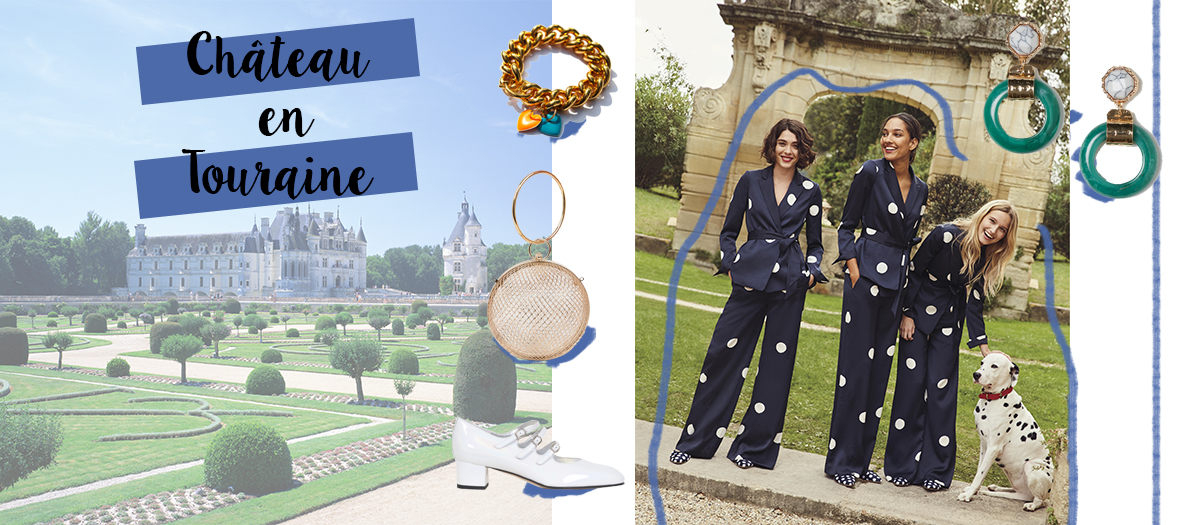 To impress the aristo, not too much is needed, my lady! The modern evening pajama- style tuxedo is bourgeois with varnished couture babies , a ball minaudière to hang on the wrist (the hand remains free to grab a cup, you get it?) And beautiful flashy jewelry to attract the light. Ready to dance a frenzied rock.
Blazer Rhea dots (198 €) and pants Dotted Rhea (160 € € resulted 112), all Boden
Kina babies patent leather, Carel , 315 €
Earrings, H&M , € 9.99
Bracelet Loverbling, Mimilamour, 70 €
Pink tulle ball-shaped pouch, Newlook , € 29.99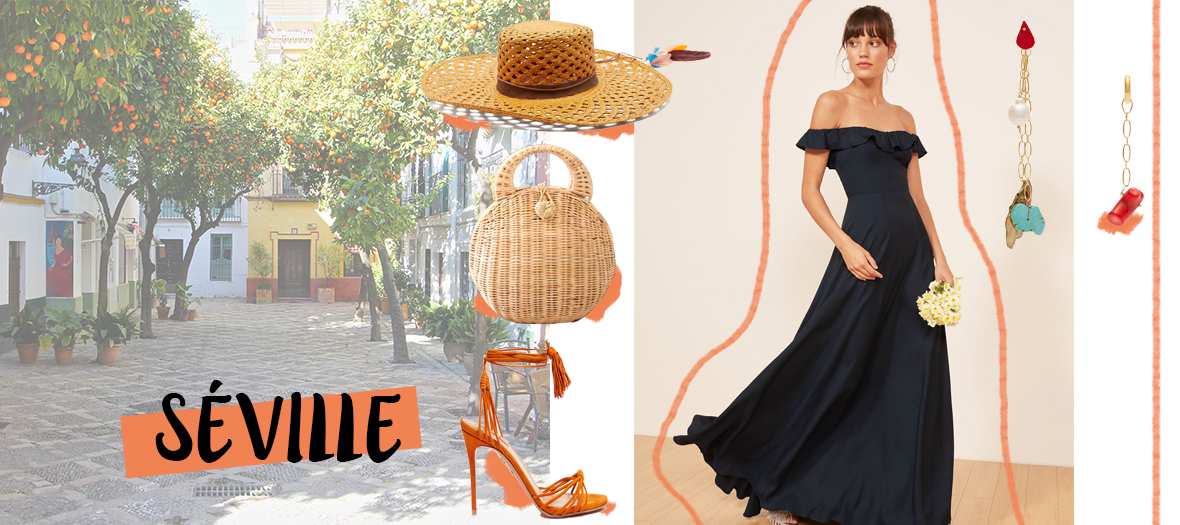 Calor under the orange trees. To reveal the sensual flamenca that slumbers (inevitably somewhere) in you, we pull out the big game. Long black dress with ruffles revealing the shoulders and the port of the head, wicker bag , sandals to tie, BO in the colors of summer and wide-brimmed hat to protect your eyes from the sun of Spain. All you have to do is paint her lips with a deep red and sip a fresh lemonade through a straw . We can see it already.
Verbena Dress, Reformation, 291 €
Millie wicker bag,Cult Gaia , € 86.90
Mescal 85 knotted suede sandals, Aquazzura, € 650 on www.matchesfashion.com
Reed 1 straw panama hat with feathered brim, House of Lafayette , € 273
Mismatched pendant earrings, Timeless Pearly, € 255 on www.matchesfashion.com
Vitaminated on the West Coast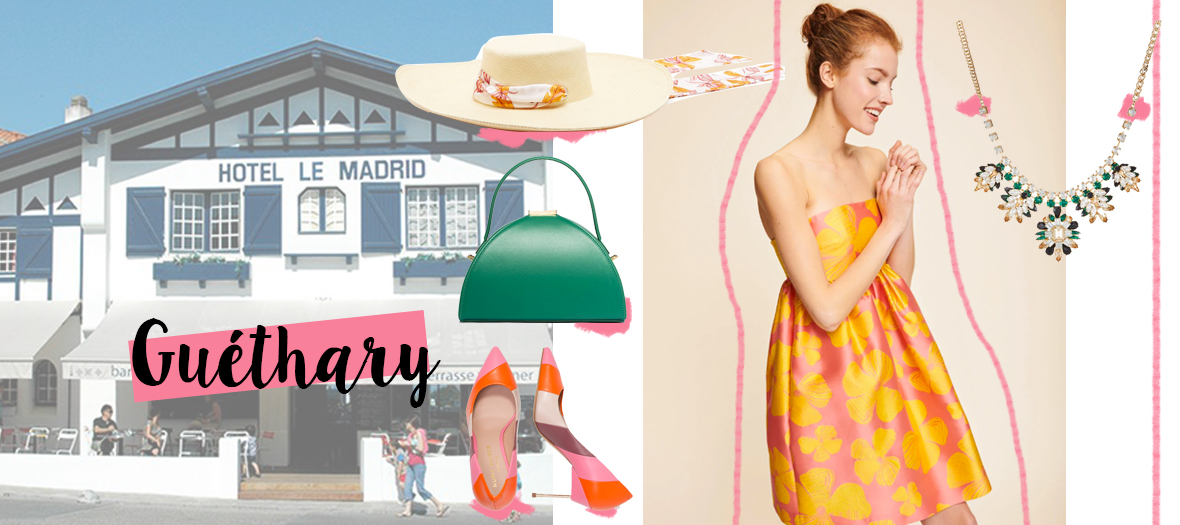 The West Coast wedding buddies, in your life, we bet you won't cut it. We will only see you in the photos thanks to this colorful and neat outfit composed of a short strapless dress in orange tones, graphic pumps, green details to enhance everything. Ultimate chic : the sublime hat to tie with ribbons. Your inspiration? Grace Kelly .
Strapless floral jacquard dress, Tara Jarmon , € 325
High-heeled pumps, Kurt Geiger, € 184.95 on sale at € 148 on www.zalando.fr
Pandora bag color Jade, Mlouye , 466 €
Cordovez satin straw hat, Sensi Studio, € 214 on www.matchesfashion.com
Nelassa necklace, Aldo, € 24.95. Available on www.zalando.fr


Also discover The top 10 blouses and The top 10 pants .