At the center of all the lusts this season: the little dress. Provided, of course, that it is perfect. Big star of the moment, the retro version with buttons or wallet closure dresses it girls like Jeanne Damas , Adenorah or Emily Ratajkowski .
For once, the ultimate style is at your fingertips, suitable for all silhouettes and guaranteed to be both fashionable and highly feminine ... Floral, polka-dot print , satin, in light knit, to slip over a shirt or under a denim jacket , in a short or midi-length version: a tour of the season's treasures.
English embroidery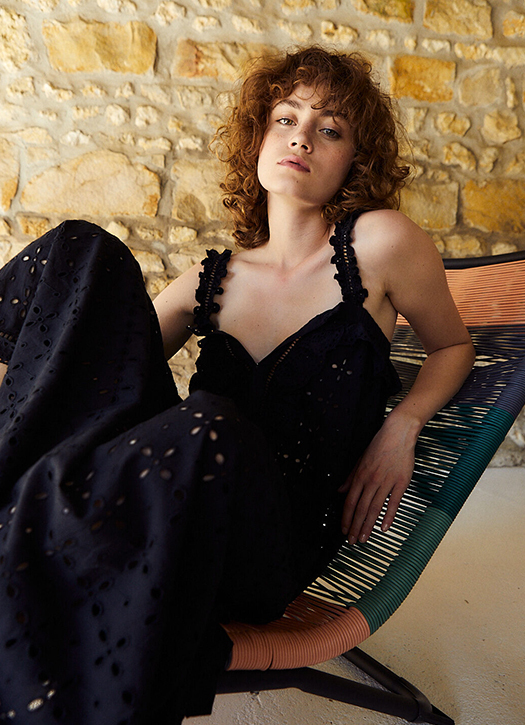 To look dressed while having put on a single piece, such is the challenge taken up by Laurence Bras with this long black dress in resolutely elegant openwork English embroidery . Sandals, a small basket, panties (all the same) and shoo, let's go for the day.
Long black eyelet embroidery dress, Laurence Bras , € 330
Empire waist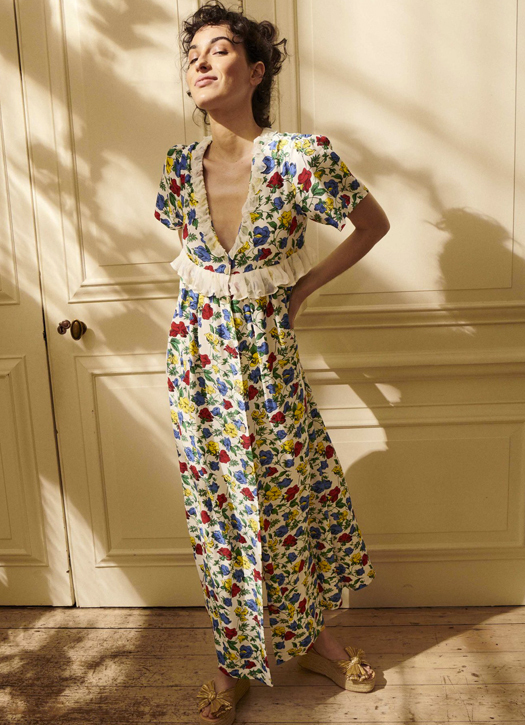 The English claw Yolke is clearly inspired by the 19th century sleepwear. Worthy of Beauharnais , this empire-cut Victorian neo-robe is adorned with a floral print and georgette ruffles, and becomes erotic as the buttons of the skirt open to reveal the leg.
Valentina Dress Dakota Meadow, Yolke , € 251.94
XXL print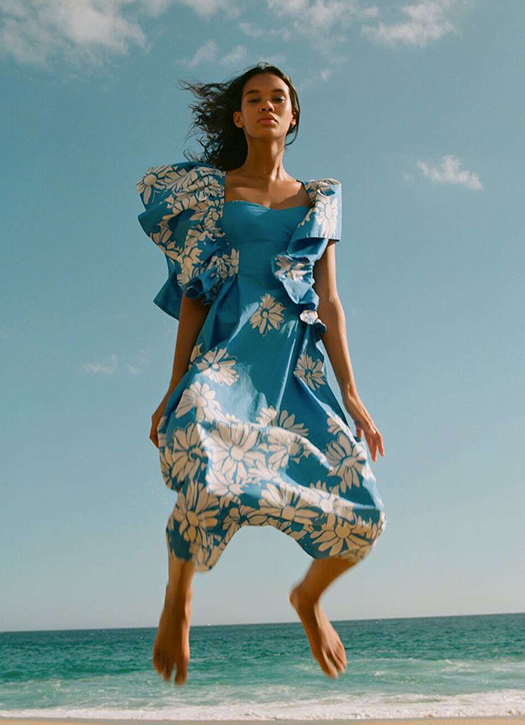 It's hard to go unnoticed in a turquoise dress , with large ruffles on the shoulders and an oversized print. However, it is Zara's feel good combination to be drawn to reclaim the streets of Paris with panache from the end of confinement, maxi sunglasses at the tip of the nose.
Printed poplin dress, Zara , € 29.99
Satin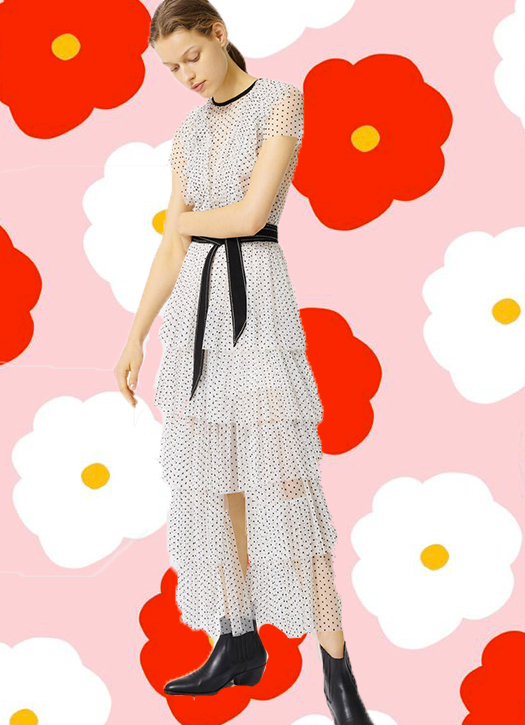 Rather recommended for lianas, this Maje long dress in white plumetis tulle is reminiscent of the princess disguises that we proudly wore at the school fair. In the adult version, why deprive yourself of a little dream in these dire times? We break the fairy tale with a pair of destroyed cowboy boots and a slightly disheveled hair.
Long tulle dress with dotted plumetis, Maje , € 350
Asymmetric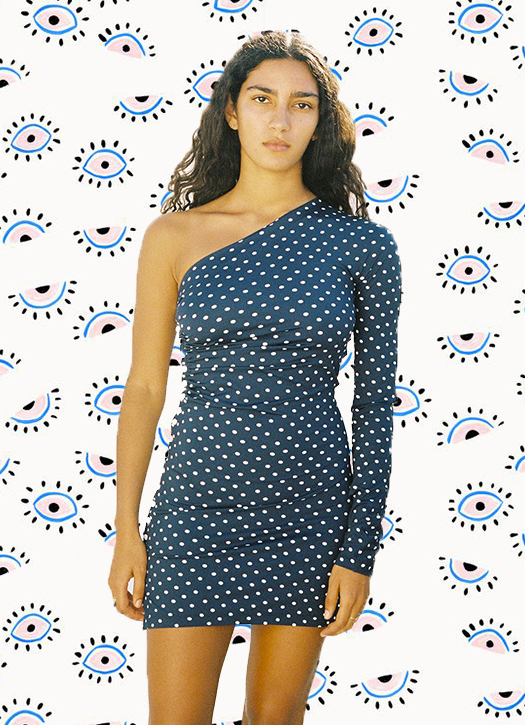 Short, asymmetrical and adorned with innocent peas, Marcia's little one-shoulder, Made in France dress is the sexy ally of our next party aperitifs. In addition, 100% of the profits will be used to help French hospitals . Impossible to deprive oneself in these conditions. For France, madame!
Nour polka dot dress, Marcia , € 395
Square neckline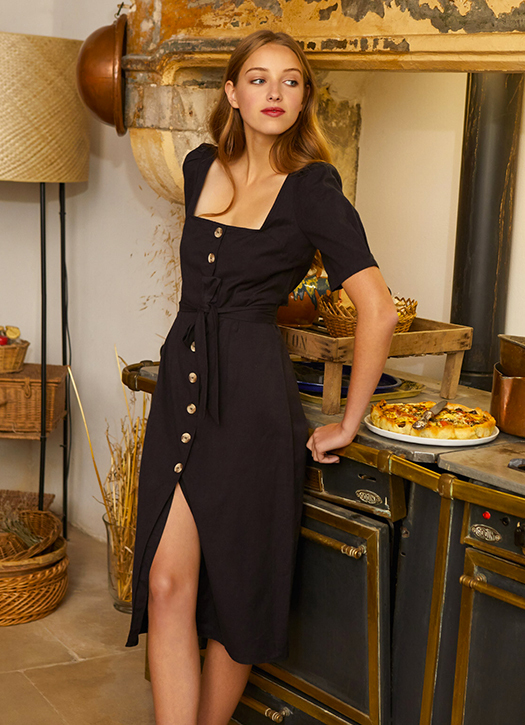 The square neck is the best ally of generous breasts, valued without falling into vulgarity. Petite Mendigote imagines her version with Ombeline, her button-up dress with retro accents. We associate it with braided leather slingbacks , a golden cuff and a vitamin lipstick.
Ombeline dress, Petite Mendigote , € 120
Small flowers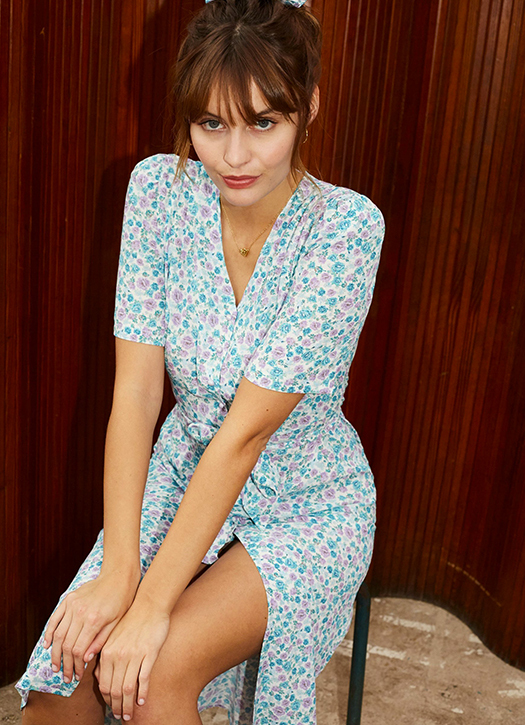 If we had once thought that the floral-print apron dress dear to working women would make a cool comeback with fashion influencers, no one would have believed us. And yet, Jeanne Damas' Rouje label signs an openly vintage shirt dress, paired with high-heeled wooden clogs , another now desirable curiosity.
Robe Mathilde, Rouje , 180 €
Dentele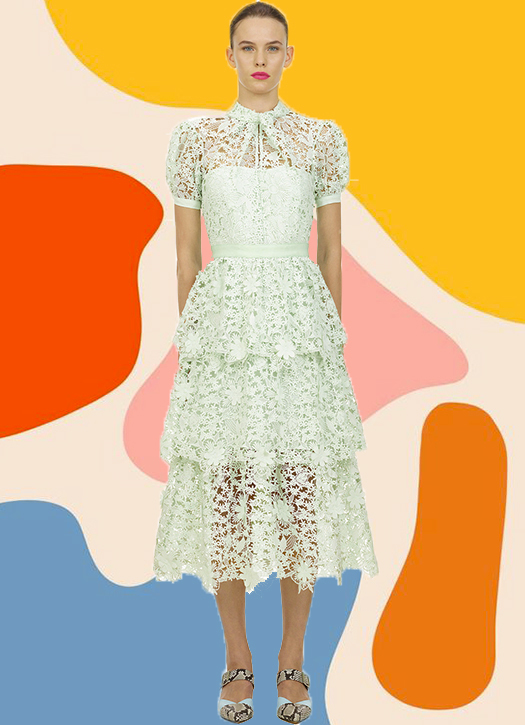 Perfect for a wedding worthy of the Royal Family , Self-Portrait's water-mint midi dress stands out from guests with its devilishly aristocratic wide guipure-look lace. More difficult to wear on a daily basis, it is accessorized for the ceremony with a silver minaudière and vertiginous pumps .
3D midi dress, Self-Portrait , 430 €
In mesh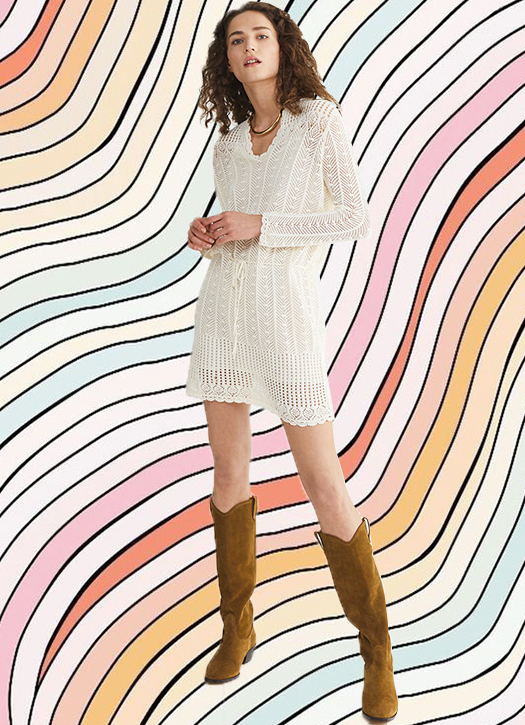 This one will be drawn as well to play the beauty of the fields as the queen of the aperitif chill on the terrace. Vanessa Bruno's short crochet-style knit dress is the new object of desire of the Parisian gypset . With heeled ankle boots and large golden hoops, coolness is guaranteed.
Nativa cotton dress, Vanessa Bruno , € 295
Satin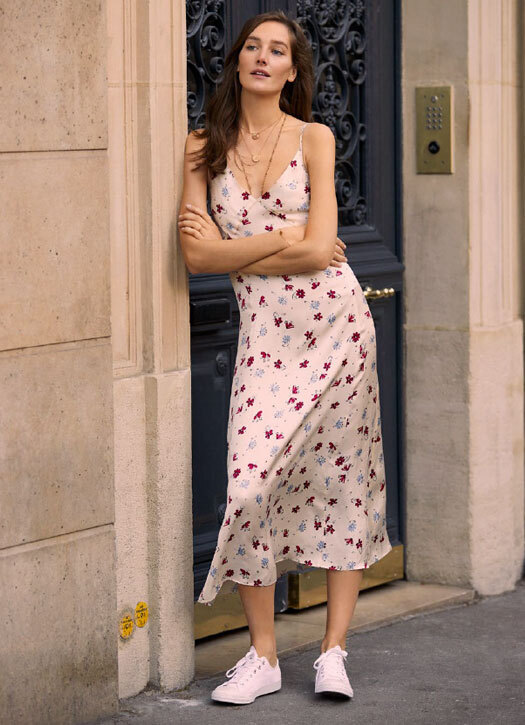 The nightie in town is easily democratized with a pair of sneakers and a bob or over a t-shirt. Pablo launches its very light and satin floral version, to assume at all costs rather than stashing it under a long cardigan.
Satin dress, Pablo , 245 €, soon available online
Also discover 8 ways to wear the short-sleeved sweater and the denim jacket , and 10 swimsuits to order now .