Stop everything! The follow-up and curtain dropper of La Casa de Papel, the fab series, totally addictive, is finally available on the streaming platform. The end of an unbearable suspense for all the fans of this completely wild holdup adventure.
A quick reminder for those who were sleeping in the back of the classroom. Having landed incognito on the screens in December, La Casa de Papel is the most binge-watched series of this early part of the year on Netflix. An unexpected buzz for this made in Spain production that features a skewer of actors totally unknown in our parts of the world.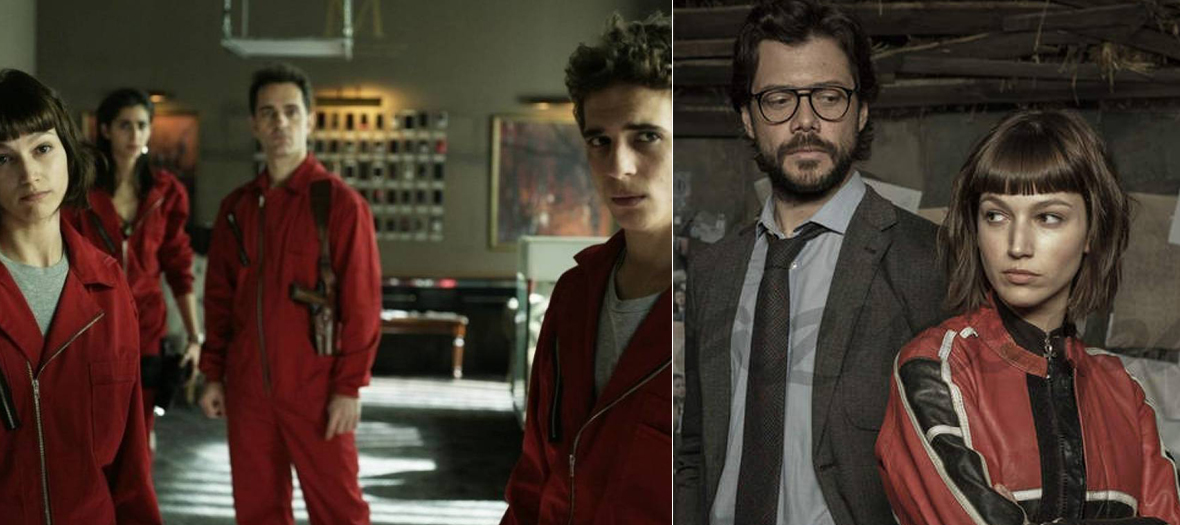 The spirit? A Latino version of  Ocean's Eleven with a wonderful scenario and very clever artistic direction.
The pitch: A mysterious man (crafty as a fox) named El Professor recruits eight mobsters, who with nothing to lose,  to organize the heist of the century. The plan? Infiltrate the Royal House of Spain's currency in Madrid and print 2.4 billion euros in less than eleven days. All this without making any victims amongst the 67 hostages (including the daughter of an ambassador).  Because: « if one single drop of blood is spilled, we can say goodbye to our Robin Hood image and just be considered as  a gang of thugs, » warned the Professor.
Mutinies, sexual tension, psychological duel on the edge between the brainy gang leader and the police negociator, twists galore, badass thieves named after capitals (Tokyo, Nairobi, Berlin, Oslo…), heavy duty action scenes… showrunner Alex Pina (to be followed closely !) dusts off the genre with incredible freshness and energy.
We like: the wonderful aesthetics. The visual catch ? Red overall suits and masks representing Dali, semi grotesques semi scar,  worn by the mobsters (don't look any further for your next costume!) A warm-blooded series that is a nice chaud change from cold Nordic detective stories.
Our heroine: Tokyo. Incarnated by the divine Ursula Corbero, this brunette with bangs is the live-wire of the team and the revelation of the casting. Ultra sexy with her semi-manga, semi-goth look (a mix of Natalie Portman in Léon and Rosario Dawson in Death Proof by Tarantino), who totally mesmerizes Rio, the sexy hacker. Torrid scenes on the horizon.
La Casa de Papel. Season 1 already available on Netflix. Season 2 starting the 6th of April on Netflix