Once upon a time ... the Prix de Flore . The story begins around a drinkable evening at the Café de Flore in May 1994, when Frédéric Beigbeder and Carole Chrétiennot , the daughter of the café owners, decide with their group of merry fellows to create an insolent and indie prize, a big fiesta watered Roederer to the key.
25 years later, the bad seed of the prize family has brought out the greatest writers of a generation ( Michel Houellebecq , Christine Angot , Virginie Despentes , Nicolas Rey ...) and continues to reward a very promising talent. As for the evening… It has become the most popular party of the month of November in Paris.
Sofia Aouine, winner of the Prix de Flore 2019 for Rhapsody of the Forgotten
Tuesday, all the gratin were there to reward Sofia Aouine , young and brilliant reporter, for her first extraordinary novel: Rhapsody of the Forgotten . It feels like a Truffaut ! Normal: its main character Abad is inspired by the young Antoine Doinel in Les 400 coups … Welcome to the Goutte d'Or, where Abad , a 13-year-old Lebanese immigrant, lives with his parents and does something stupid. The kid found nothing other than to open a clandestine peep-show in his room, an epiphenomenon at the origin of a real neighborhood conflict between the Femen and the faithful of the neighboring mosque. The rascal will be flushed out and trouble begins.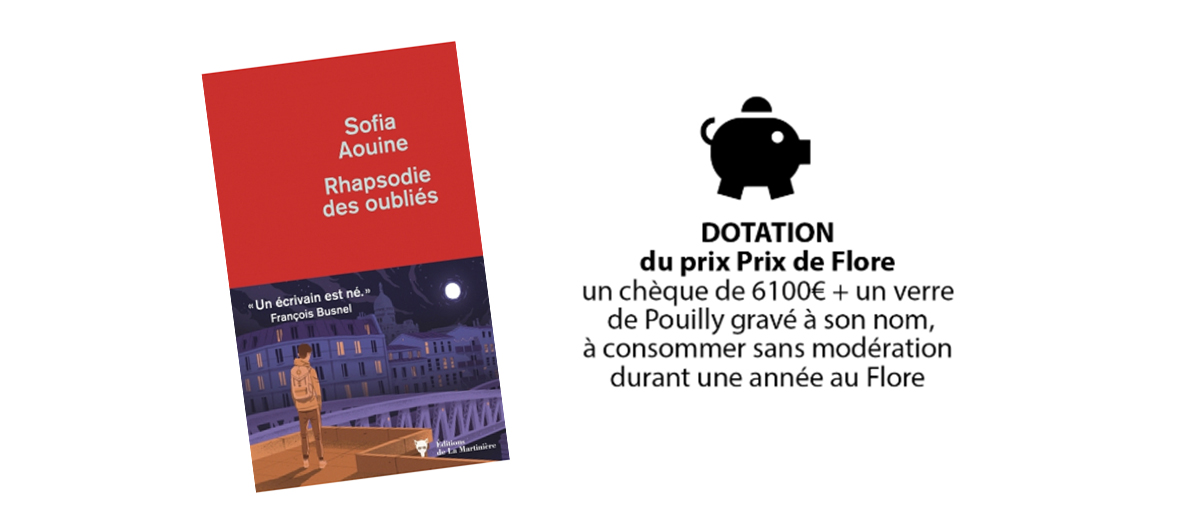 Sofia Aouine signs here a real initiation novel through the enchanted eyes of a young kid through his first emotions, stupid adventures in the " real " Barbès against a background of crack, whores and the smell of garbage cans made in Barbès with soul and hip hop as a soundtrack. A true novel today, powerful, funny and moving. You will enjoy.
Sofia Aouine. Rhapsodie des Oubliés published by Éditions Lamartinière, € 18


Also discover the best books of the season to read by the fire .