We are finally going to copy the healthy girls of Los Angeles, Capetown or Miami and go outdoors for our sports sessions. In the patio of a mythical palace, on a rooftop facing the Eiffel Tower, in a chic park or an urban vegetable garden: hurray for bootcamp sessions, sheathing and yoga galore in the most unusual and exclusive areas all over Paris.
A Bootcamp right near you
For whom? Those who want to be picked up right near their home.
Rendezvous… in a bar, but just to drop off your stuff. Odéon, Montmartre, Opéra, Monceau, the CYD Street collective (Conquer Your Day) works by area. Each district has its Facebook group, that relays the meeting places and training sessions. For the rest, everyone is on the same footing.
Go ! One hour of intensive street-running, muscular reinforcement and stretching in the street, under the orders of an unyielding ambassador of CYD. Lawyers, doctors, engineers, the coaches are not pros, but they really know how to motivate their troops. And everything is free !
We like: after effort, comes comfort. Everyone meets up at the HQ for a friendly drink.
Yoga on the rooftop of Mob Hotel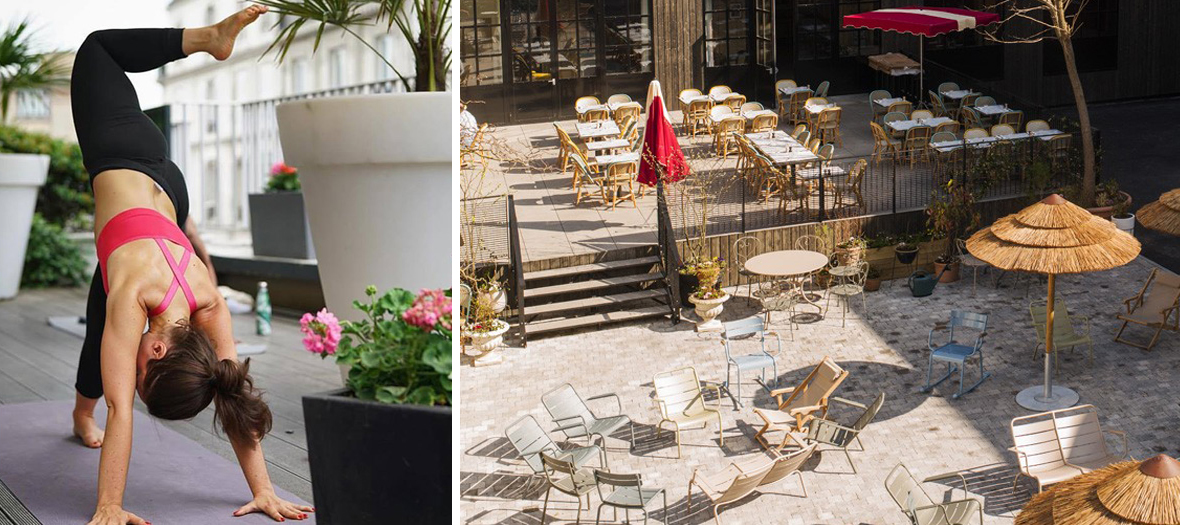 For whom? Hot spots buffs, on the lookout for trendy venues.
Rendezvous… on the rooftop of Mob Hotel. Every Sunday morning at 10:15am sharp, the trendy temple of Saint-Ouen transforms its perched terrace into a Zen venue for an anti-conventional yoga session. That's what we love!
Go ! Former TV journalist Axelle Roucou sets the tone with her trainees. This blonde tornado, who trained in India, the United States and California, banters around with as much ease as the acrobatic poses she demonstrates! No pressure, each one progresses at their rhythm with joy and good humor.
We like: Axelle supplies all the workout equipment straight from a vintage Volkswagen van which she drives around to animate her ambulatory courses all over Paris !
€18 per course. Sign up by email on axelle.yomade@gmail.com
Yoga charity at Domaine de Longchamp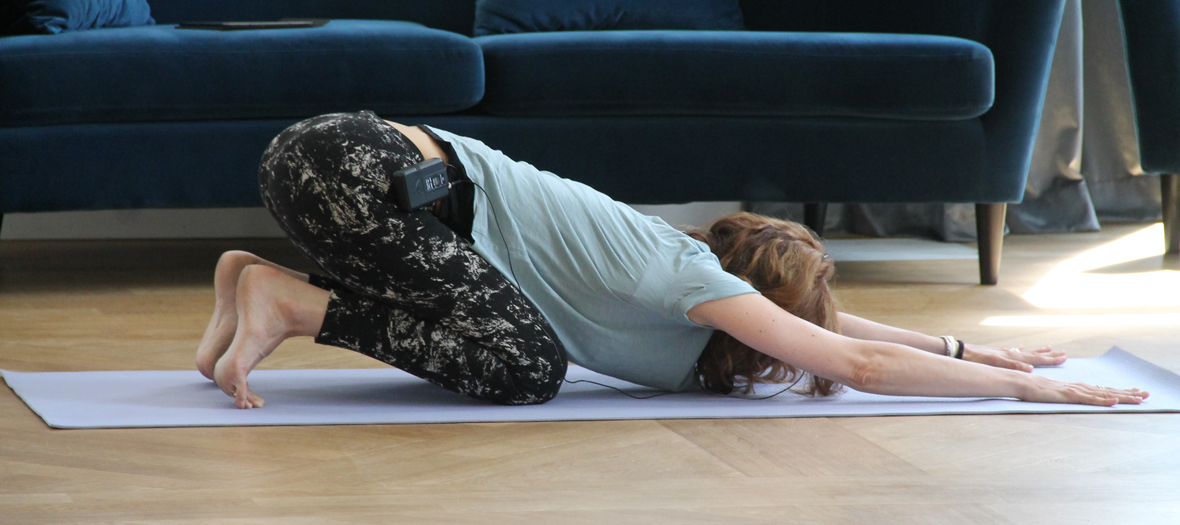 For whom? All those who want to mix business with pleasure. No price displayed to participate, but a gift that each one freely decides on and that goes directly to the GoodPlanet foundation. Established in a château at the heart of the Bois de Boulogne, the institution, created in 2005 by Yann Arthus-Bertrand, aims at promoting ecology. Definitely a way to have a good conscience at every level.
Rendezvous… every Sunday at 11:15am at the Domaine de Longchamp for a yoga course, followed by a discovery session of a low key sport, supervised by teachers from the Qee centers.
Go ! Each one brings their mat and follows one hour of Hatha Yoga in a calm environment, in the middle of nature. The park of the foundation spreads over 3,5 hectares of green open space, ensuring real tranquillity. Fifteen minutes of break and you continue with a Pilates course, floor bar or meditation, depending on the programmation. This should definitely get your chakras going.
We like: in case of iffy weather, the courses take place in the main reception room of the château, so chic !
Sign up on line: www.qee.fr. Payment by free donation to the benefit of GoodPlanet.
An outdoors course, where you want, when you want
For whom? Those who feel that routine is synonymous with boring.
Rendezvous… On Somuchmore.fr, the Netflix of sports courses, to book an outdoor session where you want, when you want. The platform features an outdoors sports tab to find in one click a course offered all over Paris by gym clubs and the most up-to-date collectives.
Go ! Body Taekwondo every Monday at 7:30pm at Marché Saint-Honoré, night run on Wednesday at 7pm at Parc Suzanne Lenglen, boxing on Saturday at 11am at Parc Monceau with the team of W Fit Training. And others to come.
We like: the flexibility. In case of a tight agenda, you can put your subscription on hold at no cost. And the possibility of choosing your course according to your mood of the day : aquabike, yoga, pilates, Swedish gym, you have a wide array of choices.
All the info on www.somuchmore.fr.
Yoga in a vegetable garden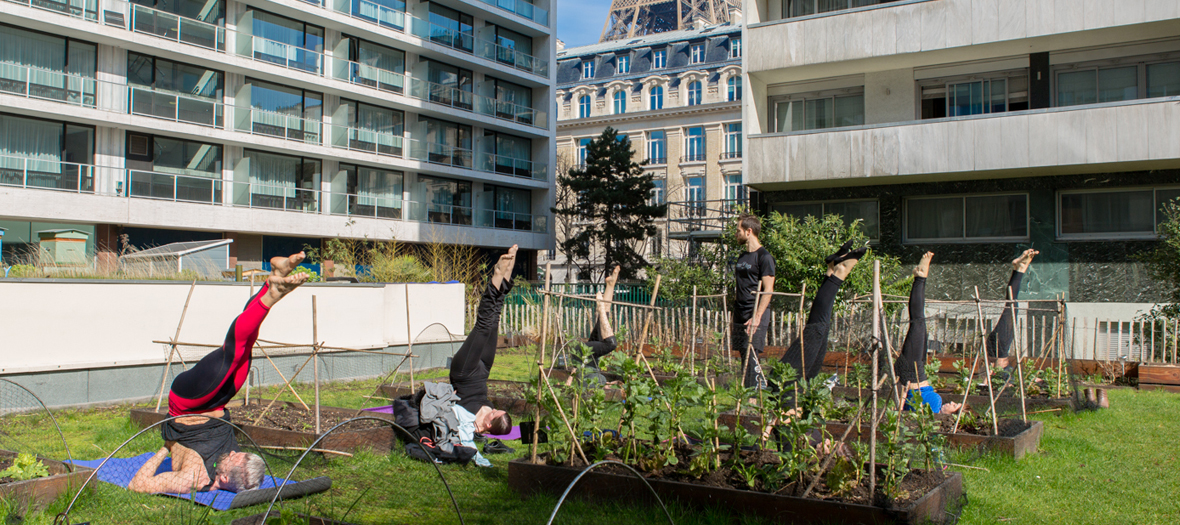 For whom? Parisiennes who fantasize about a healthy L.A. lifestyle.
Rendez-vous… At Frame, the ultra sexy Californian brasserie that is organizing its next session on Sunday the 1st of October at 11am.
Go ! Rendez-vous in the vegetable garden for 1h of Vinyasa yoga taught by yoga teacher Fabrice Tyack between Grown in Paris salads and tomatoes. Afterwards, you are entitled to a fab comfort food brunch. On the program: eggs Benedict, burrito or deluxe pannini with BBQ, cheddar fresh juices, basket of viennoiseries and granola. Mmmh !
We like : a sports op+ fab brunch with the gals and a great yoga class, even for beginners. Think of bringing your mat, they are not supplied.
Think of reserving on 01 44 38 57 77, count 45€ per session, places are limited.
Relaxing yoga at the Mandarin Oriental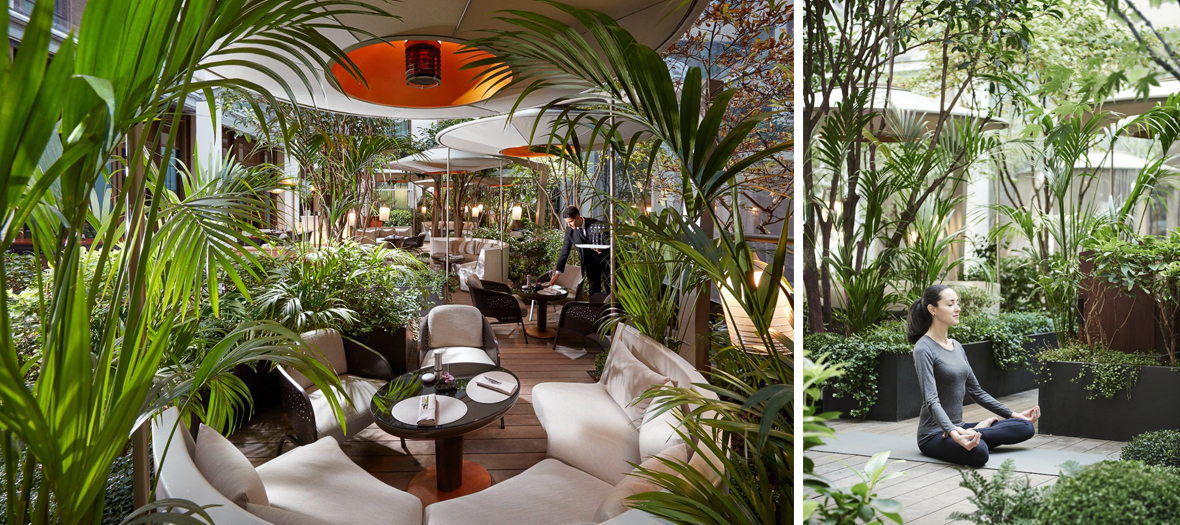 For whom? Penniless it-girls who dream of exclusive experiences and palaces without sending their banker in a tizzy… A small luxury to slip in the skin of a princess.
Rendez-vous… Every Saturday at 9am on the fabulous patio of the Mandarin Oriental Paris, the couture palace located only 3 stiletto minutes from Place Vendôme.
Go ! You will enjoy one hour of deluxe, hatha yoga and voluptuousness with HALICHAA MALATI. The must? Staying to enjoy a nice juice on the terrace of the bar for an enchanted and healthy parenthesis.
We like: the small water bottles, complementary towels and mats, as well as the possibility of changing and having a shower in the et p spa.
35€ per session.
Ab sessions in the Parc Monceau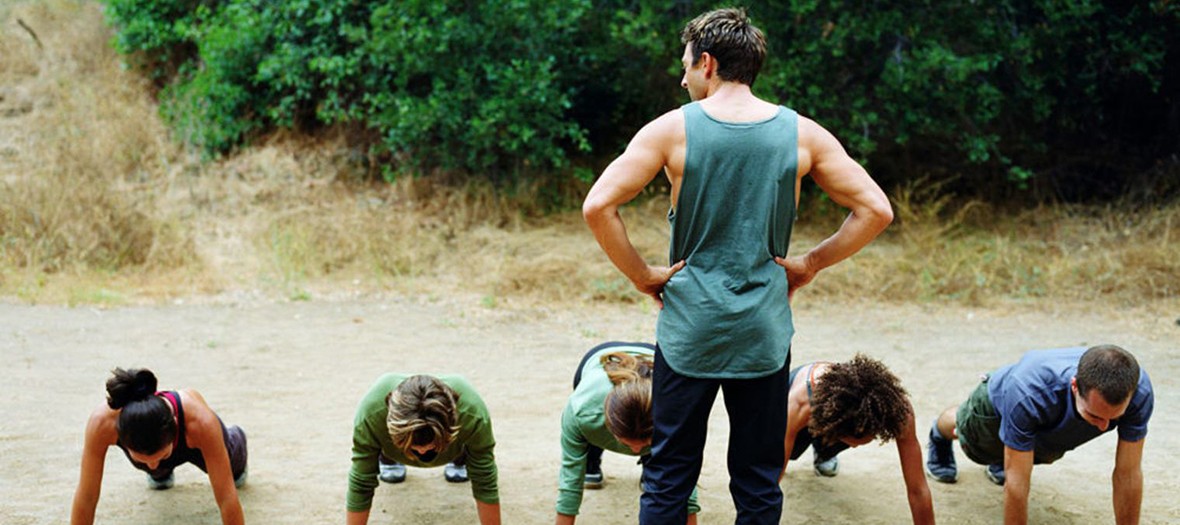 For whom ? Urban gals on the lookout for strong sensations.
Rendez-vous...At Parc Monceau for a course with Urban Challenge. The principle? Under the supervision of a commando or a fireman (good looking and super-motivating, of course) you follow quasi-military training for one hour.
Go for the « beyond yourself » program, both physical and mental. In small groups depending on your level, you warm up, run, work on your abs, do push-ups : you will be wiped out, but happy : a great way to end up with a fab body and a great morale!
We like: the possibility of having other sessions in other parks such as Parc Montsouris.
10 course card : 120 € Subscription 6 months and +: 35 € per month. To sign up and know the hours: www.urban-challenge.fr
A little running in the bois de Boulogne
For whom? All those who want to get back on track nice and easy.
Rendezvous… every Saturday at 9am at the meeting point of the parkrun right near Porte d'Auteuil. To join, just sign up on line, it's free. Once it is generated, you will use your bar code to activate the timer on site.
Go! A 5kms timed loop run through the Bois de Boulogne. A healthy course that gets you going without running you down: a good deal to get back in shape.
We like: improving our performances thanks to a recap' board generated at each session.
Information and signing up on www.parkrun.fr