It's THE spot where all the Parisian trendies will be hanging out this summer at the heart of the Saint-Ouen flea market… a 5 minute walk from the metro. Code name: Mob Hotel. Distinctive signs: XXXL terrace, yoga on a rooftop, outdoor cinema, green restaurant, co-working space, shared vegetable garden…
Here is a in real life eden imagined by Cyril Aouizerate, co-founder of the Mama Shelter hotels. Not surprising that this happens to be the new HQ of super cool Keziah Jones, Rossy de Palma or Gary Dourdan. Pretty impressive.
A the table, a nice selection of good organic local products: fresh leeks vinaigrette sauce (8€), a burnt avocado (10€), a veggie skewer (16€) and green asparagus pimped with Comté cheese, a poached egg and black venere rice. As for pizzas, the Marinara with tomatoes (12€) rivals in lightness with the Marguerita and its creamy buffala (15€). For dessert, a regressive Grandmother apple (7€) or fab pineapple with lemon grass (8€).
Warning: the house serves no cocktails. Instead, a selection of good organic wines to enjoy under the sun with a terrific Sancerre (30€) of the list of "Michel's wines", the Mob partner: Goulée by Cos d'Estournel (62€) or Medoc (90€).
We adore: the adorable boutique at the entrance of the hotel offering clothing and decoration objects straight from Africa. In addition, des minis pop-up stores showcasing during one month a display of small carefully picked designers such as Alice Hubert, Odelie Chan and Toubab Paris.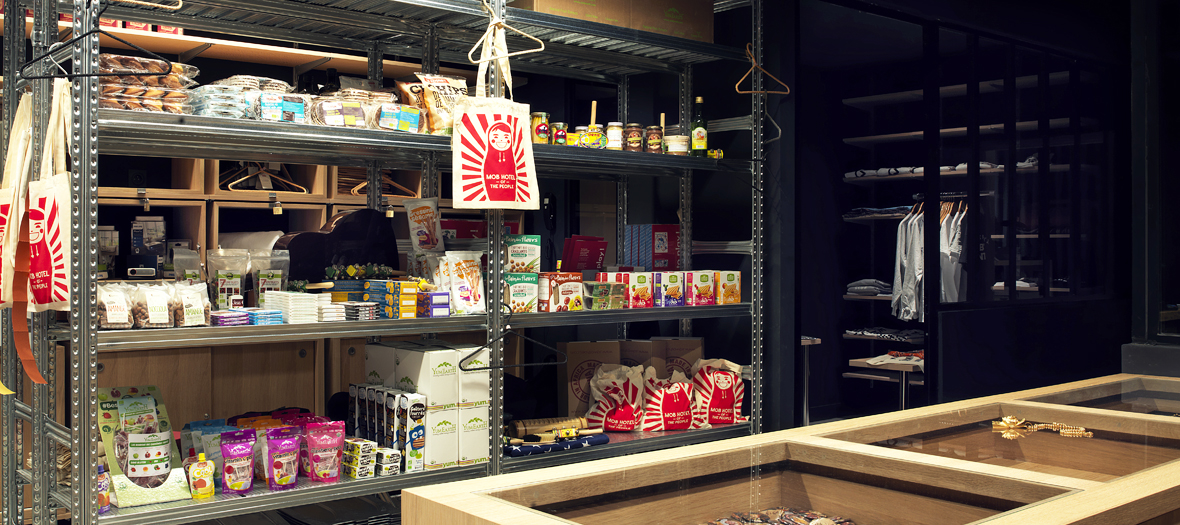 Permanently opened terrace.
Also discover the new spring terraces where to hang out.
© Bruno Comtesse