What is the latest passion of Olivia Palermo? A hint? The trendy jewelry collection signed #piagetpossession ! The furiously Paris Piaget « Possession » bracelets signed Piaget that she wears constantly in addition to being their «  style icon» !
« They give allure to a simple pair of jeans and are the perfect accessories for a more chic outfit with a dress and pumps», says Olivia Palermo.
The object of all desires? Bracelets in pink or white gold inlaid with diamonds to wear alone or piled up, new essentials, accomplices of the Parisienne, anchored in her century and  her own decision maker to  whom Piaget dedicates a playful and addictive jewelry creator ritual.
So for all those on the lookout for unique experiences … If you dream of slipping in the stilettos of Olivia Palermo, rush over to the Possession Lounge, the hottest rendezvous during this month of May, at the heart of the Piaget « 7 Paix » boutique.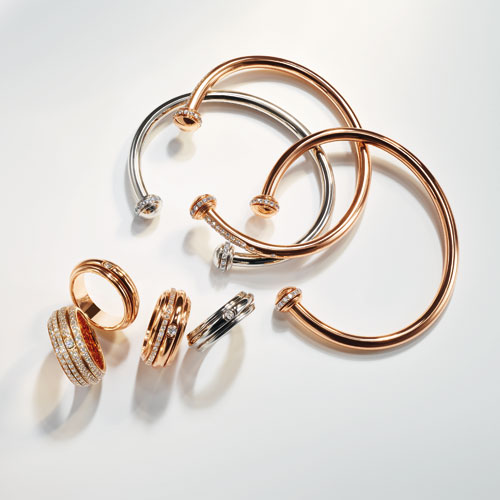 The concept?
During three weeks, the Piaget 7Paix setting is inviting all women to come live the « Radiant Experience » in the Possession lounge, a totally new multi-faceted concept, imagined for all the « business women » in total harmony with the iconic Possession collection.
Fresh detox juices, 3D masks of energetic luminance and healthy catering are awaiting all these women of exception for a very special rendezvous.
In addition, these special moments also offer the possibility of discovering the new line of iconic and addictive jewelry from the new Possession de Piaget collection, faithful to their motto: « Turn and the world is yours »… So hurry up over there for a parenthesis of well-being.
Possession Lounge from the 9th to the 28th of May 2016.
All the info on Piaget web site.
Discover also The watches fashionistas are wild about and The precious fetish jewels fashionistas are wild about.