When Jamie Oliver, the dandy of British ovens unveils one of his famous recipes, we are all for it! Zoom on his rösti (a furiously sexy small potato pancake) absolutely irresistible.
For 4 persons
Preparation and cooking time: 55 min
Preheat the oven to 180°C (th.6). Peel the potatoes and carrots then grate them with a four-face food grater. Season with a good pinch of salt, mix and press together then allow to sit for 5 min. During this time, prepare the vinaigrette by mixing in a salad bowl the mustard, the lemon juice, a dash of extra virgin olive oil with a pinch of salt and pepper. Set aside this sauce.
Pour a generous dash of olive oil (cooking oil) in a salad bowl and add a good pinch of pepper. Handful by handful, drain the mix of potatoes and carrots by pressing firmly to remove all the water, then add to the salad bowl. Stir so that the vegetables are coated in oil before spreading on a large cooking plaque (about 30x40 cm). Cook for 35 min in the oven, until the rösti is golden the surface and crispy on the edges.
Meanwhile, quickly dip the peas in a big volume of salty water, then remove them with a ladle and put them in a salad bowl where you prepared the vinaigrette, then add the spinach shoots. Just before the rösti has finished cooking, break the eggs and cook them in the water where you cooked the peas (verify first that it is still simmering) then delicately remove them with a ladle. Take the rösti out of the oven and place the poached eggs on top. Quickly toss the salad and spread it on the rösti, then crumble the feta on top. Serve without waiting. I like placing the dish in the middle of the table so everyone can dip their fork inside.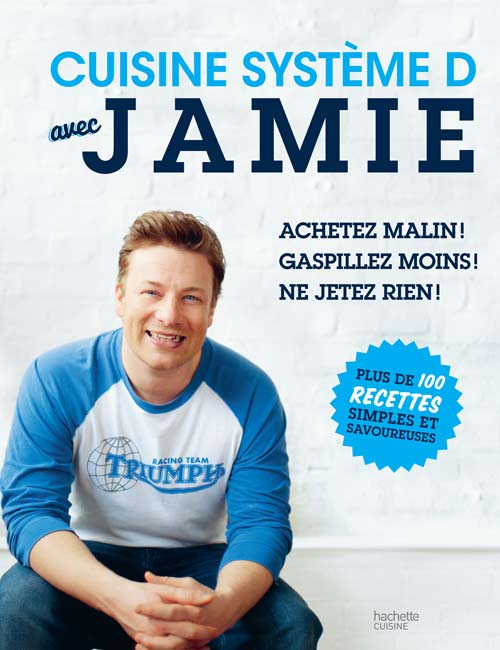 Cuisine système D avec Jamie, Jamie Olivier, Hachette Cuisine, 25,90€
Also discover the Parmigiano Reggiano tart with thyme an red onions and the veggie pizza with mirabelles, pesto and burrata.