At 17-years-old, she already had her own show on the Crazy Horse stage. On tour in Las Vegas, the young Frenchy of Romanian origins discovers yoga : a revelation. Aria Crescendo becomes the official coach of Star Ac', before flying off to Los Angeles and integrates a girls band of pop music, placed under the high protection of will.i.am. A few hits on the US hit parade later, the group split up. Always ready for action, the platinum bomb teaches the sun salutation to all the Hollywood Vips and then becomes the private coach of Jared Leto, Ashton Kutcher and Karlie Kloss. Back in France, in Boulogne to be exact, where this tornado of energy has just opened Healthy Warriors, her yoga studio. And she is not about to stop there. Her Healthy Book is coming out at the beginning of October, her next solo album is under production and she is planning a line of yoga clothes, namaste bitches!
Does yoga make you loose weight ?
It depends on the yoga style. Bikram only makes you loose water. When you are in a room at 45°C, it's normal to sweat. Heat makes you dehydrated, but since the body does not use much effort, you don't really loose weight. It's the yoga for lazy bones!
On the contrary, my Warrior Yoga method is very cardio. If you are motivated, you can quickly have the body of a supermodel. The first results are visible after three sessions. But to loose weight, you need to work out your body at least three times a week. No pain, no gain! Some of my students lost 10 to 20 kilos in 4/5 months.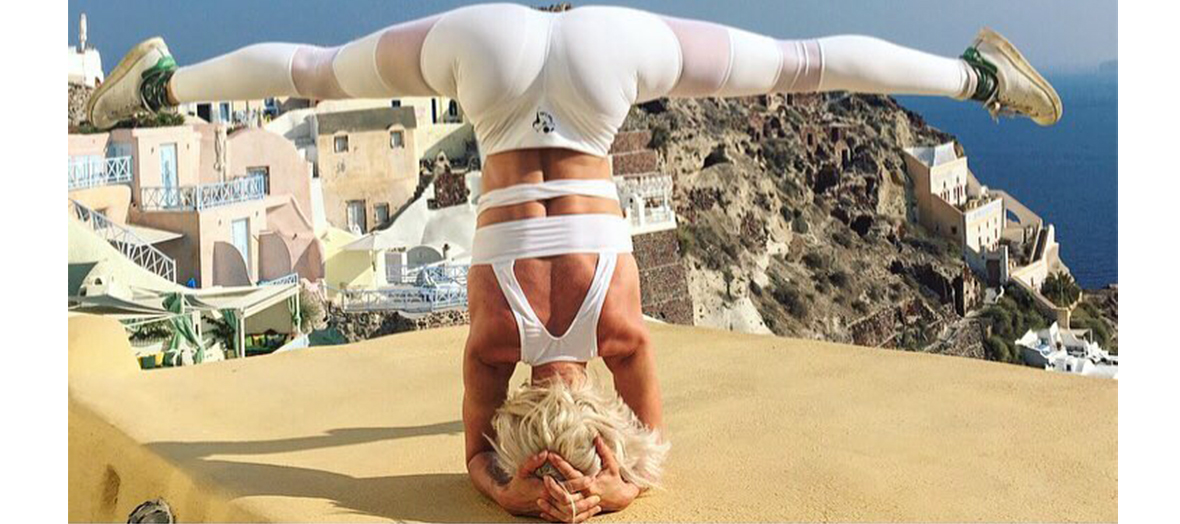 So what exactly is Warrior Yoga ?
I don't like slow courses that tend to be boring, unfortunately this is often the case in Paris. I have picked from several styles of yoga (iyengar, ashtanga, winyasa, power), adding my input and created my own method.It's very intense. Even though you still need a small sporty base, I adapt to all levels. But I insist on breathing technique, otherwise you cannot make any progress.
The purpose? Refine, reinforce and improve posture. The Warrior method also brings relief to back problems. I recommend it to everyone. Weight does not matter, if you are supple, if you have strength… progress is very quick. After two sessions, students can stand on their heads, on their arms and forearms. I encourage them to go beyond their limits and outside their comfort zone.
So, stop making excuses, tell yourself that you can do a lot more than you think and be motivated!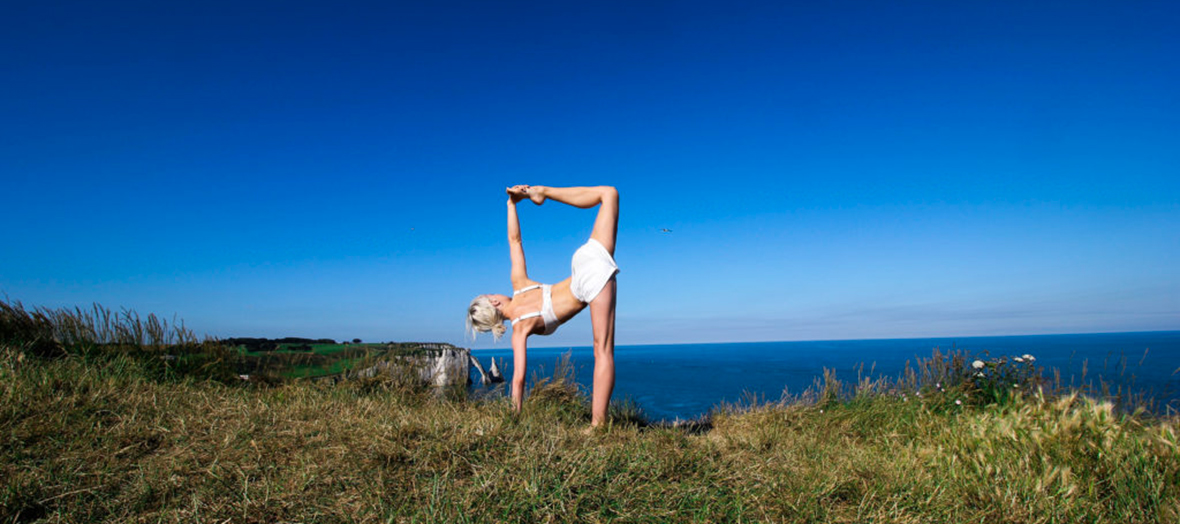 The winning healthy glow tip
I adore acide hyaluronic acid masks that one finds in pharmacies. In fact I am obsessed with hyaluronic acid, I even take it as a dietary supplement! We have it naturally embedded in our skin, but loose it with age, this is why it is super natural as opposed to botox injections.
And when I really need a face booster, before appearing on TV for example, I get vitamin C injections by Doctor Jean-Marc Adda, dermatologist at the Centre Médical Esthétique in Boulogne. And since these injections have in-depth action, the effects are more long lasting than a simple mask. I send all the models to see him.
Le Centre Médical Esthétique, 55 Boulevard Jean Jaurès, 92100 Boulogne-Billancourt, 01 41 10 10 00.
The best beauty tips to nab from the Crazy Horse backstage
All the girls use body makeup to seem tanned. When I was at the Crazy, I used the Make Up For Ever eye-bag concealer stick, that hides bruises well and even covers up tattoos.
Your remedy when you miss L.A.?
Since I came back to France, I miss a lot of things! This is why I created the yoga center of my dreams right under my windows in Boulogne.
In addition to Pilates courses, the floor bar and my own Warrior Yoga courses, once a month, I organize a course with an international yoga star.
I also miss healthful foods. Over there, I ate neither gluten nor lactose. Result, at Healthy Warriors, we serve freshly squeezed fruit juices by JuiceLab along with no gluten/no lactose dishes by Noglu.
We even have Chinese tonic herbs, such as lreishi, that boosts the immune system and works against stress. In the U.S, everybody knows about it, but you find it nowhere in Paris. In my book, I explain all their benefits and how to eat these herbs.
Healthy Warriors, 30, rue Carnot, 92100 Boulogne-Billancourt. 01 41 13 72 68. 25€ for a single course. More info on www.healthy-warriors.com and on her blog www.healthywarriorsparis.com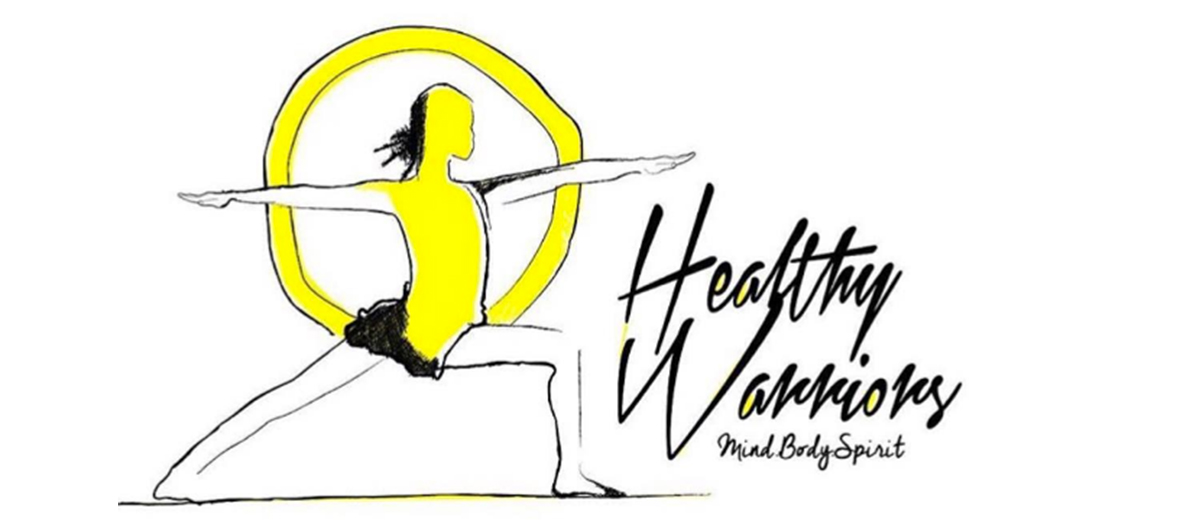 Authorized nibbling ?
Go for dried fruit, almonds, Cajun nuts, raisins. If you want to take good care of yourself, you certainly can! Just eat intelligently. Before nibbling, ask yourself it it's good for your body. This is what I explain in my book: The Healthy Book.
You can never eat enough of super nutrients (cocoa bean, goji berries, chia seeds, aloe vera…) and avoid sugar at all costs, it's really bad.
In the morning, exchange your bread tartines for an acai bowl. The acai is a berry originally from Brazil with anti-oxidant proprieties. Take a block of frozen acai (sold on nossa-acai.com), mix with powdered protein or cocoa (as opposed to what one sees in France, I never add banana). Once it goes through the blender it's the base for a smoothie. You can add toppings : goji berry, cocoa seeds. It's a very complete breakfast.
The Healthy Book, Editions Solar, to be published on the 6th of October 2016.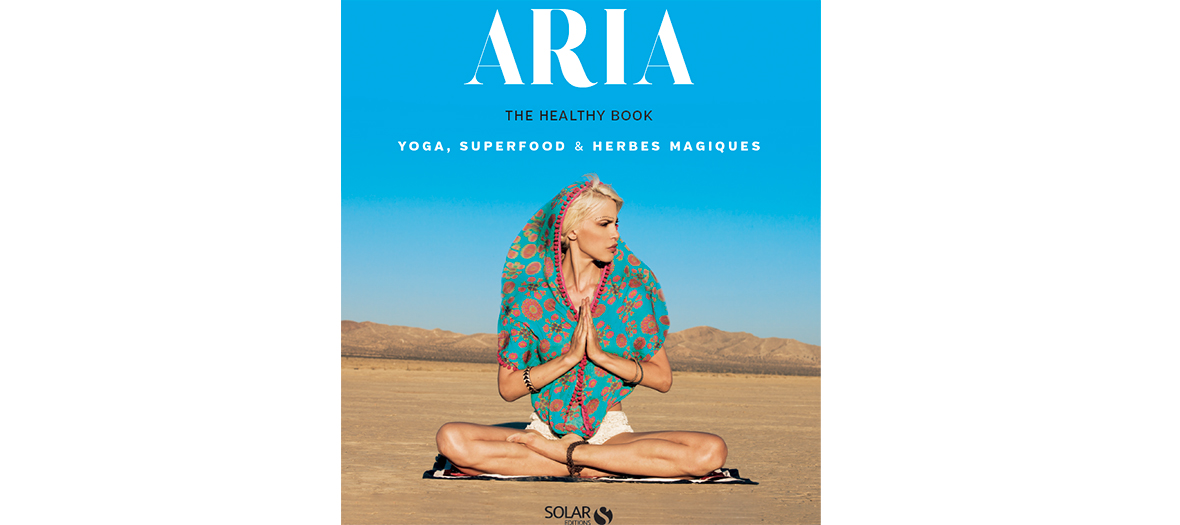 Karlie, Kloss, Jared Leto, Ashton Kutcher, who is the best yogi studen?
Ashton Kutcher! He is muscular, eats healthy foods and takes care of his body. He also has enormous will power—when he wants something, he gets it.
He has true mental strength, which most people lack.
The very purpose of Warrior Yoga is to pass on this warrior energy that is used in every day life. Yoga is a real style of life.