Our darling couturier Marc Jacobs is back for the next few weeks with his chic bazaar in the Marais: for sure this pop-up store will be THE spot to hang out.
In addition to the  Marc by Marc Jacobs fashion selection, there are all sorts of accessories  and labeled gift ideas at small prices, such as stylish iPhone covers (32 €), a passion red heart-shaped change purse (20 €) with small matching mirror (7 €).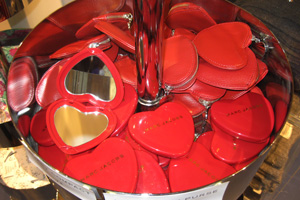 We also like: the darling shoulder strap bag (296 €).
And for a small break during our wild shop-op, we settle as the café space of the boutique to nibble on a sweet or salty éclair.
Teatime Formula: 2 cocktail éclairs + 1 coffee, 7 €
Until 31 December 2013, Monday to Saturday from 10am to 8pm, late night until 9pm on Wednesday.