No time to slip on your trainers before or after work? Karim Merbouh, sports coach and director of the very select Club 5 (Laetitia Casta trains there), has put together an express and complete program that you can follow at the office.
15 minutes per day will give you a toned body without even having to remove your stilettos!
How to get firm and shapely arms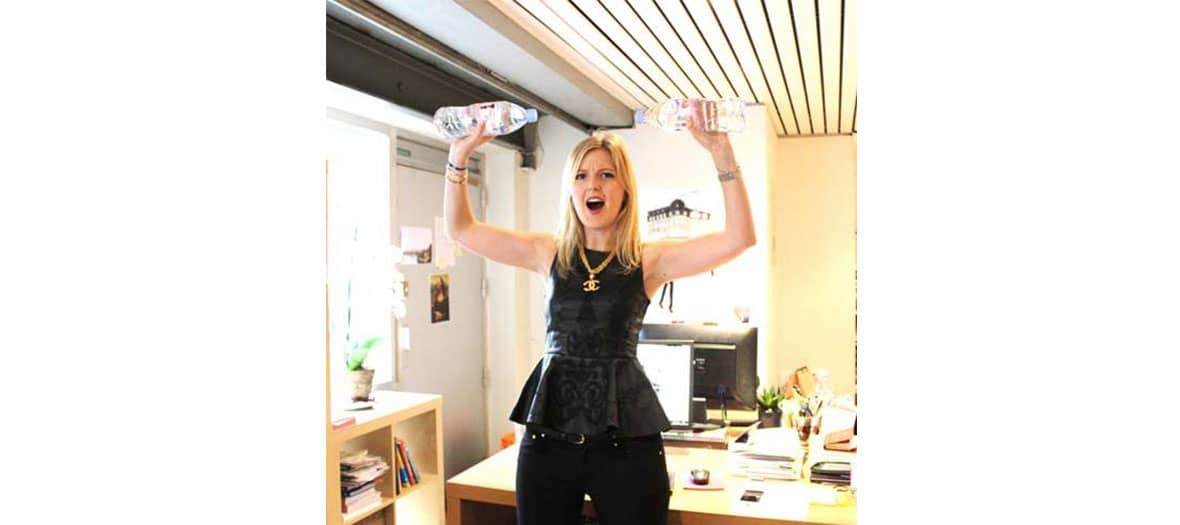 Purpose of the exercise: working the shoulders, arms, back and avoid hunching over.
Equipment: Since you probably don't have weights at the office, use two one-liter water bottles.
Position: straight back, legs spread open and knees slightly bent. Place arms at shoulder level, right angle from the elbow. Arms must be high above your head while keeping the bust straight. Lower arms to go back to the initial position.
Perform 3 series of 20 movements.
how to get firm buttocks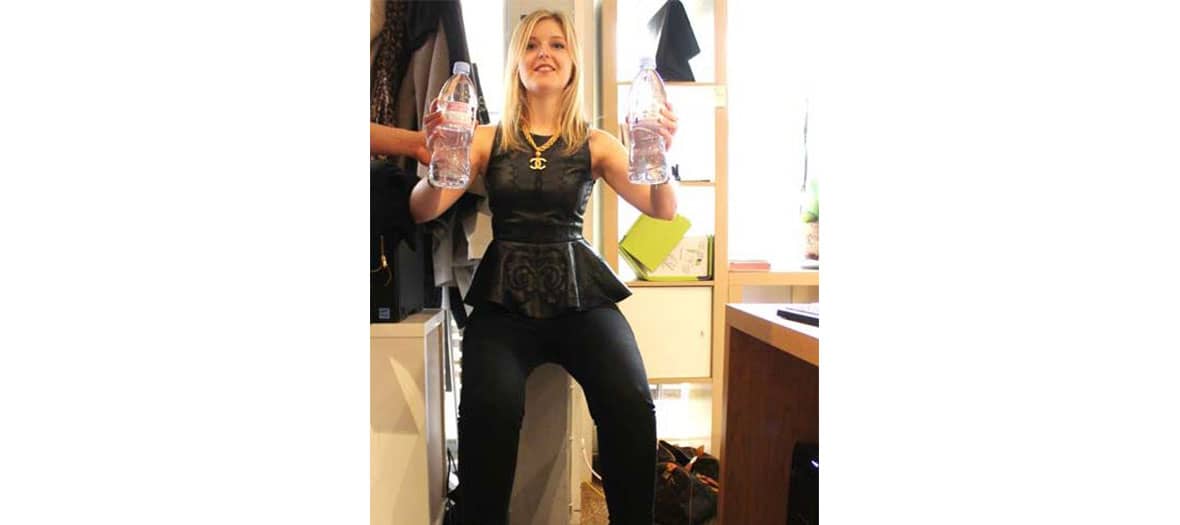 Purpose of the exercise: tone thighs and buttocks while soothing knee pains due to sedentary lifestyles.
Position: back and buttocks against the wall, knees bent at 90°, adopt the chair position. Maintain the position for one minute and keep in mind looking silly never killed anyone, especially when you are working on toning your fanny. Repeat three times with 15/20 seconds between each movement.
Tip from the coach: add weights for more intensity.
How to get a flat tummy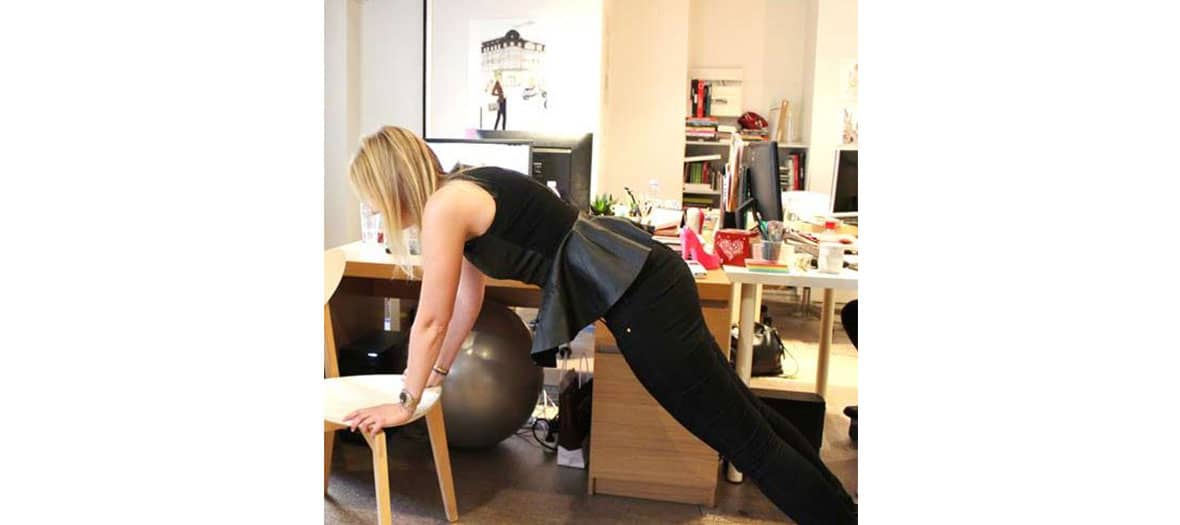 Purpose of the exercise: better than crunches which only make part of the abs work, this footrest movement reinforces the abdominus and external oblique muscles. Soon you will have sexy abs.
Position: facing the back of the chair, arms extended, shoulders lined up with the wrists. With your body in board position, keeping the shoulders above the hands, while looking ahead. Maintain the position during 45 seconds (1 minute for those who can) expiring well.
Repeat 3 times.
How to get a perky bosom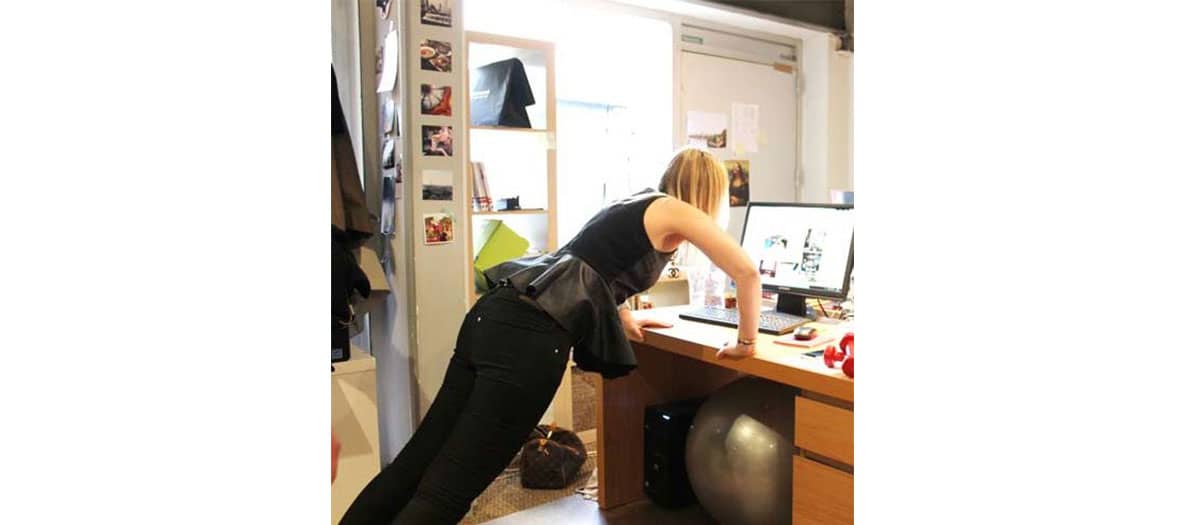 Purpose of the exercise: here is a softer version of pushups. Here you can reinforce your bosom and pecs.
Position: hands flat on the desk, legs back, palms slightly inclined towards the inside. Lean towards the desk as in a push up movement and straighten up while expiring.
Easy? Try 3 series of 10.
How to get a great posture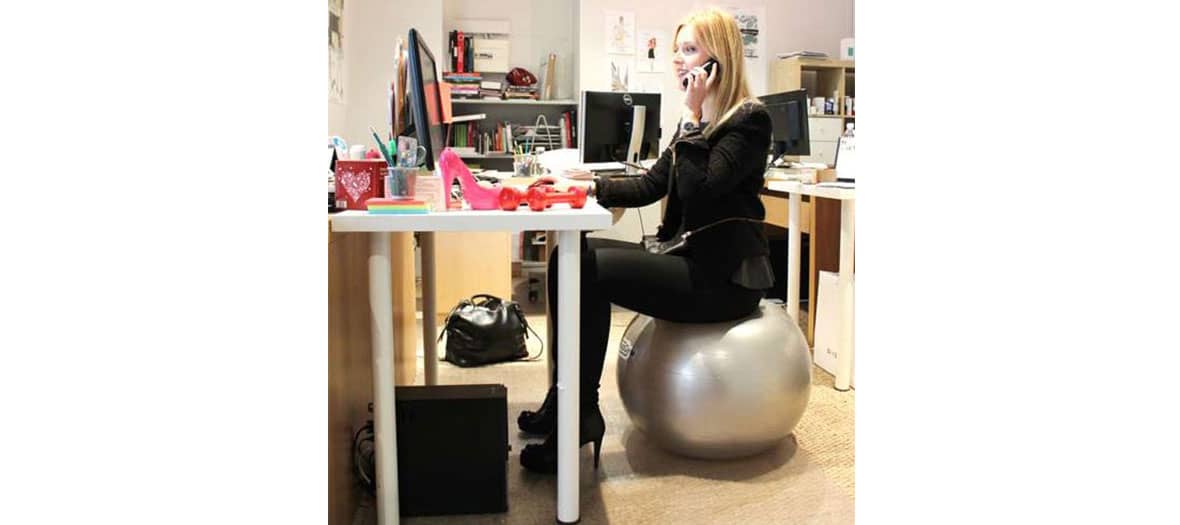 Purpose of the exercise: more than an exercise, this is a posture to adopt on a daily basis that allows you to stay straight and reinforces the back.
Equipment: a Swiss ball (also called gym ball). Position: throw out your office chair and replace it with this ball. If you have never tested it, begin with a few minutes then move on to several hours. Soon you will sit on it all the time. And if your boss seems surprised, say you are keeping your eye on the ball! Last tips from the coach: wait at least 1h30 after having eaten before starting your sports session.
Try to be regular (15 minutes at least 3 times per week), you will see for yourself, results are terrific. Always keep a bottle of water on your desk, to stay hydrated all day long. And complete with cardio sessions.
And for personalized coaching, contact Karim Merbouh du Club5 (contact@club5-coaching.fr)
See also the solution to be fit and in a good mood and the best courses to follow at home
Pictures credit : © Do it in Paris