Because of Covid-19, your gym clubs are closed and you don't know how to train without a coach nor your usual mat? No panic: during the quarantine, the most chic and trendy gyms of Paris have adapted their offers for home practice. That way you will be sure to have a dream post-quarantine body. Now just select your favourite course. Place your phones in front of your mat—go, go, go!
Klay - Blanche - Ken CLub
Slip inside the skin of a member belonging to the 3 super select gyms of the Ken Group that coach you for free in your living room or on your balcony. The daily session is announced by story the evening before:HIIT course,sophrology classes, shadow box, boot camp, Pilates fusion, yin yoga and a thousand other disciplines. In total:10 free lives per day on their 3 accounts @klayparis, @kenclubparisand @21blancheare given around a casting of the most prominent coaches in the capital: the meditation-pro Julie Laurent-Marotte, Karim Essotana, former Thai boxing champion Haifa Fay or the big boss of the floor bar, Anouk Hamel, former Dauphine,1s trunner up of the Miss France contest.
We like: the solidary jackpot that encourages to donate € 1 to benefit the APHP hospital association before each course. A good deed while staying in shape, we are all for it!
Le Tigre Yoga Club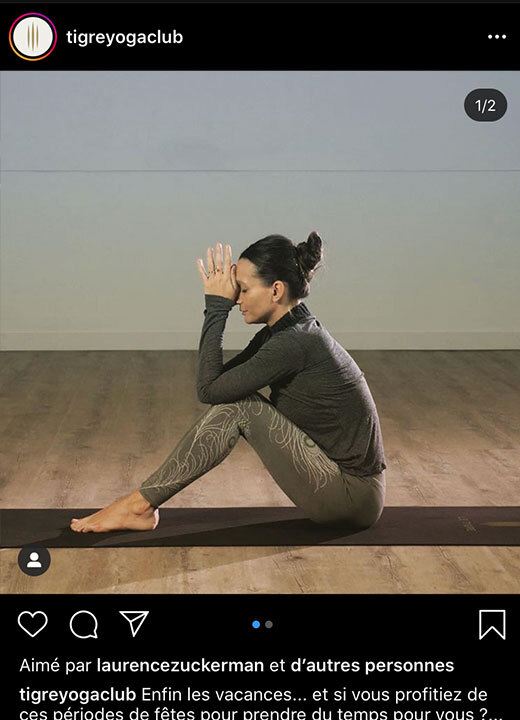 No need to present the fave of all those who are fans of stylish yoga in Paris. For mind and body well-being, Elodie Garamond imagined the daily "Quotidienne du Tigre" with a course posted every day at 11am as a story on their account @tigreyogaclubavailable for free until the next day at the same time. Here one finds all the sessions given by the top teachers of the house, such as the yin of Camille Satya, detox yoga with Anne Van de Walle or the face yoga, powerful anti-wrinkle of Sylvie Lefranc. A must practice: the kundalini of Caroline Benezet to develop your sexual potential. And right now we really need it!
We like: classes dedicated to kids exactly on the same principle as their mothers, on line starting at 5pm. To keep them busy: every day there is a new animal story during which take place salutations to the sun, the tree or dog positions…
Snake and Twist
A true singularity, the ultra VIP studio of the 16th adapts and revisits for Mega Former, a spectacular fitness course followed by all the stars in Hollywood… The results is sheathing practiced with a towel or weights, providing a counterweight effect that leads to the fabulous magic machine of the Lagree method... The principle? 5 minutes before the course, you receive in a very restricted committee on Zoom with Marcia, the Mexican bombshell, who is setting Paris on fire. Careful: it's really intense and wow does it sculpt!
We like: the impression of exercising live while in our splendid studio where the coach motivates you and corrects you directly … As though you were at the club!
10 euros per course. Planning and on line reservations: www.snakeandtwist.fr
The sports gym with Reebok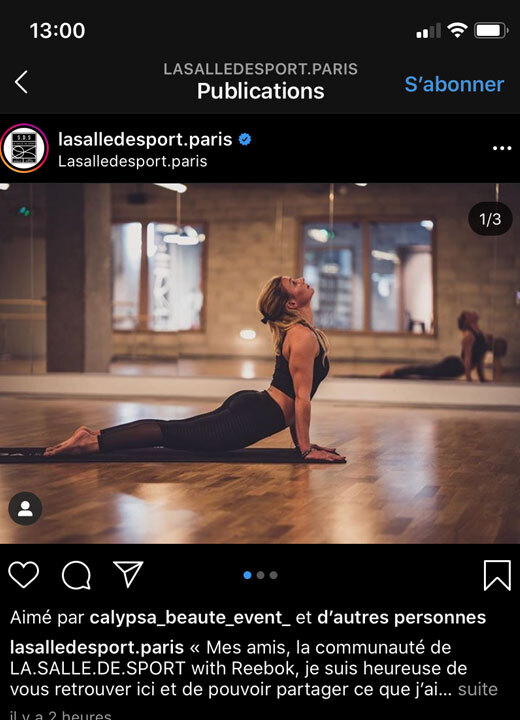 Ultra targeted on CrossFit, this sports hub is now featuring its at home offer enabling to fit, slash and end up totally wiped out for those with lots of energy. As testified by the terrific planning posted each week on their Instagram account with free courses, lasting generally half an hour, insta-live and generally available as replay on stories. On the programme: cycling for those with electrical bicycles at the house, but also ongoing CrossFit to practice with bottles, with stars such as Morgan Moreau. By following one session per day this very intense cardio-muscular programme, impossible not to finish with the goddess body of a Victoria's Secret angel at the end of the quarantine.
We like: the possibility of having free access to the playlists of three coaches on Spotify to prep yourself in a warrior ambiance!
CMG Sport Club
The ex-Club Med Gym sets forth the efficiency of its formula in home sweet home mode and for free! All its courses on Facebook Live with the possibility of following at least 5 lives per day of body combat, high intensity cardio training, 15 minute ab flash, given by its wide range of teachers … No excuses if you missed the session you enjoyed: everything can be found on replay!
We like: the participation of well-being experts around nutrition for a healthy confinement.