You dream of organizing a party with the gals in Gossip Girl mode? Tops, this is exactly what La Pause et Moi and its dreamtime program is offering: massages, manicure, make-up and total relaxation!
Rest assured, the team comes to your place with massage chairs, manicure kits, pro makeup equipment and everything else so that you literally have the feeling your house has been turned into a spa (starting at 40€ per person).
We adore: a unique occasion to be pampered with the gals for a birthday, a bachelorette party, a baby shower, or simply to gossip with your BFF around a house cocktail while being pampered by ultra qualified beauty specialists.
We also like: Christine the « Do In » pro, who teaches you ultra simple, quick but very efficient face massages to give a little booster to your pie face and breathing techniques to say bye-bye to stress and daily burn out, very easy to reproduce alone at home in order to retrieve well-being and serenity.
Starting at 40€ until 45€ per person for 2 workshops, including coming to your place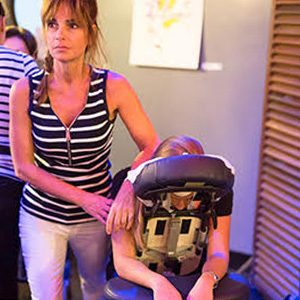 ©Marion Frégeac