Thought you knew this Atlantic gem like the back of your hand? Think again, because Biarritz continues to reinvent itself, as proven by these five brand new spots recommended by true locals that you're going to love.
For Accommodation: The New Regina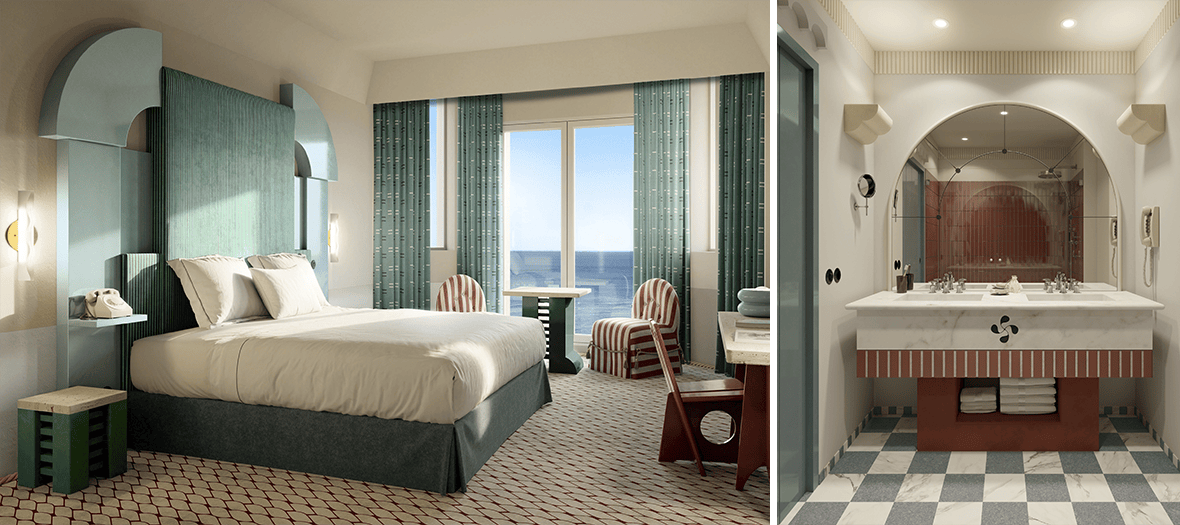 Great news for design enthusiasts: the Regina Hotel, a renowned establishment on the coast, reopens its doors after extensive renovations. Freshly taken over by the team at Experimental Group, this Belle Époque building unveils its ultra-glamorous setting. It's poised to rival the Hotel du Palais.
What's new? Say goodbye to the contrasting black and white tones paying homage to the 1920s. The decor in the seventy-two rooms, designed by the talented decorator Dorothée Meilichzon of the group, now features pastel colors, paying tribute to the retro Biarritz of the 1980s. We love the Neo-Basque volumes blending with Japanese-inspired materials and nods to the fishing world with rope and maritime stripes. In terms of cuisine, the hotel's restaurant, Frenchie Biarritz, led by Grégory Marchand, offers a menu showcasing local products with the chef's unique twists. Enjoy your meal facing the sea in the dining room or on the terrace surrounded by beautiful hydrangeas typical of the region.
What's more? The cocktail bar takes up residence in the atrium, exuding a piano bar ambiance reminiscent of the Roaring Twenties, with furniture faithful to the Experimental spirit. On the wellness side, the hotel boasts a spa and an outdoor pool for a refreshing dip facing the ocean.
Regina Experimental, 52 avenue de l'Impératrice, 64200 Biarritz. Rooms starting from €378 in high season and €180 in low season (excluding holidays).
For Dining: Chez Zou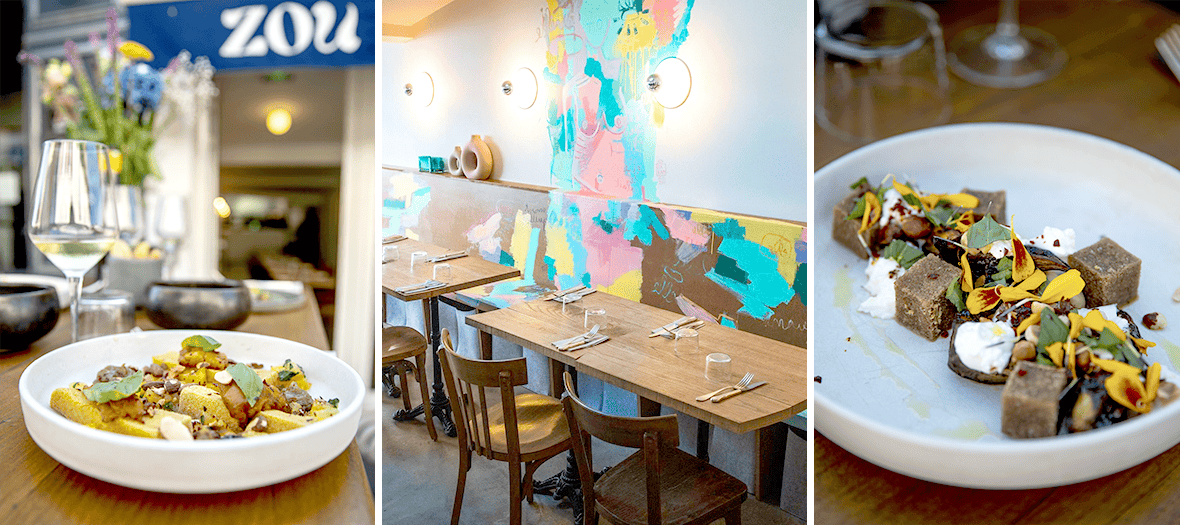 Head to Rue Gambetta, the neighborhood of good restaurants, where Aude Locatelli, who switched careers from finance to the restaurant industry, has chosen to establish Zou, an ultra-girly wine bar and eatery.
The venue? An intimate and friendly establishment, as desired by the owner, with around forty seats spread between the dining room and the terrace. On the menu, you won't find typical Basque pintxos like at the neighboring establishments, but rather Mediterranean sharing plates that are (very) generous. Indulge in dishes such as slow-cooked lamb with pita bread or original creations that aim to showcase local products, like the marinated black mullet crudo with lemon and Timut pepper. The sourcing of ingredients is impeccable; Zou exclusively sources its fish from the Saint-Jean fish market, avoiding farmed fish and opting for slightly less visually appealing but incredibly fresh options. As for beverages, the restaurant gets its supply from its neighbor, L'artnoa, a wine merchant that exclusively sources from small winemakers, ensuring quality.
A special mention goes to the sharing casseroles for 3 or 4 people, slow-cooked in traditional cast-iron dishes, just like grandma used to make. The recipes change weekly, and the team even brings out the silverware for this special dining experience.
What's next? Head to Centro, the new lively tapas bar where you can rub shoulders with stylish individuals. Throughout the year, they organize DJ sets and stylish concerts on weekends.
Zou, 62 Rue Gambetta, 64200 Biarritz. Open Tuesday to Saturday for lunch and dinner. €22 for the crudo.
For a Drink: L'Hôtel de la Plage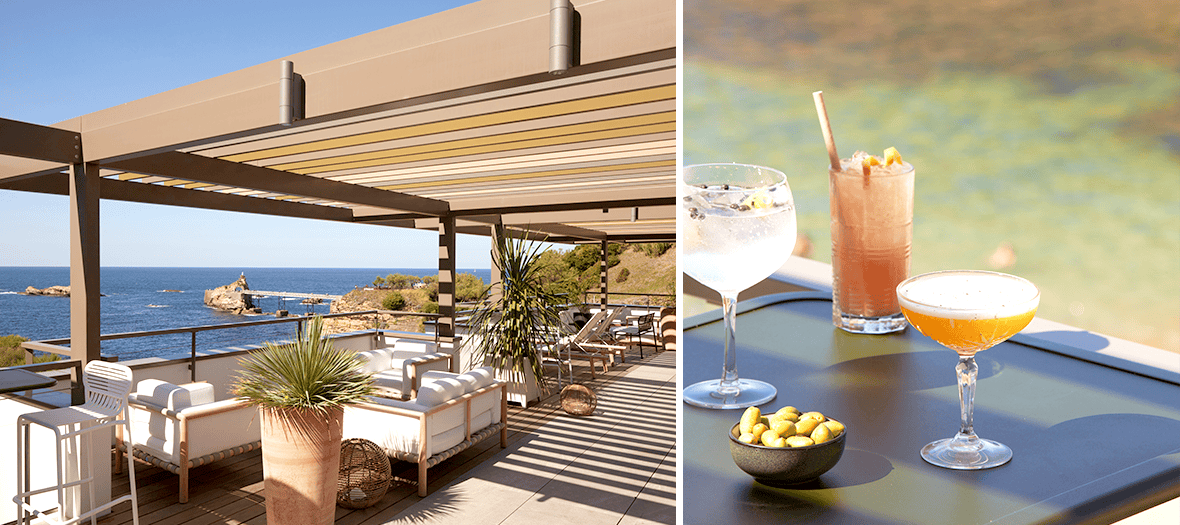 Olivier Granet, the trendy artistic director of the coast, has struck again. After last year's highly acclaimed opening of L'Hôtel de la Plage, located right on the water's edge, it's now time to highlight its terrace.
The ambiance? It's impossible not to fall in love with the breathtaking view, perched right in front of Port Vieux beach, aka the place to swim, with a view of the Rocher de la Vierge, if you please. Indulge without restraint in oysters (€14), chorizo croquettes (€10), whole duck foie gras (€15), and a platter of regional cheeses (€20). Wash it all down with sangrias, a Spritz, or a good glass of Merlot. The must-try experience? The DJ-set evenings in front of the incredible sunset—a definite must-do.
Note: The hotel regularly organizes yoga classes on the rooftop, announced a few days in advance on social media. Insider tip: If you arrive early for an aperitif, take the opportunity to check out the small lounge at the hotel's entrance, with its stunning library of design and photography books and a mini boutique.
Rooftop at L'Hôtel de la Plage, 3 Esp. du Port-Vieux, 64200 Biarritz. Rooftop open daily from 12:30 PM to 11 PM. For reservations, contact William at +33 6.70.22.58.97 or rooftopdelaplagebtz@gmail.com.
To take a gourmet break after the beach: La Place Publique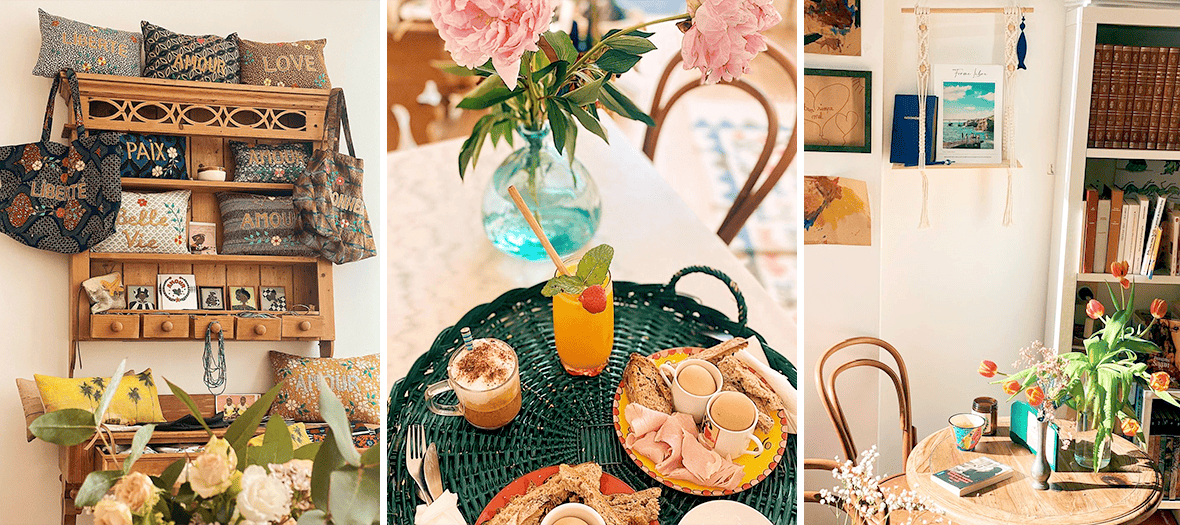 This coffee shop is a cozy little nest where it's good to cultivate, chat, and share. Conceived by Mélanie, a native of Normandy, La Place Publique is both a café and a literary boutique.
She wanted to create a kid-friendly living space to drink liters of coffee and organize reading clubs, a successful bet for Mélanie who sees people rushing in to taste homemade slices of cakes, avocado toast (10.50 €), or açai bowls (9.50 €) and chat. The setting? Basically, like home but better: a pretty decor, soft couches, and a space as big as a studio that makes the spot more intimate. On the program: arty workshops, yoga classes followed by brunch, meetings between women (or not) ... you know everything! She created her cool association there, with journalist Laura Isaaz as godmother, who returned to the area a long time ago. Together, they host talks and give women a voice, a common project that is particularly close to their hearts. To read on-site: Forme Libre, her literary magazine full of good vibes.
For shopping addicts: La Place Publique also serves as a mini concept store with its pretty selection of good vibes lifestyle products. We love the CSAO cushions, stylish stationery, and Club Cailloux jewelry, a local designer.
La Place Publique, 2 rue Peyroloubilh, 64200 Biarritz. Open Wednesday to Monday from 9:30 am to 3 pm. Free entry.
For pampering yourself: Oh My Cream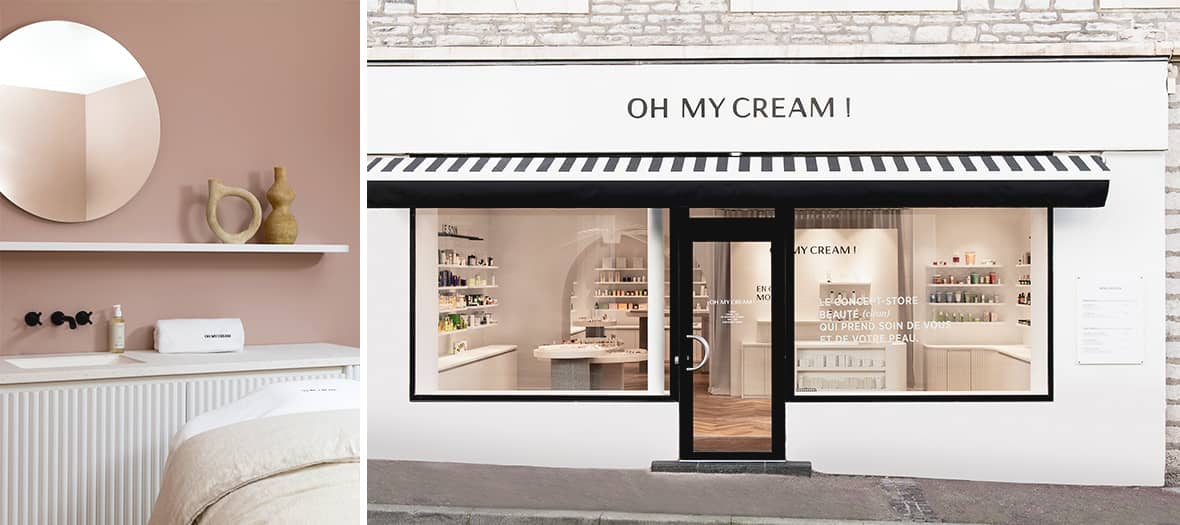 Did you fall asleep under the sun and your tan is a disaster? Well, lucky for us, Oh My Cream has set up shop in Biarritz.
When it comes to Biarritz, wellness is always on our minds. And now, there's a place to shop for "clean" beauty products, thanks to this trendy new spot that offers all the SOS products for flawless skin. Tucked away on a small street behind the town hall, this location stays true to its Parisian counterparts by offering its best creams and treatments for sensitive skin, from Susanne Kaufmann to Tata Harper and Cut by Fred, as well as sun protection solutions from Oh My Cream.
The extra touch: a facial treatment cabin by Tata Harper & Dermalogica for total relaxation during a long weekend on the coast. More information is available online.
Oh My Cream, 7 rue de Larralde, 64200 Biarritz. Facial treatments start at €90 for a one-hour session with Dermalogica, and €110 with Tata Harper.


Also, discover The most stylish addresses in Biarritz and Maria Belza: Biarritz Invades Paris.