Symbol of Parisian life at its best, the legend of fashion and elegance died ten years ago, leaving behind immortal classics. On the occasion of this anniversary, journalist Bertrand Meyer Stabley and stylist Lynda Maache explore the childhood, sensitivity and loves of Yves Saint Laurent in an attempt to identify this enigmatic character. Between creative genius and deep melancholy, this biography illustrated with photos and enriched by the testimony of his little sister Michèle paints us the portrait of a fascinating man in his singularity. 5 things you didn't know about one of the greatest fashion designers of the past two centuries.
A mother with heavy secrets
The birth in 1936 in Oran of Yves Saint Laurent will change the life of Lucienne , this devoted mother whose youth was scarred by many traumas. Born in 1914 by rape, Lucienne was entrusted to a nanny so as not to mar the honor of the family and remained there for several years. It is only at the age of five that the little girl will join her mother Marianne , recently married to Edmond , a Belgian engineer who accepts to recognize the " bastard ". But at fifteen, Lucienne would in turn have been the victim of an attempted rape by this adoptive father. If his union with Charles Mathieu-Saint-Laurent will bring him social status and a comfortable lifestyle, an extra-marital relationship with an officer will give birth to Brigitte in 1945, Yves Saint Laurent's last sister. These secrets will not be revealed until the very end of Lucienne's life.
A double youth in Oran
It was in Oran , surrounded almost exclusively by women, that Yves Mathieu-Saint-Laurent, with his full name, spent his first eighteen years in a bourgeois and cultivated environment. Pampered by his two younger sisters and his beloved mother, the only boy in the siblings quickly discovered a passion for fashion and ... his golf pants: " Yves was crazy about golf pants, recalls his sister. It was a second skin. He even slept with it. We had to fight to get it back and give it to cleaning. " But the Catholic school, where he is cruelly excluded by his comrades for his effeminate side, becomes his nightmare. Treated as a " fagot " for years, Yves becomes the deadpan of a small band who have fun brutalizing and terrorizing him. In order not to suffer such abuse, he tries to hide his homosexuality at all costs and will grow up with a double identity.
A (very) precocious genius
Self-taught, it was very early on that Yves Saint Laurent discovered a devouring passion for sewing and became an authority on clothing advice for the women in his life. Barely ten years old, the little boy was already cutting dresses out of paper, with a mixture of ink and gouache, to dress his sister's dolls: " Yves had an overflowing imagination, remembers his sister Michèle. He was a director, actor, costume designer. At six, he dressed me up as Carmen with the janitor's black stockings and doing the same with my cousin Catherine. " His obsession? Embellish, shape, transform. His model? His mother ! Fascinated by a white tulle dress that Lucienne wore to go to balls, the couturier will recreate a version of it upon his arrival at the Dior house.
Zero diploma in your pocket
If he studied three months in a cutting school which he quickly hated (the prestigious School of the Parisian Couture Union ), it is only thanks to his innate pencil stroke, to the many prizes that he wins (alongside a certain Karl Lagerfeld ) and mentors like Christian Dior (whom he will call all his life " Monsieur Dior ") or Michel de Brunhoff , the director of Vogue , whom he will make his way in the very world. closed to haute couture.
Victim of madness
If his most famous passage in a psychiatric hospital for depression was his first, in 1960, after being unfairly dismissed by the Dior house ( Yves Saint Laurent then weighed only 35 kg!), The career and the character of the couturier are defined by a regular succession of nervous crises, suicide attempts, paralyzing anxieties or even madness during his visits to the clinic. Hungry for trendy drugs , alcohol , anti- anxiety drugs , sex partners galore and deadly games, YSL explores her dark and self-destructive side. For a period, he even went so far as to smoke 150 cigarettes a day. During this emotional roller coaster that will cause him speech disorders and attacks of anorexia and bulimia, only his dog Moujik , a French bulldog, will be able to comfort him.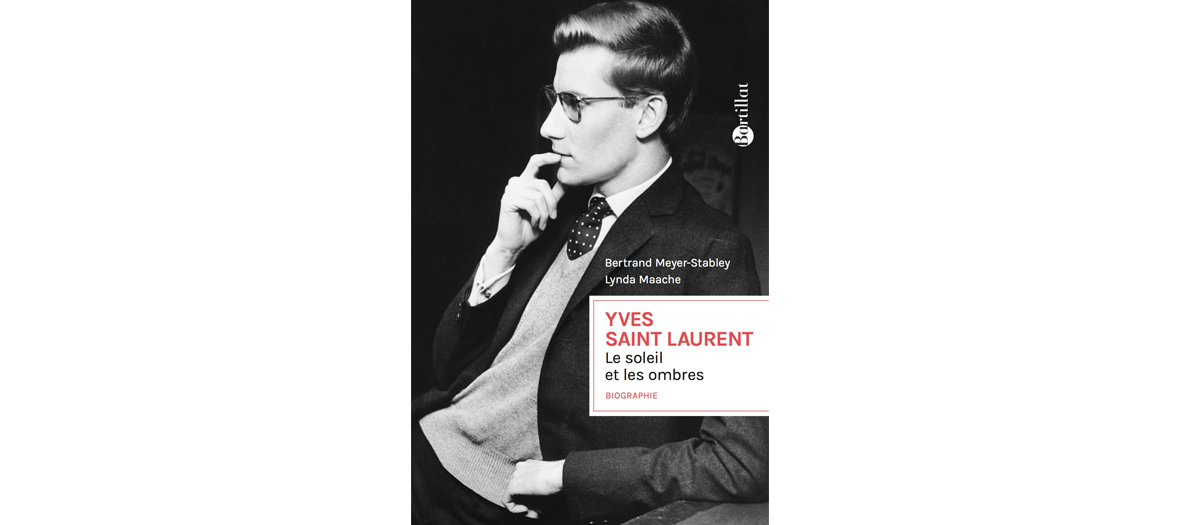 Yves Saint-Laurent, the sun and the shadows , Bertrand Meyer Stabley and Lynda Maache, Bartillat, 336 pages, 25 €

Also discover: Three books to read by the fireplace