Inspired by the eponymous book Can You Ever Forgive Me? by Lee Israel, the new film by Marielle Heller, Can You Ever Forgive Me?, plunges us to the heart of an ambitious author's life who was involved in counterfeiting in during the 90s in New-York.
The bad boy was a woman...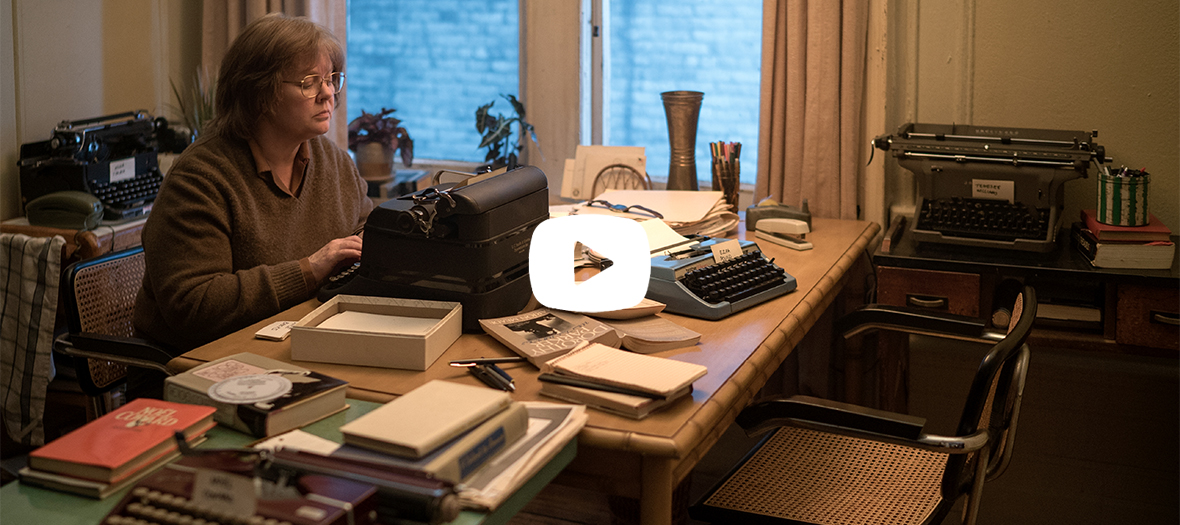 We are a far cry from the stereotype of the proud and virile hero. Lee Israel, incarnated by the talented Melissa McCarthy (Megan in Bridesmaids…), is the daring trouble-shooter who appeals to everyone with her caustic spirit and her rebel sensitivity.
Act 1. Scene 1. In her mature 50's, after the flop of her latest book, Israel is fired… and finds herself alone with her bottle of whisky and her cat Jersey– the two loves of her life. The trigger to start a new life as a delinquent? She has no means to care for Jersey no pay her rent.
The Thomas Crown Affair of leading writers
One day, by happenstance at the library, Lee Israel finds herself eyeball-to-eyeball with an original letter signed by the famous Katharine Hepburn. A few minutes later: the correspondence is at the bottom of her bag.
Lee Israel has just one idea in mind: sell it to New York collectors to cash in on a jackpot. She thus initiates a slightly intrusive game in which she sneaks into the intimacy of leading authors, poets and screenplay writers such as Dorothy Parker, Ernest Hemingway, Noël Coward, Edna Ferber, Lillian Hellman, Louise Brooks or even George S. Kaufman.
By imitating their literary style and their signature, she manages to produce fake letter and to sell them at sky rocketing prices. Quite content with her talent, Israel has a definite personal satisfaction. But things start getting complicated when the FBI begins to suspect her.
A unique duo in the New York middle class
Can You Ever Forgive Me? Is also an encounter between two lost and solitary souls: Lee Israel and Jack Hock (Richard E. Grant, who incarnates Withnail in Withnail and I, while also playing in the next Star Wars). Here they form a devilish and timeless duo. Their fusional relationship seems obvious when one knows that the actors hit if off as friends during the filming.
The link between the accomplices is all the more interesting that they are both homosexuals and that relationships between the lesbian and gay communities were quasi inexistent in Manhattan during the 90s.
Film director Marielle Heller (Grand Prize of the Generation 14plus at the International Film Festival of Berlin for The Diary of a Teenage Girl) treats the subject with lots of tenderness and fairness.
At the cinema on July the 31st.

Also discover: 100 Kilos of Stars and the new comedy with Benoît Poelvoorde