This is the shop that all fashionable trendy have been waiting for. Dover Street Market , a legendary concept store in London and New York (among others) managed by the duo Rei Kawakubo and her husband Adrian Joffe at the head of Comme des Garçons , is setting up shop in the label's courtyard at 54 rue du Faubourg Honored Saint. And to visit it among the first is a necessity.
Pocket version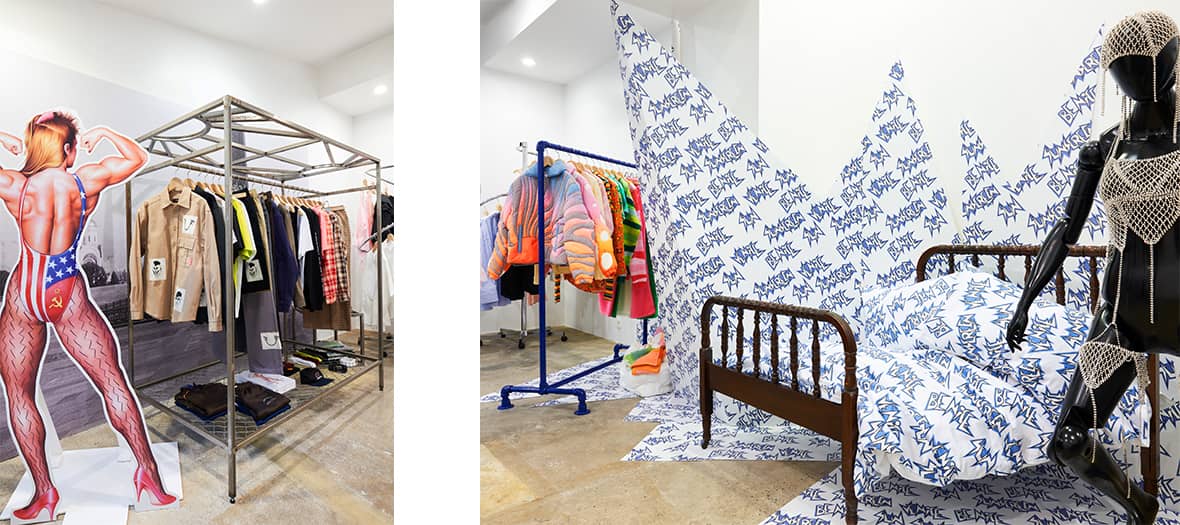 Housed in a small space of 30m² with a small Insta-friendly bed, Dover Street Little Market is presented as a preview of what will be found in the next XXL flagship to come. Namely: the collections of 7 young labels incubated by " DSM " in a joyfully hip hop staging with, as a bonus, a small library of vintage books (between € 150 and € 3,000) on Comme des Garçons , James Dean , Patti Smith , Japan or Uro Vision and the atmospheric Ibiza 89 ' photo book by Dave Swindells. Cool.
Clothing side: a clothes rack, a brand. We pick from the cool accessories of the Berlin label Honey Fucking Dijon , the benchmark for skaters from Moscow Rassvet , the fascinating games of materials of New Yorker Vaquera , the young Singapore collective Youths in Balaclava or the streetwear punk of the Mexican Liberal Youth Ministry. .
Our favorites
Among the nuggets to grab , the Parisian Weinsanto offers his 80's wardrobe with lamé dress (€ 280), tie and dye overalls (€ 420), patchwork jeans that are too well cut (€ 400) and a little pink Barbie bag.
Last embellishment: the colorful pieces of the pretty Californian brand ERL with pop / scandi vibes including a quilted wahou jacket (€ 694), a checked shirt (€ 244), a divine green daisy print blouse (€ 156), a sweater in green and orange mesh (€ 494) and the perfect pink pants (€ 250).
Open Monday to Saturday 10 am-6pm.
Also discover the Dover Street Parfums Market boutique in the Marais and Polène, the it-bag shop that Parisiennes have been waiting for