Since the global success of Rupaul Drag Race on Netflix and its French license broadcast on France 2 last summer, drag queens have been popular! It must be said that their Parisian shows are the guarantee of spending a moment of ultimate fantasy, a real remedy for gloom when everything is going to hell. Do It In Paris went to see the best drag shows of the moment. Anthology.
The most gourmet: King Chefs & Drag Queens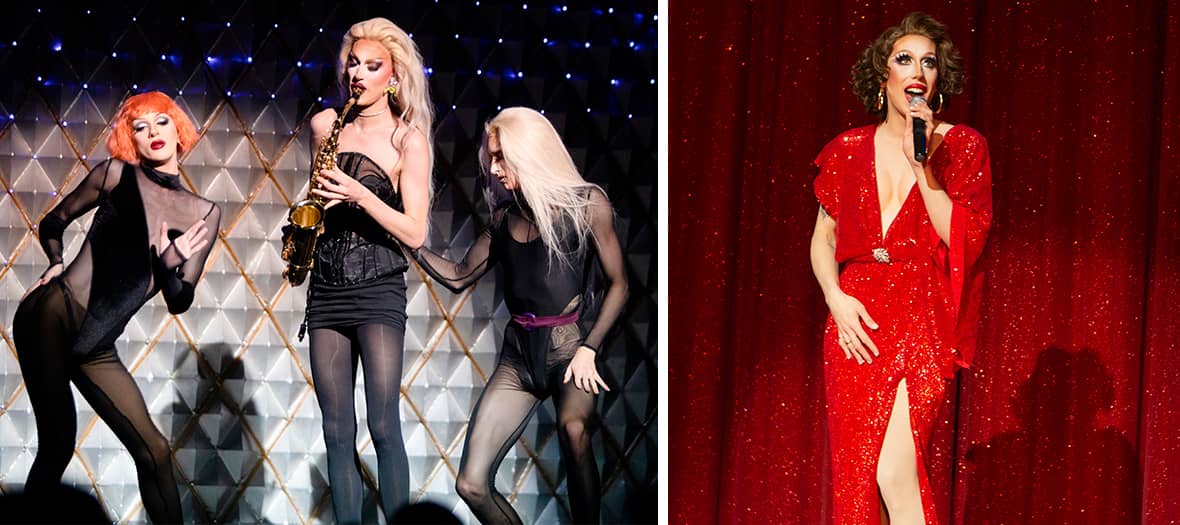 Where ? At La Nouvelle Ève , the absolute temple of drag queens which has hosted the most glamorous shows in the capital since the 1950s.
The concept: a dinner show orchestrated by producer and creator Philippe Quintin-Stern . Arrival at 7:30 p.m. You are seated at your table. On the stage, while waiting for the show, we go for a highly glam' make-up workshop with glitter in the hair and on the eyes. Back to the table to quietly wait for the beasts of the stage: Paloma the winner of Drag Race France , La Grande Dame , Cookie Kunty , Sublyme or Alice Psycho , who all perform original songs or sketches in extraordinary dresses.
The added value: the beautiful dishes of the Marseille chef Vanessa Robuschi , committed to offering market products according to arrivals, without forgetting the desserts signed Davis Félicité . Yum: the appetizers arrive at the same time as a duet on a song in the theme and devilishly suggestive.
Next dates March 1 and April 9, seats between €40 and €130, reservations on kingchefs-and-dragqueens.com .
La Nouvelle Eve , 25 rue Pierre Fontaine, Paris 9th.
© François Loock and Maeva Lieme
The most cabaret: Mixity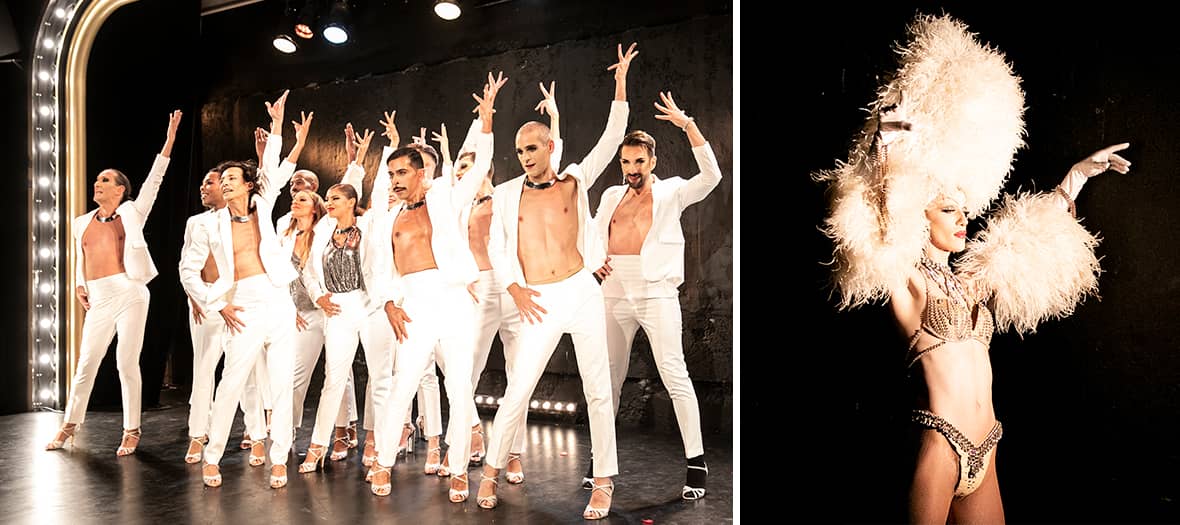 Where ? At the Théâtre Lepic , an adorable room perched at the very top of Montmartre with a pretty bar between two floors to toast during the intermission.
The concept: a real wow magazine bringing together a dozen artists from all walks of life, genders and generations. It gives an amazing and hyper rhythmic show, between soaring choreographies and lipsyncs on Dalida , Lady Gaga and even Clara Luciani . A little feathers, lots of sequins and a lot of costumes parade on stage with a queer but accessible humor, all orchestrated by Bruno Agati . Special mention for the hilarious picture where Celine Dion refuses to leave the scene to her little comrades.
The added value: the interesting questioning around genres. Men and women exchange roles, we cross paths, we cross-dress, we cover our tracks in a dance clearly intended to soften morals.
Mixity , every Sunday and Monday at 8 p.m., €33 in book placement, €43 with a glass of champagne and €60 with board + bubbles, reservations on vostickets.fr .
Lepic Theater , 1 avenue Junot, Paris 18th.
© Magdalena Martin
The most olé olé: Madame Arthur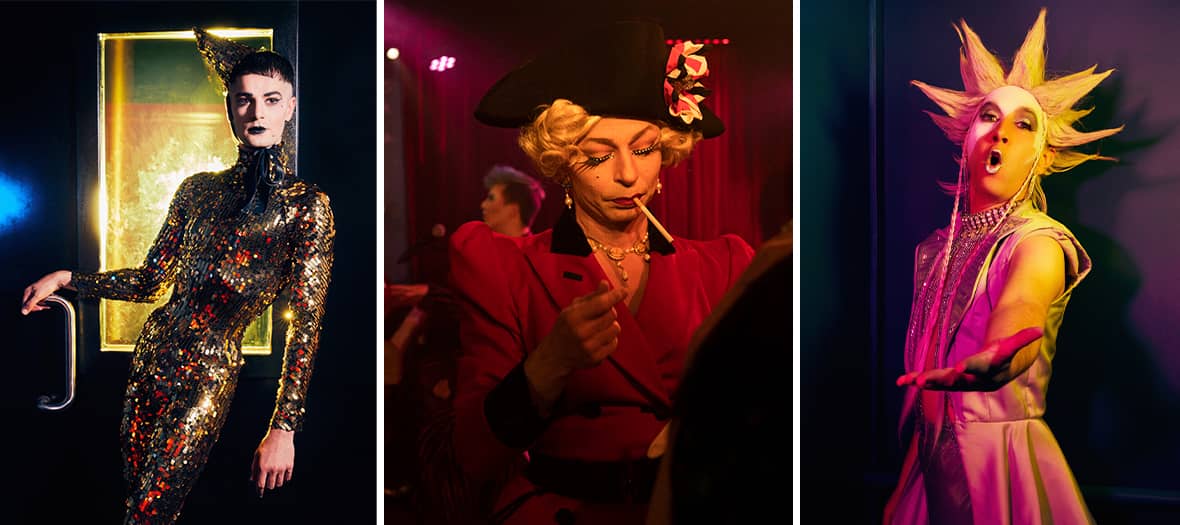 Where ? Chez Madame Arthur , the first transvestite cabaret in Paris in the heart of Pigalle , communicating with the Divan du Monde club .
The concept: each evening, " creatures " take over the stage on different themes with the common points of a deliberately approximate interpretation of cult songs , improvisations (sometimes very hot) with the public and a frankly communicative good mood. After the disappointment of finding yourself standing in front of the stage (unless you have booked a table, which we advise you), we order a drink at the bar and we look for a good place to fully enjoy the sometimes absurd show led on our visit by the sexy Maud'Amour (muse of Jean Paul Gaultier ) and her team of drag queens or transvestites with bittersweet humour. We laugh, we laugh, we laugh.
Added value: you never really know who or what you're going to come across! And that's why the regulars come back: every week is a surprise, with ever more enticing themes ( duets of singers, French songs , special musicals, etc.).
From Thursday to Saturday from 8 p.m., €25 free standing, €80 with table and drink, reservations on madamearthur.fr .
Cabaret Madame Arthur , 75 rue des Martyrs, Paris 18th.
© Bruno Gasperini and Victor Matussi
The plus feel good : The Brunch & Queen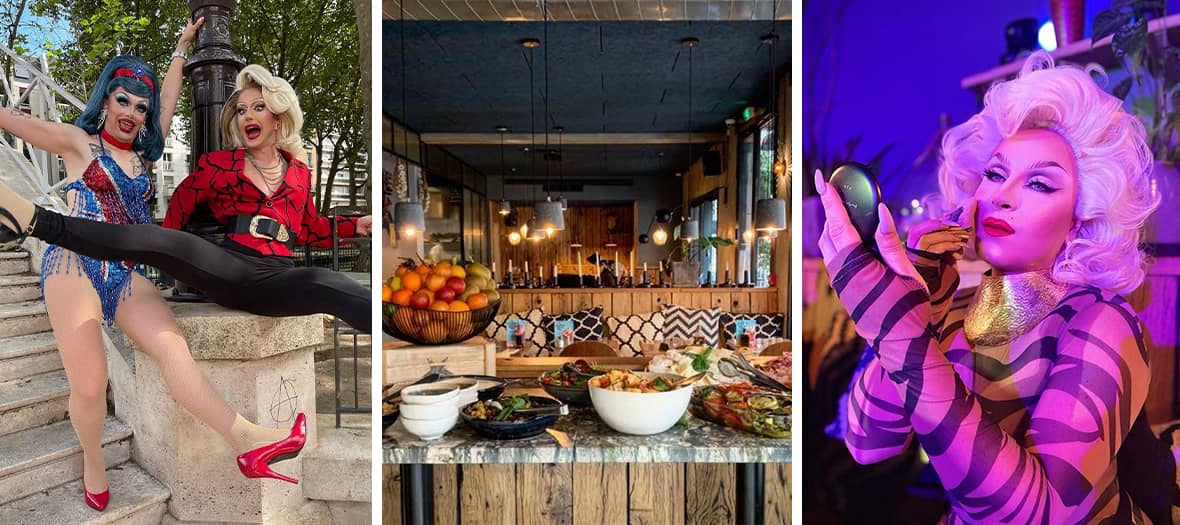 Where ? At the Italian restaurant Acqua e Farina , on the banks of the Saint-Martin canal , which gives up its dining room every Sunday to Brunch & Queens.
The concept: a huge all-you-can-eat Italian brunch with pasta , pizza , penis-shaped treats, salads, tiramisu and chocolate mousse , hosted by a duo of fit drag queens who take care of waking up the hungover troops and . The day of our visit, Mademoiselle Kiss was leading the dance with her accomplice Sasha Miskina , both competing in mischief and whose pretty dresses we would love to steal;
Added value: entertainment to unite the dining room with a classic blind test to win a bottle of Prosecco , choruses to sing along to and battles of all kinds. Shy abstain!
The Brunch & Queen , brunch from 11 a.m. to 5 p.m. in 2-hour shifts, €35, reservations on rainboworld.fr .
Acqua e Farina , 45 quai de Valmy, Paris 10th.
Also discover the art deco exhibition that is making the buzz and Sam Szafran, the superb exhibition at the musée de l'orangerie.