Destination: Snow-capped summits, a perfect occasion to zip off to Chamonix for a gliding weekend with your latest flame or with the gals. And mostly take advantage of the most Parisian of addresses, the latest hype spot of this charming village: Le refuge des Aiglons, is as playful as it gets Here, the young generation enjoys the ultra-cool ambiance backed by a chic, super design rustic spirit.
What's on the agenda? After waking up in a large warm bed, you open the curtains, eyes partially closed and are stunned by the view. Immaculate white and in the distance the mythical Mont-Blanc. It's still early, but worth hopping out of bed for the " home made breakfast" featuring the region's fresh products. You are now ready to board the  cable-car take that will take you the Aiguille du Midi. The highest spot in the village. 3842 meters, no less! Mostly one goes for the "stepping in the void" attraction: a huge plexiglas box in which one steps into legs shaking.              A successful challenge! You overlook the valley. Those with vertigo will be better off in the darling small red Montenvers rack train for a scenic ascension over the Sea of Ice and the Aiguilles des Drus. Exhausted but happy, we keep a little energy for the free escape game of the hotel. 1h flat to resolve an enigma.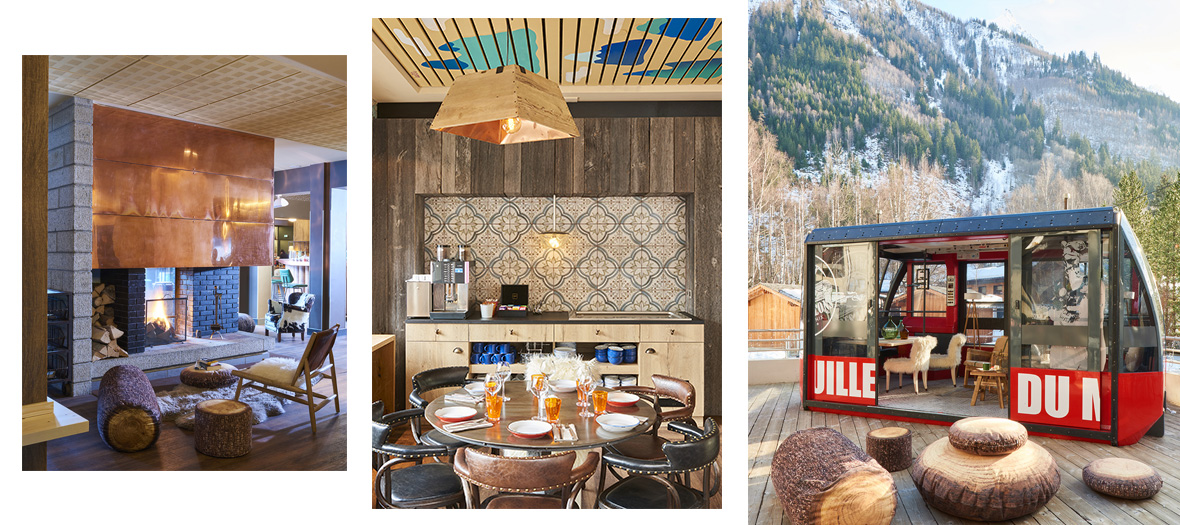 The added plus: Spa aficionados in all circumstances? You have knocked on the right door and can chill all day long as you wish. Reserve a cabin massage beforehand to enjoy the hot/cold effect outside in the large fuming pool. Finish the programme by taking refuge in the hammam and sauna cabins. Nordic spirit guaranteed. Lounging makes you hungry! In your flip-flops, head for the large dining room table: tapas to share, grilled scallops and gravlax salmon. As for the main dish: yummy veal.
The design spirit: He is one of the new rising stars of Parisian design, Oscar Lucien, founder and artistic director of Maison Numéro 20, that picked up the challenge, with a small budget, to transform this ordinary refuge into a super trendy small corner of relaxation. For that, he playfully mixed modern and vintage furniture for a totally arty spirit. Cherry on the cake, the large fresco in the atrium was conceived by street-artist Vincent de Mestral.
How to get there? By train. Paris Gare de Lyon-Chamonix. 5h30 with generally two changes. The trip is a little long, but the scenery is idyllic. Time goes by very quickly.
The rooms and their prices? Take your pick from two types of rooms—one all in wood, like a log cabin, the other with cleats. They all have a modern version of a deer head, like a symbol of the mountain. Starting at 150 euros per night.