The Ballad of Buster Scruggs offers an off-the-wall outlook on the great American West. A formidable singing pistolero, a trunk-man fair comedian and a grumpy and tough gold digger are all part of the colourful characters of this very special Western.
First incursion on Netflix
Conceived at the outset like a mini-series for the famous platform, The Ballad of Buster Scruggs finally became a film featuring several sketches, in the grand tradition of Italian comedies (The Monsters, The Wife of the Priest...). Divided into six stories, the film focuses on all the archetypes of the Western always in a surprising manner.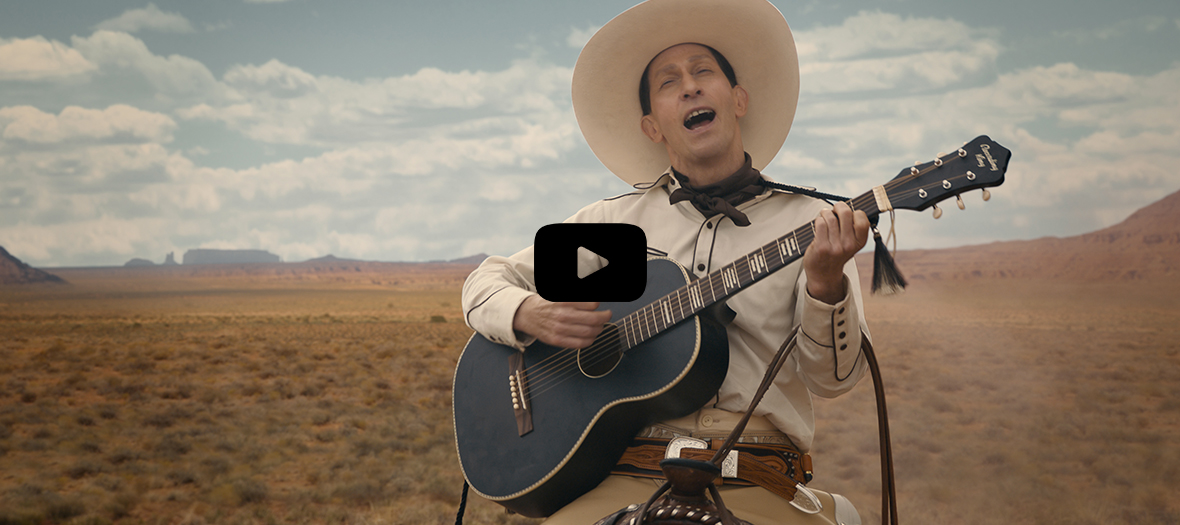 A perfect soundtrack
While the first segment of the film (The Ballad of Buster Scruggs) is a real musical comedy, the rest of this long feature is also sustained by a terrific soundtrack. Whose doing? Carter Burwell, accomplice of the Coen brothers for almost all their films since right from the start (the incredible Blood Simple,who signs a stunning score, perfectly in synch with the tonal ruptures of this Western, featuring multiple nuances.
Dream like artistic direction
To highlight the film, the two directors also called on people they knew well: head decorator Jess Gonchor, who was at their side for six films, including No Country for Old Men, and for the photography, Frenchie Bruno Delbonnel, already in charge of the superb image for Inside Llewyn Davis.
A glamorous casting
Last but not Least, just the film distribution should appeal to the most exacting spectators: let's start with the Buster Scruggs of the title, incarnated by a cartoonesque Tim Blake Nelson, who meets up again with the Coen brothers, 18 years after O'Brother. Always as sexy, James Franco incarnates a totally cynical cow-boy while one of his acolytes from the series The Deuce, David Krumholtz, makes a discreet apparition. Fans of Liam Neeson will be reassured to know that he does not spend his time saving the world since here he takes on the superb counter-job of a worrisome impresario. Finally, amateurs of blues will certainly recognize the immense Tom Waits, in a role with little dialogue, but that is very impressive.
The Ballad of Buster Scruggs on Netflix, Friday the 1stof November, 2h13 minutes.

Discover also the biopic of Freddy Mercury