The traveling cook unpacks his bags until October in the restaurant of the Grand Quartier hotel , which has become a culinary laboratory in the 10th arrondissement where the great chefs of tomorrow are embarking. After Sarah Mainguy last summer, it's the turn of the Top Chef season 13 Wilfried Romain to offer his unbridled and yet balanced dishes. Visit.
A globetrotting chef
Sheltered from cars and prying eyes, the green patio becomes the bucolic lair of magnificent tree ferns. It is in this hideout wedged between the asphalt of Boulevard Magenta and the Faubourg Saint-Martin that you can come and taste the colorful cuisine of Wilfried Romain, influenced by his travels.
The one who shared the residence of Philo Saucisse until the end of June first left for Australia then Thailand, (a big crush), before going to browse unknown condiments and spices on the side of Latin America, from Chile to Colombia: " Travels and encounters made me the man and the cook that I am today ", he likes to say. Verdict?
A concise menu, delightful dishes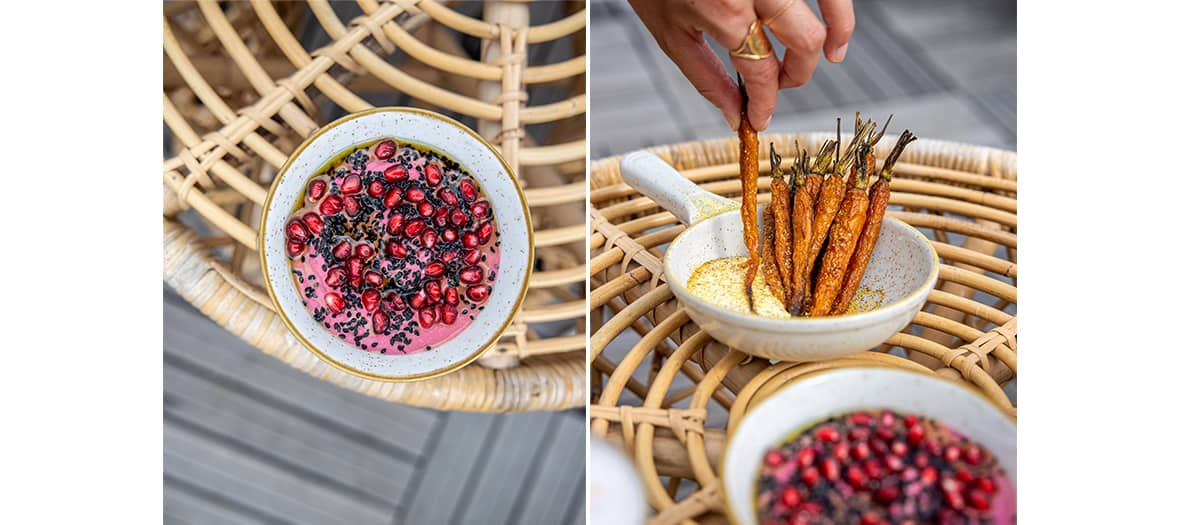 What a nice surprise to discover a cathodic chef who knows how to mix his many inspirations without ever overdoing it! Seven savory dishes, three desserts that send you heavy: if you throw yourself without hesitation on the black ceviche , its monochrome and spicy signature dish, you are totally won over by its eggplant , Colonnata bacon and 5C1M sauce (coriander, coconut, lemon green, cashew, curry, mint) and its snacked octopus tentacle accompanied by an ultra-tasty variation around corn: cream, grilled, pickles accompanied by a lime condiment with cocoa nibs and coriander oil.
It's also flawless for the shredded lamb shoulder with zaatar and carrot, an explosion of tastes and textures that we also experience with the amazing Cheezygreen: grilled broccoli and fresh peas covered with a Brie de Melun emulsion. The waiter, relaxed and knowledgeable about each dish, takes the opportunity to suggest a refreshing " vière " pairing: a beverage halfway between wine and beer, where the bitterness of hops meets the sweetness of grapes. And it works, especially the red version with the lamb. On the sweet side, we opt for the Bloody Mary - style strawberry : acidity, pepper, freshness and sweetness in a single dessert.
By the end of October, in keeping with seasonal products, the menu will no doubt be adjusted. But let yourself be surprised without any hesitation. Three to four savory plates for two are more than enough, because in addition to being inventive, Wilfried Romain is generous.
The alternative perched at aperitif time
Psst: on the rooftop , from 4 p.m. to 10 p.m., there are a few tapas imagined by the chef and cocktails such as the Mexican Mule with mezcal or the Ti sonson du faubourg, a mixture of white and old rum, Dolin bitters, lemon juice and syrup of vanilla. Quite a trip!
Open midday and evening from Wednesday to Sunday. Plates from €8 to €17, glass between €6 and €8.
© Léo Kharfan

Also discover Nina Métayer's new brunch and 3 stylish coffee shops for all-day brunch.