Pastry chef Nina Métayer joins forces with her own sister Paloma to sign the complete menu for the new brunch that is taking place at the Hôtel Maison Colbert . Are we taking you?
The place
In the heart of the Latin Quarter , the Hôtel Maison Colbert takes place in a street that bears its name. Pretty fancy, no? A stone's throw from the quays of the Seine which face Notre-Dame , this pretty 4-star hotel benefits from a charming tree-lined terrace where you can now sit down every Sunday to savor an elegant brunch.
On the delicacies program
Spoiler alert: skip breakfast completely and arrive hungry, because Nina and Paloma Métayer have decided to stall you for the day. We first choose our juice (pressed orange or grapefruit, apple, tomato, mango, strawberry signed Alain Milliat ), our hot drink, a pain au chocolat or a croissant, accompanied by an ultra-fluffy homemade corn brioche, to spread on good jams, spread or salted butter caramel simmered by the sweet chef.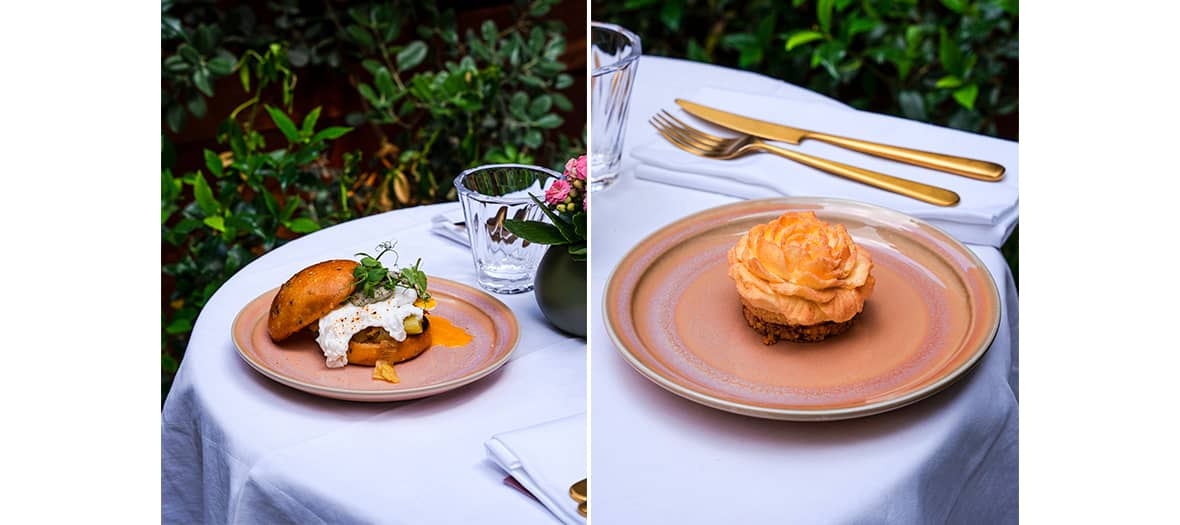 On the savory side, it is played as a starter between the plate of Iberian Bellota ham , the salad of heirloom tomatoes, peach, basil, the egg (fried / scrambled / poached) on a toast with truffle cream (divine). The candied tomato ravioli with parmesan crumble sound like a vacation in Provence, unless you prefer the comfort of the ballottine of poultry, full-bodied jus, crispy potatoes, cream of spinach.

The highlight of the show, Nina's refined desserts come to close this enchanted parenthesis, between the Cheesecake, the Chocolate Tart and the Peach Flower. It's a gift: we leave with a brownie, a financier or a cookie for a snack.
The extra thing
On the terrace, a great singer comes to sing the most beautiful pop/rock hits with his guitar, from Radiohead to Oasis via REM . Passing tourists all go there with their little video…
Brunch menu at €70 (€86 with champagne) served on Sunday from 12 p.m. to 3 p.m. (last order at 2.30 p.m.) on July 10, 17 and 24; September 11, 18 and 25 and October 2. Booking is recommended.
© Hotel Maison Colbert
Also discover an address in the heart of Montmartre and Maison Kalios, the stopover in Greece