© Bastien rossi - philippe garcia
In line with the Hôtel Amour and a few years after the successful opening of Providence , a new hyper-desirable hotel has just opened its doors in the Sentier. A real fantasy home sweet home, where all Parisians in search of adventure and passing guests already dream of coming to squat one of the dream rooms in the heart of Paris. Shall we take you?
A new Passage du Caire hotel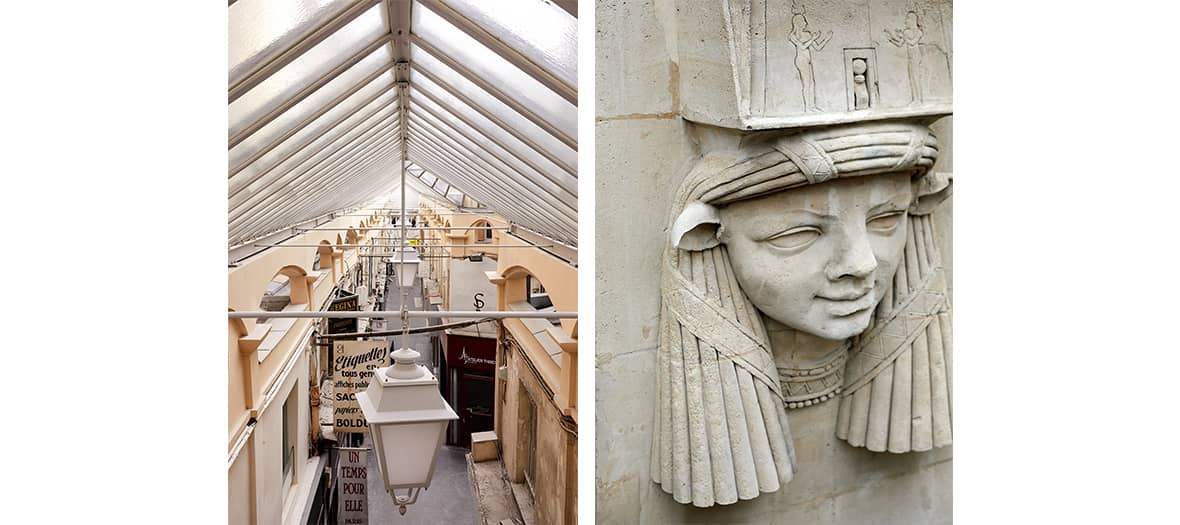 © philippe garcia
Place du Caire: an address with character… Installed in the building at the entrance of the oldest passage in Paris, the Hôtel du Sentier is housed behind a facade classified as a historic monument , erected in memory of Napoleon's campaign in Egypt with statues bearing the image of the goddess Hathor .
Its unique location speaks volumes… And there could only be one archi enthusiast of " iconoclastic projects " to design such a cool and unique place: Vincent Bastie . In other words, this hotel is unlike any other, far removed from the new marketing standards of the perfect pasteboard boutique hotel.
A family matter
Behind this new charming address installed on a small square to make Woody Allen dream: a power couple of entrepreneurship, already at the origin of Café Petite and Gros, Charlotte and Samuel Castro . He is an emergency doctor, she an ex-actress who has already infiltrated the hotel industry with her first husband Jean-Louis Costes.
Here, the duo claim a family affair, a HQ of modern-day innkeepers who like to work with other smalas in their genres, suppliers and craftsmen from father to son, short circuits and French know-how. .
No decoration, but beautiful materials: wood and marble, this is the obsession of Charlotte and DA Alizée Freudenthal ...
Room service in your room or to take away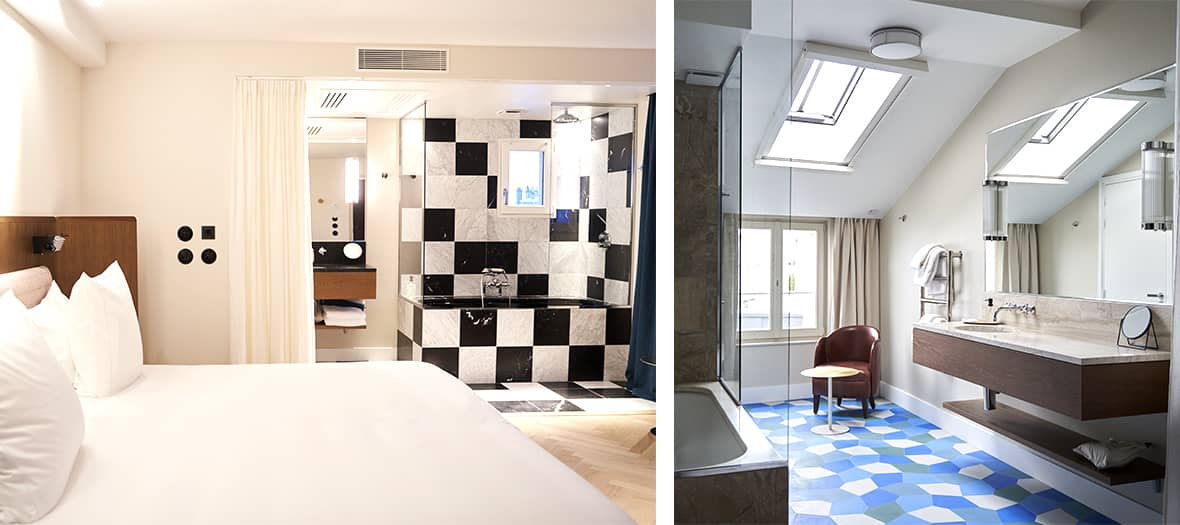 © Bastien rossi
We are already looking forward to the house's bistro, Le Champollion, opening its doors with its small pedestrian terrace, its leather benches and its counter where we dream of leaning back for a drink or ordering their delicious coffee delivered. by the Belleville Brûlerie, of course.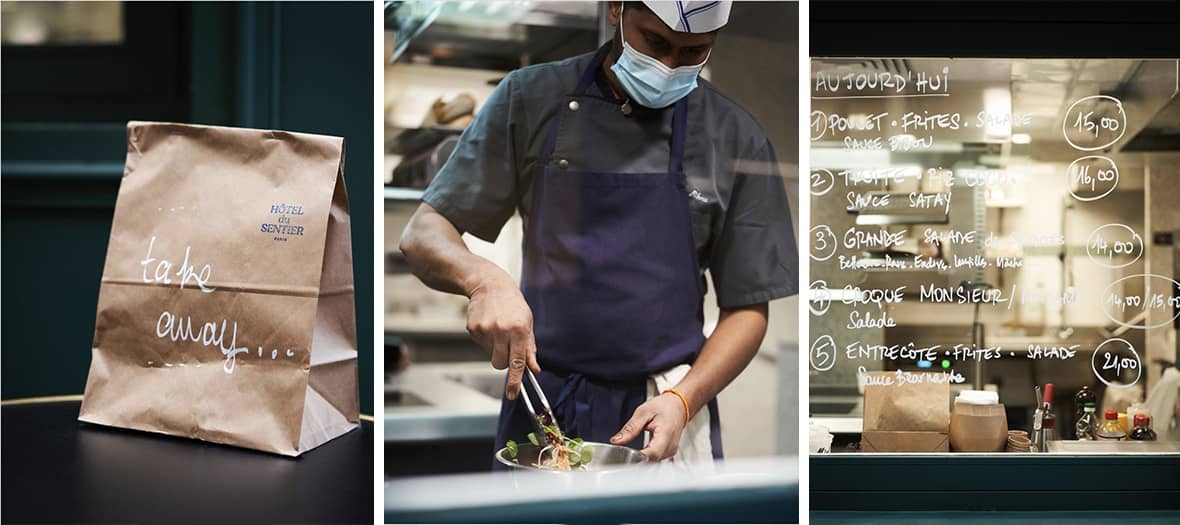 In the meantime, the staff is already busy in the kitchen preparing a menu to the climax of Parisian titi delirium: eggs mayo (€ 11), lentils in salad (€ 11), rice pudding, omelet, croque monsieur or madame ( € 19), entrecote and fries (€ 27), viêt chicken salad (€ 18) or brioche toast (€ 12). And of course, very quickly: the blanquette .
It remains to be seen whether you prefer to take it up to your room ... Or devour it at home, where the kitchen visible from the passage has an open window for the most stylish take-away of the moment.
Terraces with rooftop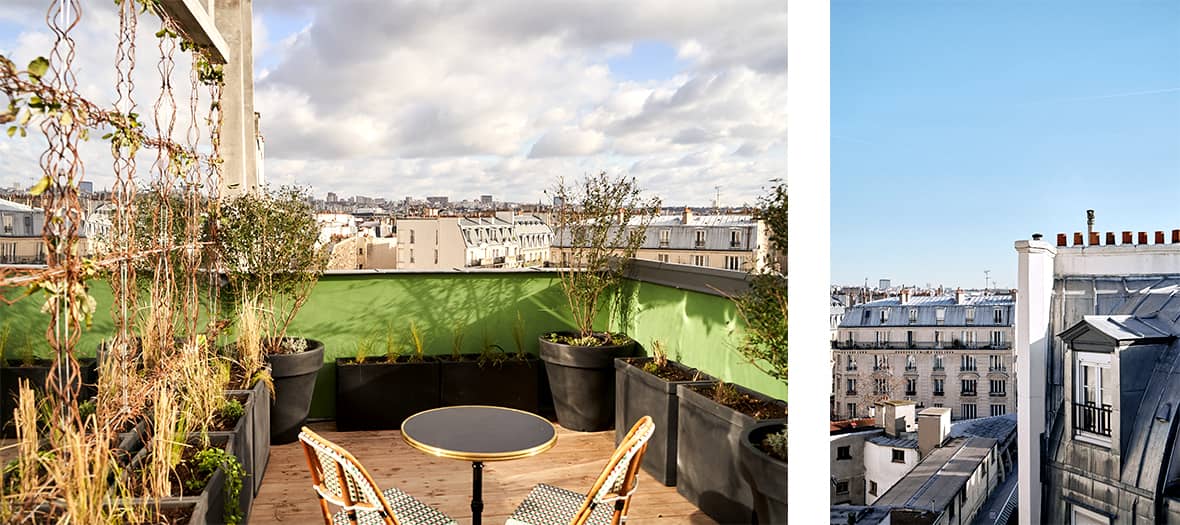 © Bastien rossi - philippe garcia
The absolute must, the secret that all stylish Parisians already slip under their cloak to organize Valentine's Day, birthday parties and other surprise parties, are the two stunning suites on the top floor of the building which each have a private staircase to private rooftops.
The result is green terraces with tables and deckchairs out of sight and overlooking the rooftops of Paris. And very quickly: the possibility of private dinners signed Grégory Marchand , as a neighbor. Chic!
Room from 240 €
Also find the new generation of legendary hotels in France and 7 houses for rent that will make you dream