Of course, there are still the Martinez, Eden Roc or La Colombe d'or: mythical. But since more than 10 years, the codes of luxury have changed and a new generation of more contemporary establishments has seen the light of day. Forget trendy effects, these dream venues have been conceived like the cult references of the Y generation—and even if they have not already slept there, they dream of setting down their suitcases. At least one night in a lifetime … And since it looks as though it's going to be a staycation in France, maybe this is a golden op to treat yourself to a fab room?
La Co(o)rniche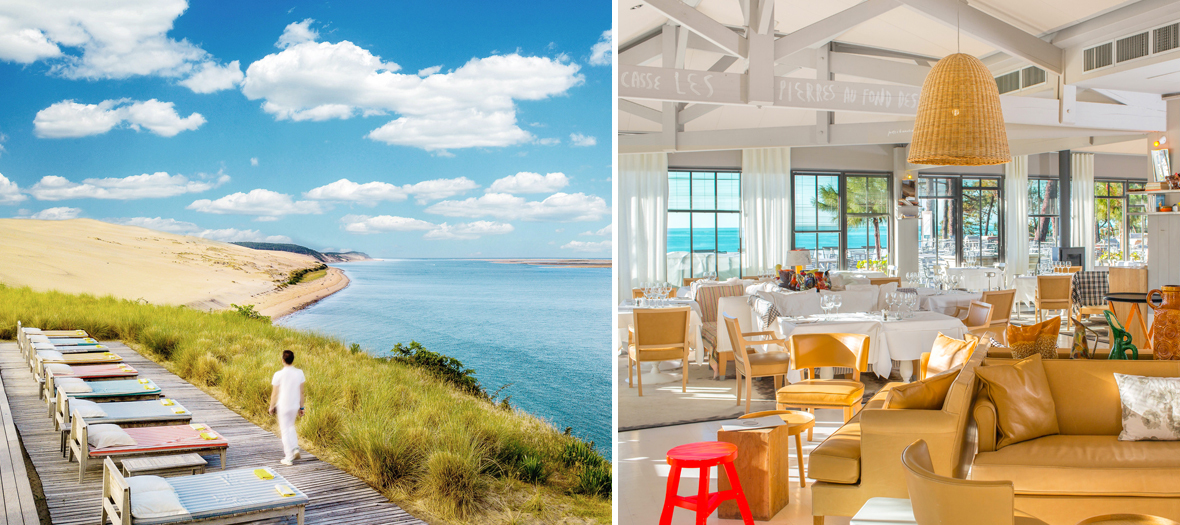 Here is a real paradise on earth, nestled high up between the Dune du Pilat, the basin and the ocean, across from the tip of Cap Ferret. Needless to say, William and Sophie Téchoueyres, its owners, entrusted multi-talented Philippe Starck with the construction of the first deluxe hotel on the Bassin d'Arcachon­­—which he transformed into a dream venue inside an ultra-preserved environment! Infinity pool in the style of an oyster farm, suite-cabins as though one were in a fishermen's village, original rooms in a spa-spirit with ceiling mirrors, outdoor bar and restaurant facing the sunset along with a concept-store worthy of The Webster. And of course, the Ren spa and family pastry shop are close by, newborn of the Haaitza family.
La Co(o)rniche, starting at €485 per room.
Les Roches Rouges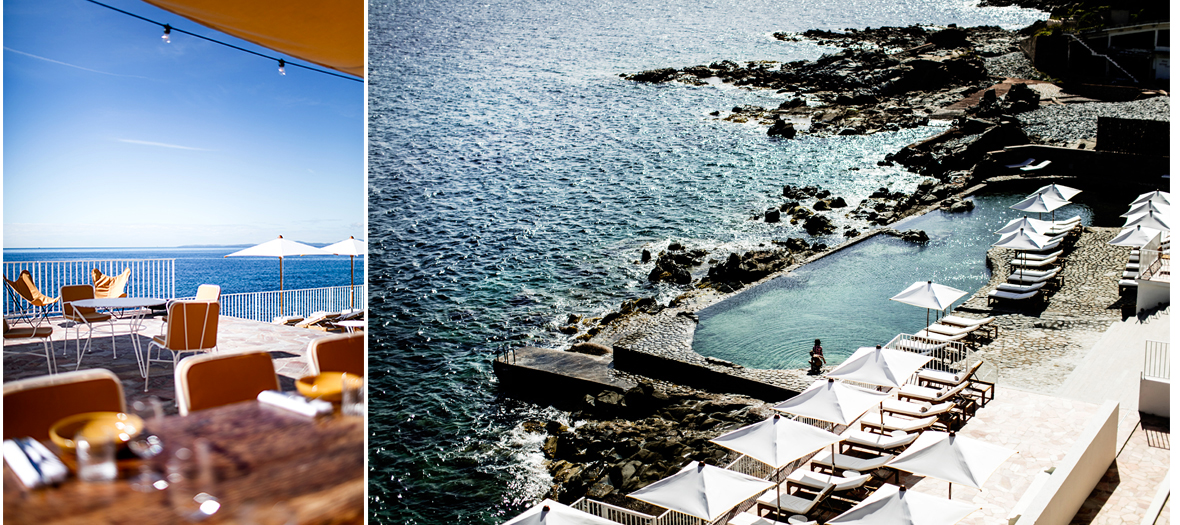 Impossible to have missed an Instagram post of their incredible pools built on the rock under the Esterel mountain. Treasure of sophistication and good taste in a furiously 50's style, the Hôtel des Roches Rouges highlights the 2.0 radiance of the French Riviera. Moonlit cinema, pan bagnat to enjoy while sitting on a comfy deck chair, Provençal garden to chill or follow a yoga class, pétanque, paddle or treatments at the Esthederm spa. Here reigns a touch of perfection between heaven and earth.
Les Roches Rouges, rooms starting at €420.
Les Fermes de Marie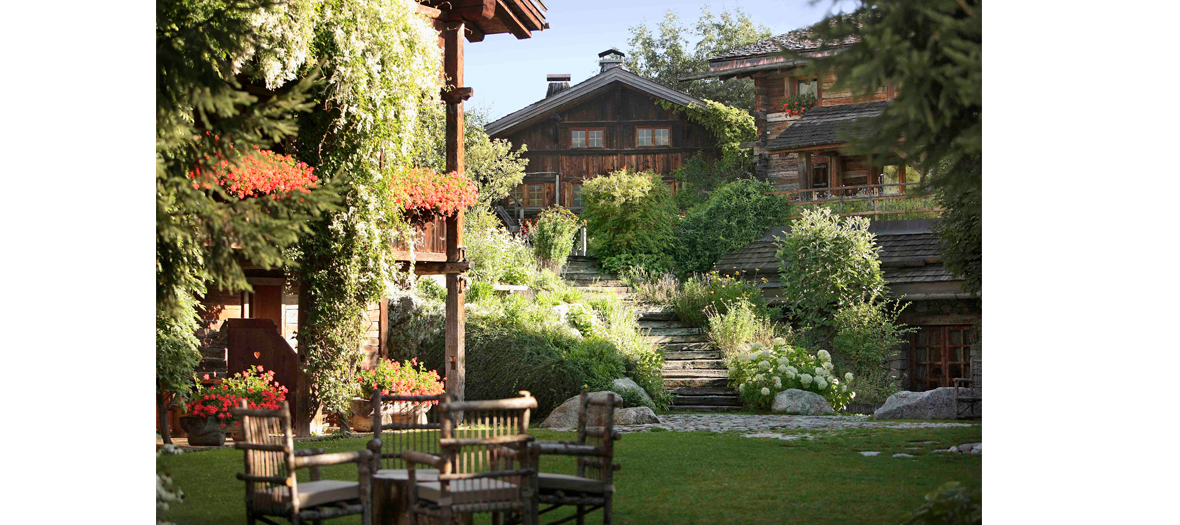 Here you can indulge in a cheese fondue as well as undergo a slimming treatment at the spa, climb on a VTT and drink vintage wines—all this in the same day. The Sibuet family has managed to reinvent mountain chic and coolness with Les Fermes de Marie in Megève, created just 20 years ago. Often copied but ever equalled, their avant-garde lifestyle at the mountain through relaxed luxury makes it a coveted destination in winter as well as trendy spot in the summer: a village grocery store with a sourcing of amazing local products, yoga retreats, without forgetting their latest baby, La Ferme de Bacré, an Alpine hut reachable by hiking (or not…) for a traditional Savoyard dinner and returning by torch light. Just the kind of cool Heidi spirit we love.
Les Fermes de Marie, rooms starting at €342, breakfasts included.
Domaine de Fontenille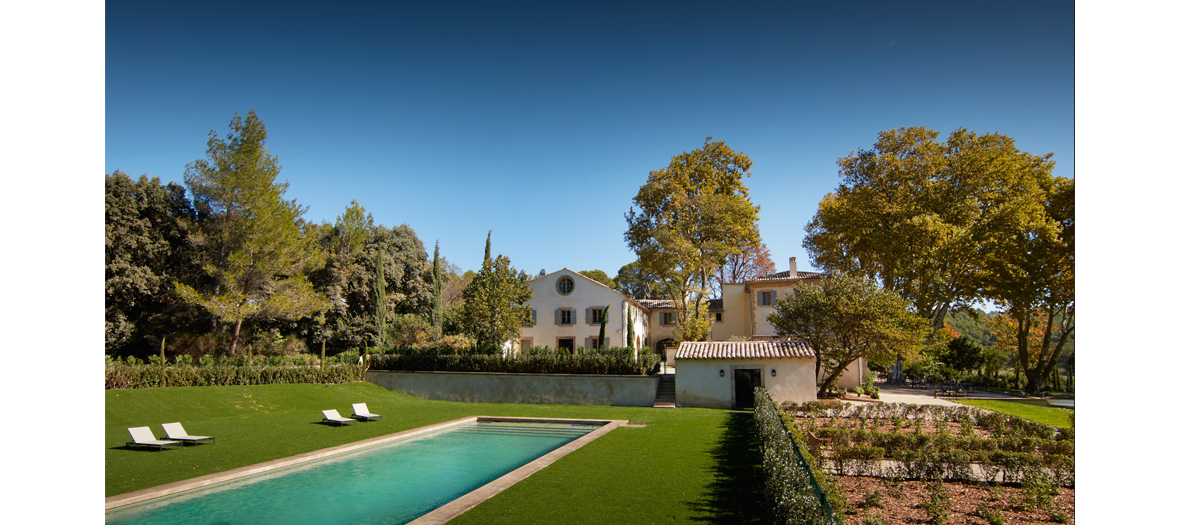 A true Southern Eden, the Domaine de Fontenille is the new reference of Provencal chic, owned by the founder of Maje - Sandro - Claudie Pierlot, associated to chef Eric Frechon for the group. Anti-bling, this incredible mas conceived like a family house "but better" ensures the promise of a perfect weekend parfait in honeymoon or large tribe mode, with the sound of crickets in the background and incognito people to take advantage of the fairy tale pool, endless gardens, a vineyard where local wines are produced as well as a Provencal prosecco, electric bikes to wheel through the nearby villages, a perfect bistro placed on the garden gravel and of course the starred restaurant.
Domaine de Fontenille, rooms starting at €350.
Royal Champagne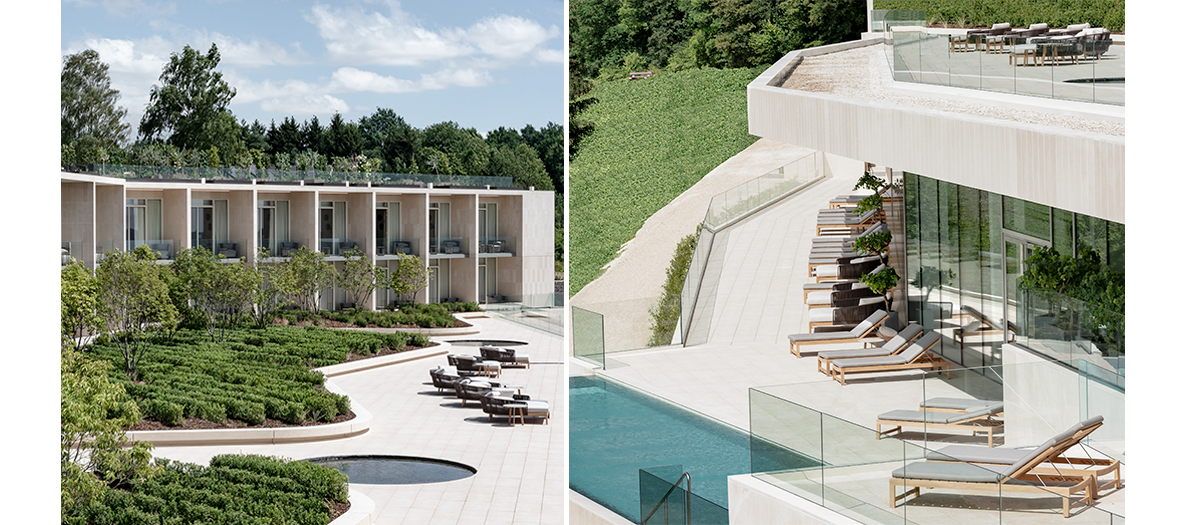 Architect Giovanni Pace signed the glamour and contemporary landmark in the Champagne region was waiting for: bedrooms signed Sybille de Margerie, infinity pool overlooking the vineyards, spa considered as one of the most beautiful in the world, starred restaurant and bistronomy. Highlight: the 1,500 m² rooftop set up like a garden built around rose beds, apple trees and a vegetable garden whose aromatics are used for cocktails.
Royal Champagne, package summer at €595 (rate without a minimum of nights, with a bottle of champagne upon arrival and lunch or dinner at the gourmet Le Bellevue restaurant for two persons).
Domaine de Misincu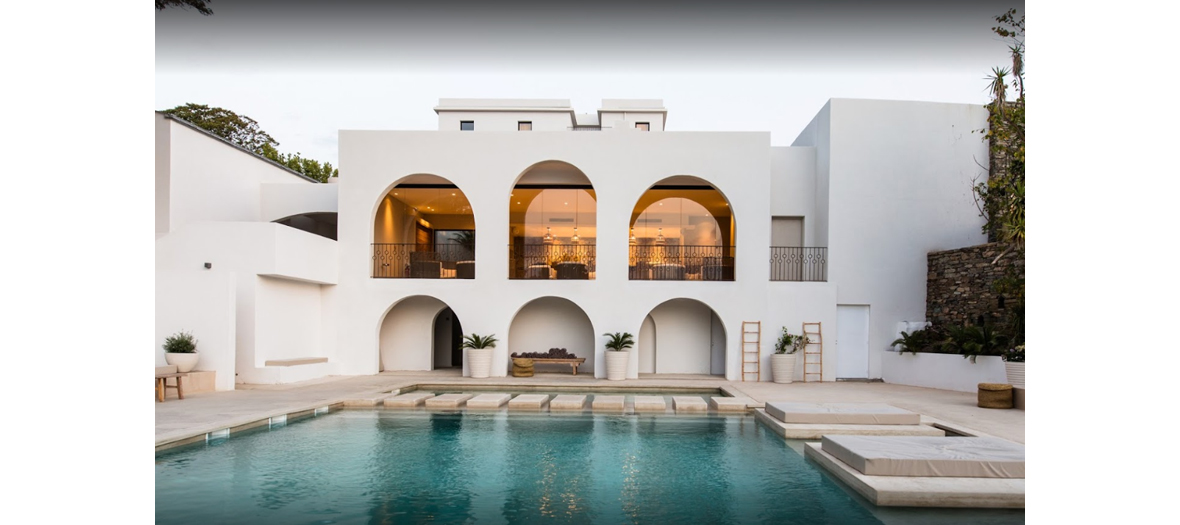 A notion of claimed "barefoot luxury" and "natural paradise". Such is the new reference that is appealing to all the fans of discreet and bucolic luxury, nestled in the Cap Corse, a very green domain perched on a cliff, in an environment beyond spectacular. Check it out: a beach, olive trees, a river, gardens and patios, without forgetting a domain of permaculture used in the very local cuisine of the chef.
Domaine de Misincu, rooms starting at €330.
La Grenouillère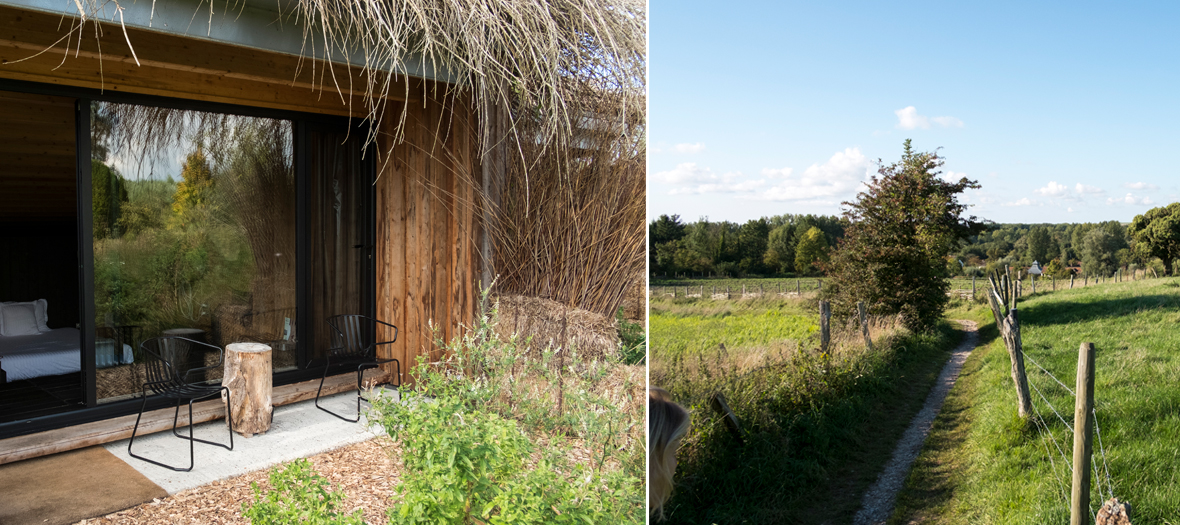 Real foodies are already chomping at the bit and will tell you that it's THE most sexy and high-end rendezvous in France. In 2003, two-star chef Alexandre Gauthier took over the family domain in order to make it the most poetic and avant-garde venue of his generation, with obviously his restaurant which far-flung visitors come discover—all built by Patrick Bouchain. But the architect did not just create one table, he conceived an entire and unique place by imagining in the garden hunter cabins worthy of the wildest Relais et Châteaux bedrooms, in osmosis with nature… And let's not forget the houses installed with freestanding bathtubs in front of the fireplace. In short: an experience to be tested!
La Grenouillère, rooms starting at €180. Lunch menu at €115.
Les Roches Blanches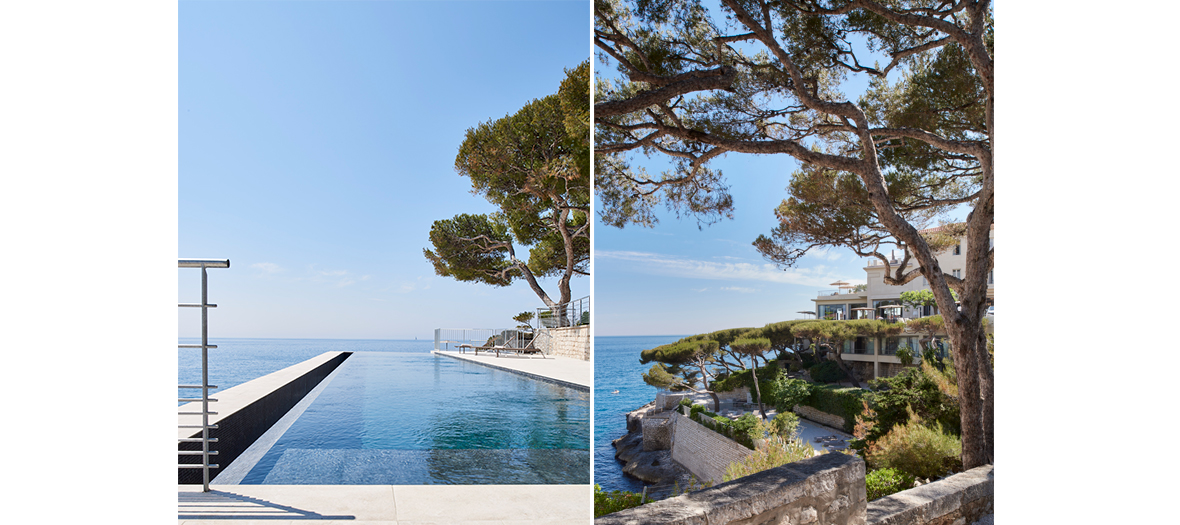 The promise of the most beautiful view on the Calanques de Cassis with an infinity pool at the level of the Mediterranean Sea … Les Roches Blanches, is an Art Deco gem hotel looking out onto the sea and signed Monika Cappel, who made sure to respect the environment embedded in the rocky cliffs and parasol pine trees. Of course it's possible to venture out for a hike along the rocky calanques paths or wine tastings in the vineyard. But the big hit here is the sunset on Cap Canaille, the bistronomy table installed on a terrace orchestrated by Florian Canau or his tapas bistro to enjoy a cinema backdrop!
Les Roches Blanches, rooms starting at €450.
Also discover the new French hotels where to settle down your suitcases and Plage Palace, the new spa hotel signed Jean-Louis Costes in Palavas.