Do you know the Les Récupérables label? It's the living proof that it's possible to transform a slow fashion brand into an ultra legitimate Parisian label that should not feel shy in front of the trendy designers of the moment. A fashion shaker and mover, Anaïs has broken all the codes of the fashion sphere and illustrates the motto: "nothing is lost, everything is transformed".
Its role model ? Distributive by essence. Check it out : upscale upholstery fabrics that one finds at Emmaüs, recycling unique pieces with perfect style, all made in Paris. Upstream of fashion-week in Paris, her last catwalk at Beaubourg created the buzz and attracted all the fashion editors with fab dresses, jackets,skirts, all sold the same day on www.ulule.com. In short, the style essence of a modern-day Parisienne...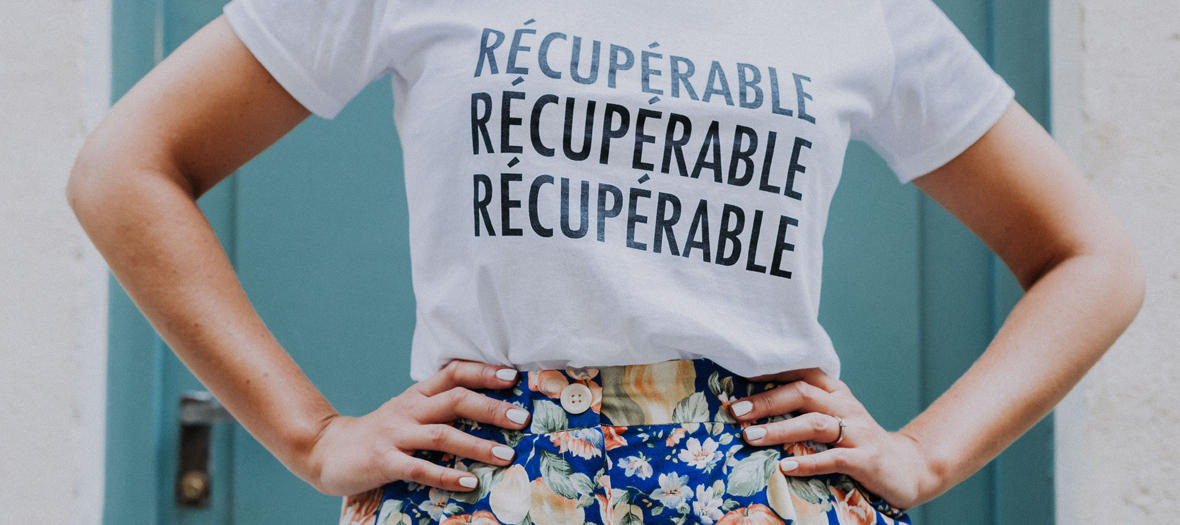 How did you fall in the fashion pot?
"Fashion is like a small music I always sang to myself. I started out as a little girl with my grandmother. She made me sew my first dresses for dolls, choose the fabrics and mostly reuse leftover fabrics. She had proudly explained how she made a dress out of the wedding trousers of my grandfather. I was branded with the recycling stamp!
How does one become a stylist on the catwalks at Beaubourg at 28 years old ?
Upon arriving in Paris, I worked in most of the second hand shops of the Marais and really learned a lot about Vintage art. Very quickly I was asked to be a stylist for clips, theater, short films. In Brazil, the kingdom of second hand shops, I fed off this culture. La Ressourcerie de la Petite Rockette then asked me to take over a soliday boutique. This is where I saw piles of textiles collected each day. One of the consequences of our over consumption…Then I gathered all the elements to create Les Récupérables.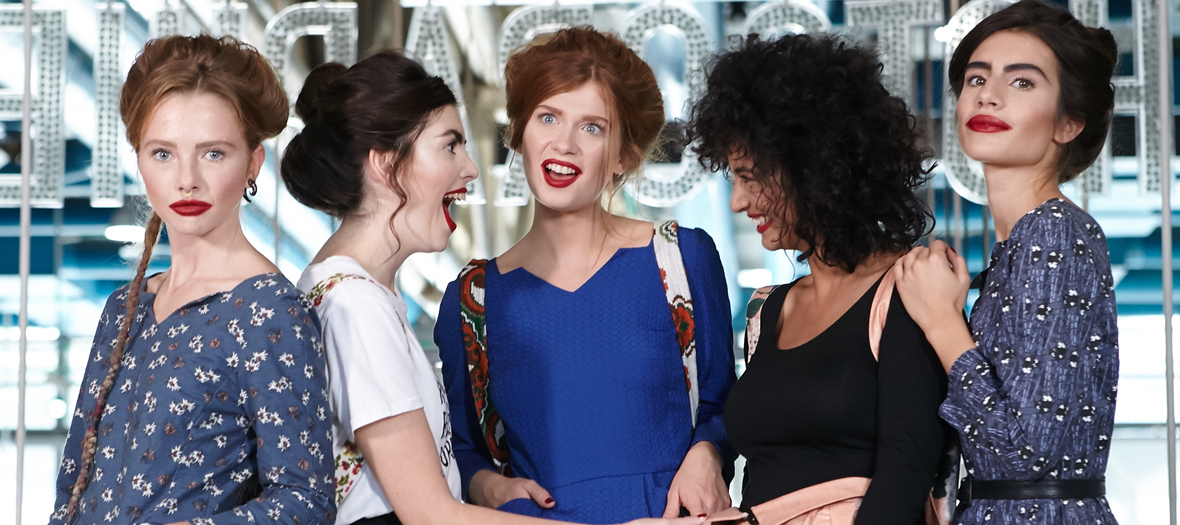 © Rachel Martens Attuil
What was the trigger to create you own label ?
I am wild about vintage, but even more to use it for creation, thus I speak of Updated Vintage. Clothing has lots of limits, but house linens and upholstery leftovers have incredible potential. At la Ressourcerie, I found myself in front of mountains of collected textile. I prefered choosing the creative potential of these "discards".
How did you launch your brand?
Creating an insolent ready-to-wear brand that reinvents the codes of sourcing ( collecting and buying second hand or in Emmaüs shops), production (insertion workshops) and distribution (secret sales and e-shop, and soon brand distribution that have an ethical approach/sensitvity) is very important in order to have a holistic approach. Eco-responsable fashion is starting to have a good image and it's thanks to this new generation that understands the ecology + style equation, that it works.
Your are completely off the fashion-week calendar… Provocation or revolution ?
Smile, joker ? A strategy ! At the outset there was a financial constraint, today it deserves consideration… But what is interesting about being OFF, is the power of capturing light at a moment when the media are not focalized and overbooked on the subject.
What is your sales system?
First of all, I prefered avoiding traditional points of sale and creating my own events where I invited the community to unexpected venues: flats, bars, hairdressing salons…
Then I launched an e-shop. The new collection is available on ULULE. Eventually, I wish that the brand could be distributed in points of sale sharing the idea that fashion can change like the concept-store le «Centre Commercial» (3 rue de Marseille, Canal Saint-Martin).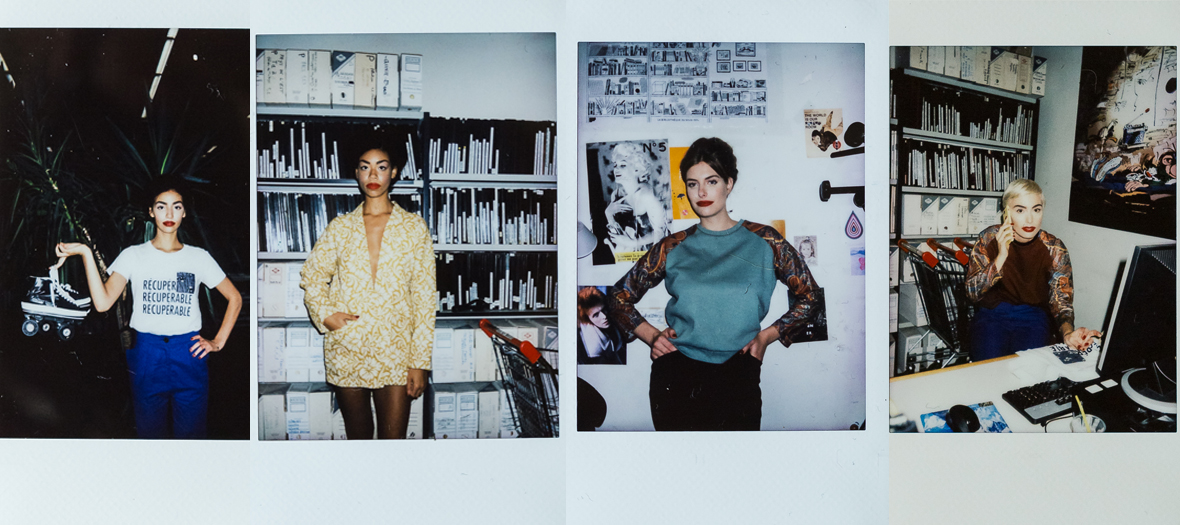 © Lucie Sassiat
A fashion brand whose success makes you fantasize ?
Alexander McQueen, whose fashion really questioned consumer issues: discards were part of the scenography with disconcerting theatrality. During our fashion show at the Bibliothèque du Centre Pompidou, we showcased red mouths, the idea was to show overconsumption in fashion, the mouths had the desired effect: create a sense of uneasiness !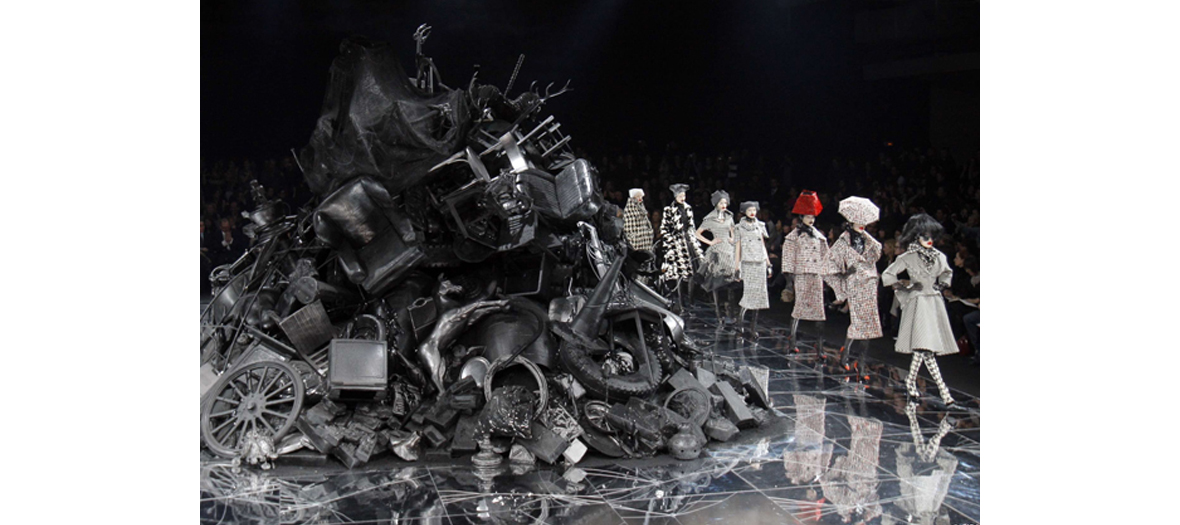 The market seems saturated, how does one emerge amongst all these young fashion labels?
The idea is to stand out with sincerity. I am not a woman who makes concessions, I create a line of ready-to-wear that is fashionable and sustainable. The idea of making style an issue, in terms of shape but also through the socio-environmental impact, a bottom line.
How do you define the pure style of the Les récupérables label
There is couture aspect, I make sure that the clothing falls just right so that elegance is a the service of comfort. Cuts are graphic, the silhouette is retro-modern. I am at the service of the Parisienne, but also of all women: the audacity of volumes and prints that match up with graphic lines for an effortless silhouette that reveals its personality.
How do you create a collection?
Les Récupérables, is Fashion upside down, it's by rummaging that one finds marvels, I always manage to spot vintage iconic pieces, then, I put together paintings, I sketch silhouettes and I present the lot to stylist-modelist Bethsabée Elharrar-Lemberg who creates the patrons. Then follows a series of tests and finishings to that reality matches my dreams.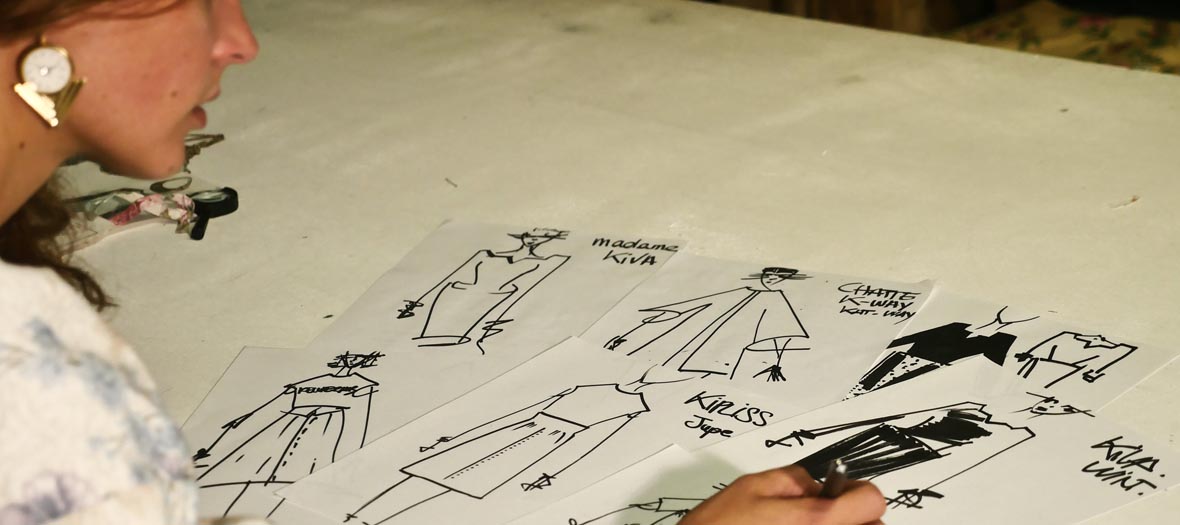 Where do you draw your inspiration from?
The street, as Pierre Cardin expressed it so well, it's a constant that I showcase in keeping with the seasons. In my temple, there are icons of black and white cinema, Schiaparelli, 50's, desert villages, multicolored beach stones, washed out murals, flower table cloths, daily niknaks, and of course my Grandmother and her undies.
How do you position yourself between a super DIY designer and the legitimacy of a fashion label mode in its own right
Well, yes, at the outset, I am self-taught—, personally, I say: « Do It yourself», but today, with the standards of the profession aiming at producing a collection in small or insertion workshops, I had to meet technical constraints, far from my starting out when I sewed a « 50's parrot» dishtowel on a Céline coat with spots on the back…
How do you see the future ?
I see our future green, super Green. I dream of establishing the structure in order to hire, set up in a specific place (with a wide array of vintage fabrics, innovative materials…) and find points of distribution in keeping with an approach to develop the brand in France and abroad
New step : making sure the Ulule campaign is a success in order to reach these goals.The vocation of the brand is to be sent out as a message, so I see Les Récupérables in Japan, London, Berlin, NYC, San Francisco, Sao Paulo, Johannesburg…