When the successful duo Camille Cottin / Camille Chamoux goes all out and flies under the tropics  to help Miou-Miou, the result is the most hilarious comedy this Spring.
You enjoyed the zany spirit of the series and the film Connasse? Larguées is the latest opus by the same director and screenwriter, Eloïse Lang.

The pitch: two totally different sisters take along their mother (Miou-Miou), recently dumped by her husband, to a holiday resort on the Island of La Réunion.

On the one hand, Rose (Camille Cottin) is a free woman, who manages  a rock group, sleeps around with strangers if she feels like it and never takes off her badass cowboy boots.

On the other, Alice (Camille Chamoux) incarnat an adorable control freak whose voices reaches high pitches as soon as she talks to her darling children (and even her husband). The two girls are going to have to row upstream faced with their jaded mother, who no longer expects anything from life.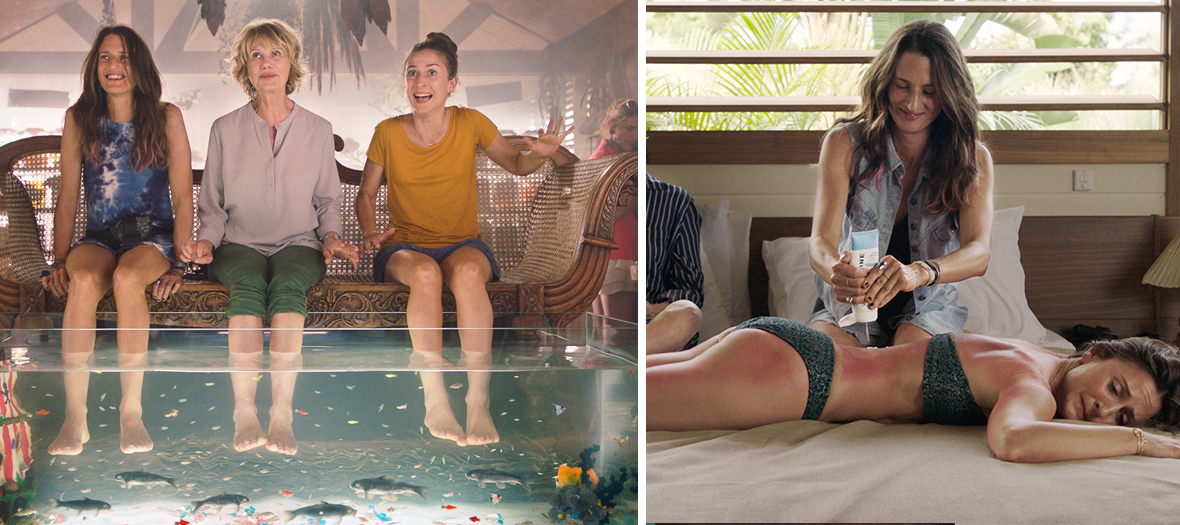 The outcome is a resolutely solar feel-good movie, filled with hilarious Looney Tunes gags, and totally offbeat characters that set the rhythm of this Club Med remake, a little old-hat but always joyful. At the end, one resolution: when everything goes wrong, it's a great idea to take off for a sunny destination with the gals.

The second nugget role: the barman who Rose pays (10 €) so that he will flirt with her mother. A kind of Popeye (the club playboy)  taken from the cult film Les Bronzés as a 50-year-old adventurer, played by Johan Heldenbergh (Alabama Monroe).

The already cult one-liner: the detailed and perfect from walk of shame by Camille Cottin, that ends with "Everybody knows that you slept around, but it's not important, the worst is that you stink". Unique.