We tested and adored these precious and organic treatments, good for us and our planet, launched by innovative brands which, thanks to their chic and beneficial products, are an open invitation to a green and organic approach.
Les Huilettes by Labessentiel
It's organic, it's vegan, it smells divine and you just need a few drops to moisturize, repulp and protect skin from all outdoor aggressions. A daily face oil, one for night time and one for the body—three unique, simple and totally natural formulas created by two passionate friends, Pascale, pharmacist and Claire, a marketing expert. Both a serum with active ingredients stemming from essential oils (Myrte, Origan, geranium…) a moisturizing treatment with virgin vegetal oils (argan, avocado, prickly pears …) the simplicity and efficiency of innovative and complete concept appeals to us.
The plus: the psycho-sensorial benefits of essential oils and their quick absorption.
Mon huilette day 40€, Mon huilette night 45€, Mon huilette body 40€, Les huilettes by Labessentiel www.leshuilettes.com.
Also aivailable at Oh my cream, 3 rue de Tournon, 75006 Paris. 01 43 54 80 83.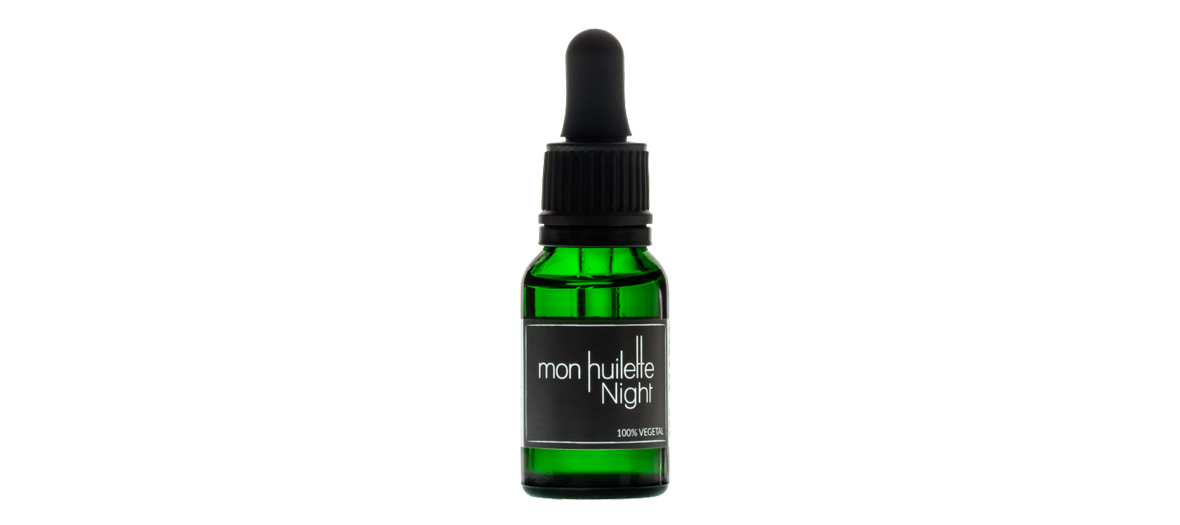 Kure Bazaar, good looking and healthy nail polishes
With a sustainable formula of 85% natural origin, irresistible bright summer colours, an easy application for long-term hold, the good looking and healthy nail polishes in the Kure Bazar brand help us to cross the green line in a flash!
The plus: the latest pink Nude collection in perfect harmony with summer trends. Perfect to look tops right down to your fingertips at a wedding.
Rose Nude Collection, Kure Bazaar, 16€.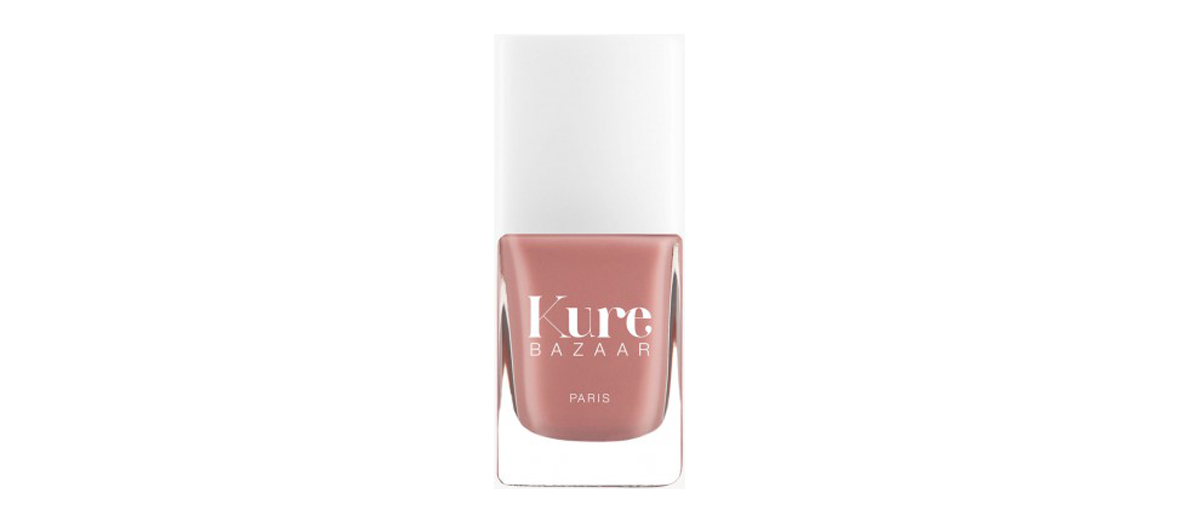 Bjork&Berries, beauty treatments from the North
The Bjork&Berries company concocts its 100% eco-friendly products in the Swedish countryside. Their star active ingredient? Extracts of birch leaves from surrounding forests. The hand cream is a small marvel with its light and divinely perfumed texture and a spray treatment for the face — filled with vitamins and organic ingredients— immediately repulps and moisturizes. Ideal at the office when skin is dried out by air conditioning or during an airplane trip.
The plus: its chic and minimalist packaging.
White Forest hand cream, 19€, deep Forest face mist, 29€, Bjork&Berries
Available at Bon Marché.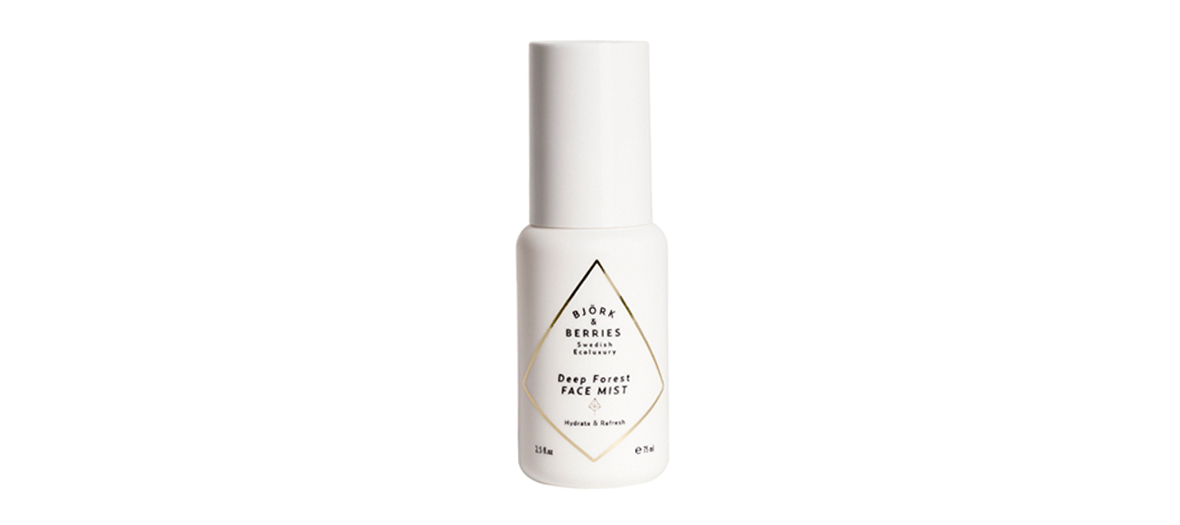 Energie Fruit: pop and fruit
With rhubarb, almonds, cotton flower, grapefruit and white tea (take your pick), the moisturizing shower creams by Energie Fruit explode with scents and leave skin soft and hydrated. Impossible to resist this brand from Marseilles whose products are of course made in Provence, without parabens nor silicones, 100% organic. Behind the brand, two friends: Sophie and Carol-Ann. After 20 years of experience in cosmetics, these beautystas dropped everything to create a quality range of beauty treatments with 94% natural ingredients.
The plus: their very appealing packaging with illustrations by our darling Angéline Mélin and soft prices.
Available at Monoprix.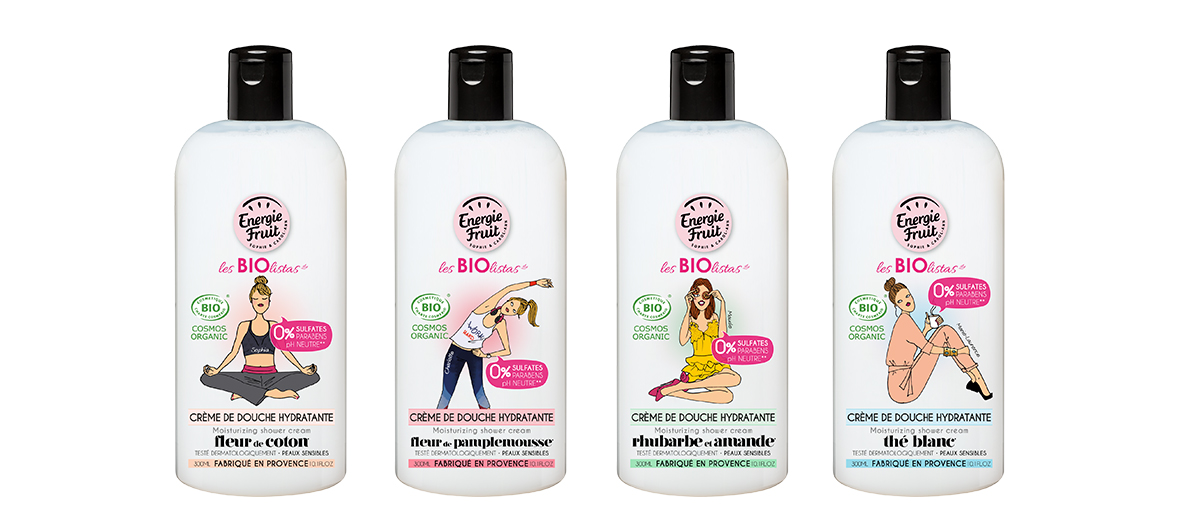 Patyka, a pioneer brand
We adore this chic and innovative Parisian brand that has been involved in organics since 1992 and manages to make us like 100%natural glamour textures and fragrances. Their last serum is made for stressed-out urbanites exposed to pollution, aggressed by hard water and climatic variations. A real shield against all outer aggressions with natural vegetal active ingredients: extract of lotus and white cotton to soothe and convey glow while protecting and moisturizing. Another big novelty: an eye contour cream with high performance targeted micro encapsulated complex  that brings glow and makes the face look less tired by erasing wrinkles, pouches and bags under the eye.
The plus: Its clever all-cardboard packaging.
Sérum Désaltérant Lotus & Coton Patyka 45€.
Crème jeunesse du regard Patyka 49€
Also available on www.nuoobox.com.