Jump out of bed and into the shower to cleanse, scrub, protect and embellish your skin, starting with hot water then cold for firm breasts and butts, you will feel really fresh and clean all day long!
to exfoliate and activate blood circulation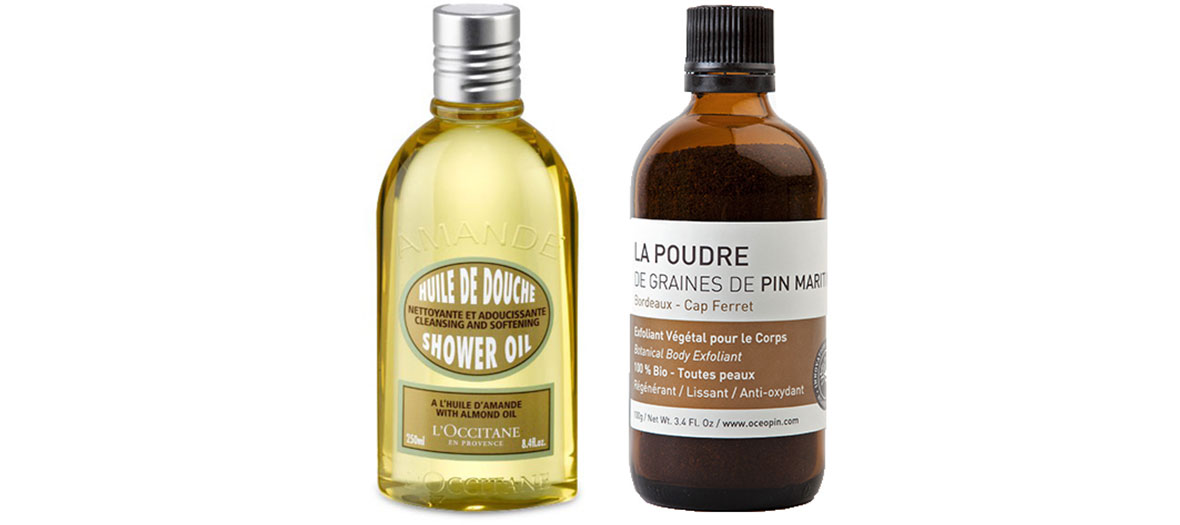 Picture credit : © l'Occitane
With the powder of 100% organic maritime pine seeds stemming from trees planted along the French Atlantic coast, filled with anti-oxidants and fatty acids.
To be used as a massage on damp skin or to mix with velvety oil such as sweet almond oil from l'Occitane, filled with nourishing lipids.
Océopin poudre de graines de pin 17 € the 100g bottle
Huile d'amande douce L'Occitane 250ml 16,50€
Check out their online boutique fr.loccitane.com
to cleanse and protect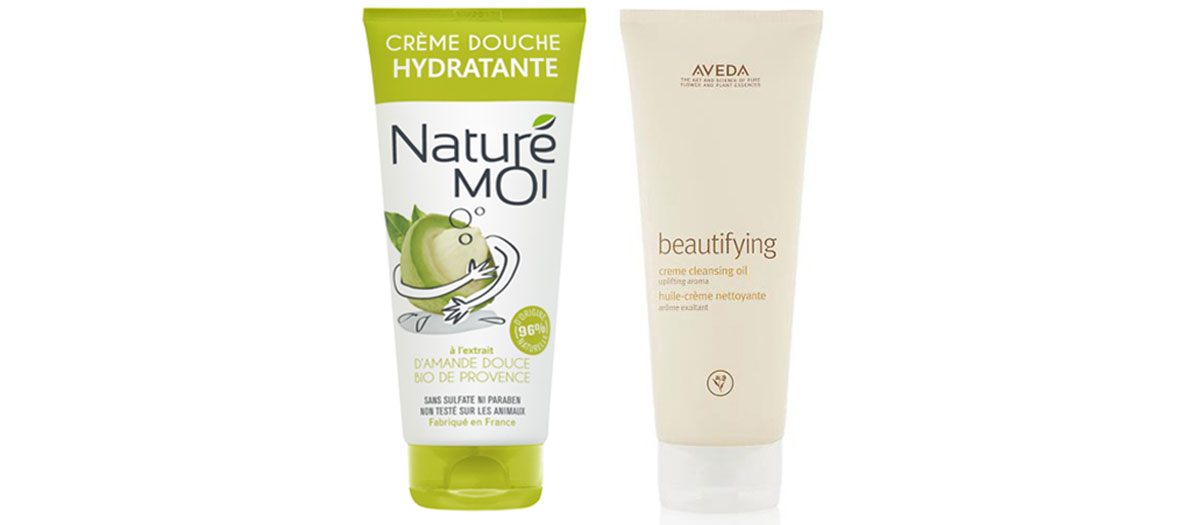 With two new products to choose from
The new Aveda shower cream, a mix of cartham and olive oil with babassu foam to cleanse softly and protect the hydrolipidic qualities of your skin. Divine! Skin is marvelously soft and velvety with a wonderful smell of rosemary, bergamot and lavender!
The plus, 100% organic and sustainable packaging.
Or the brand new shower gels by Naturé Moi at very soft prices, without sulfates, parabens nor silicone, with ingredients from organic agriculture such as sweet almond from Provence, apricot from Roussillon, gourmet caramel from Brittany for a sustainable and super toning shower.
Cleansing oil cream Aveda 200ml 27€ www.aveda.fr
Naturé Moi shower cream, almond 200ml 2,99€ sold in department stores and specialized shops
to moisturize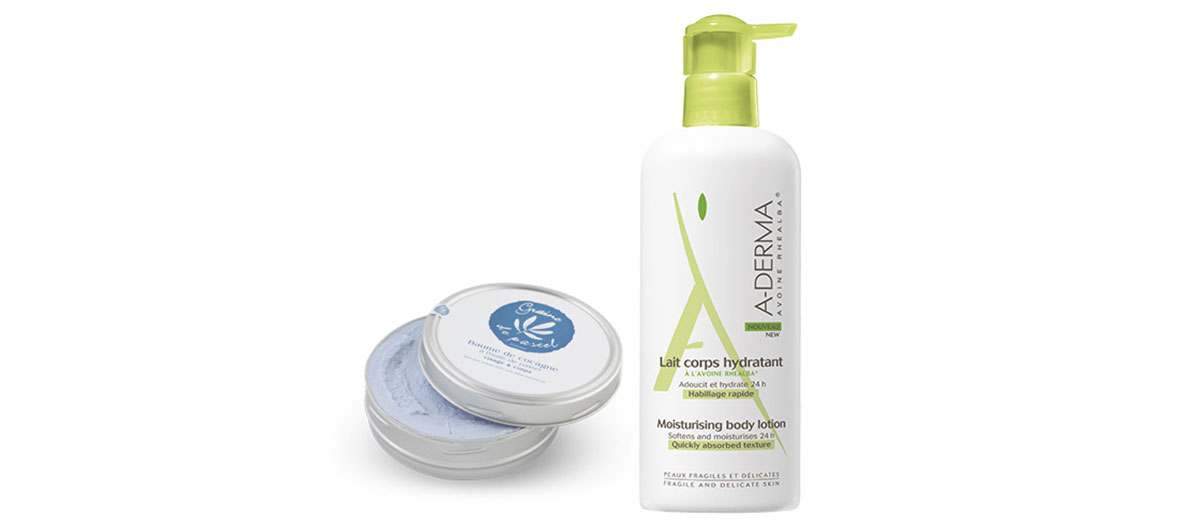 Choose from:
The rhealba oat milk from A-derma, comprising vegetal Glycerin and nourishing soft oils. It hydrates skin all day long leaving it soft and supple with a nice scent of rose, cyclamen and violet.
The plus, its fluid and light texture penetrates quickly on the skin and allows you to get dressed without having to wait.
Or
The balm enriched in pastel oil (pastel is a medical plant used since the Antiquity for its healing powers) which, thanks to its composition filled with fatty acids, repairs, moisturizes, protects and soothes the most dried out skins.
Its rich texture immediately nourishes skin and leaves it velvety soft.
The plus, it can also be used for the face.
Lait corps hydratant à l'avoine rhealba A –Derma 400ml starting at 9,99€, in pharmacies and para-pharmacies
Baume de Cocagne Visage et corps Graine de Pastel, 200ml 29,90€
the essential tools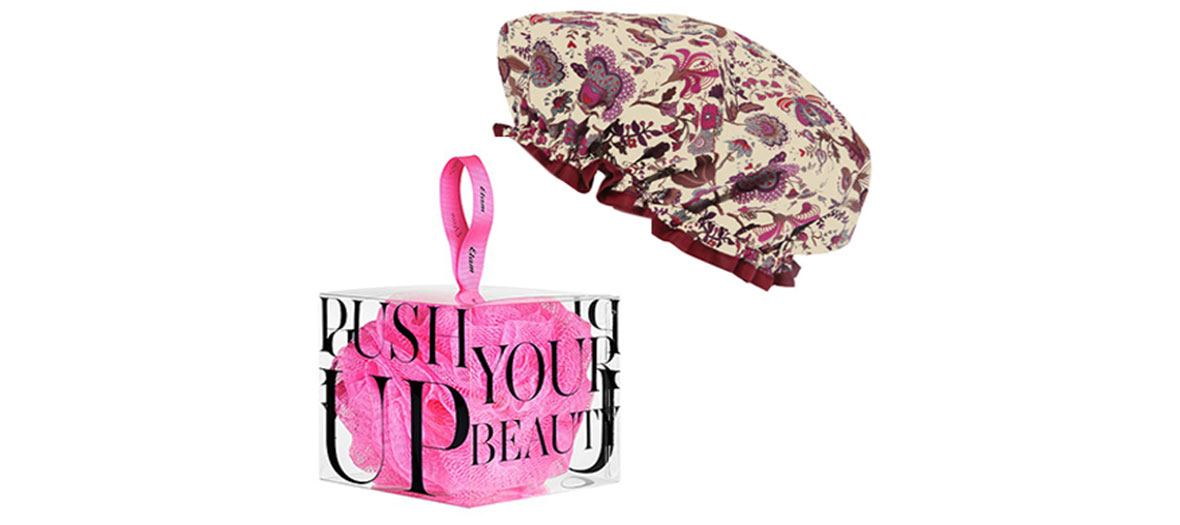 Go check out the site Liberty London and go for a pretty shower cap in liberty fabric, indispensable accessory to protect manes from powerful shower jets. Retro but fun and furiously efficient.
And equip yourself with an indispensable showerhead to get blood flowing and wash yourself in depth.
Charlotte Liberty London 15 £ (about 20€)
www.liberty.co.uk
Dentelle de bain Etam shower cap 2€
www.etam.com